Serves: 4
Cooking time: 30 minutes
Preparation: 15 minutes
Ingredients
1 pound lean lamb
1 pound fresh spinach, trimmed
2 teaspoons, virgin olive oil
1 onion, sliced
1 teaspoon ground turmeric
2 teaspoons ground coriander
2 teaspoons ground ginger
1⁄2 teaspoon chili powder
3 tablespoons low-fat yogurt
1⁄8 teaspoon dried leaf thyme
1 teaspoon prepared mustard
Instructions
Trim any fat from lamb and cut into 1-inch cubes.
Cut spinach into 1/4-inch strips.
In a large non-stick skillet, heat oil and sauté onion until softened. Add lamb, turmeric, coriander, ginger and chili powder. Simmer, stirring, 10 minutes until meat is browned.
Stir in spinach and remaining ingredients.
Cover and simmer 15 minutes, stirring occasionally. Add water if needed and simmer 15 minutes more, until meat is tender.
Per Serving
248 Calories, 81 mg Cholesterol,
8 g Carbohydrates, 29 g Protein,
163 mg Sodium, 11 g Fat (3.6 g. Saturated Fat)
Exchanges: 3 meat, 1 1/2 vegetable
---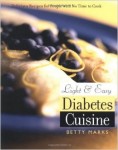 Recipes adapted from:
Light & Easy Diabetes Cuisine
written by Betty Marks, Surrey Books.