Serves: 6
Cooking time: 25 minutes
Preparation time: 20 minutes
Ingredients
1 pound large shrimp
1 tablespoon virgin olive oil
1 medium-size onion, chopped
2 garlic cloves, minced
4 cups canned Italian plum tomatoes, drained well
2 tablespoons fresh lemon juice
1⁄2 teaspoon ground coriander
1⁄4 teaspoon ground ginger
1⁄8 teaspoon red (cayenne) pepper
1⁄4 teaspoon ground cumin
Parsley sprigs
Instructions
Peel and remove vein from the shrimp.
Rinse and let dry on paper towels. In a large non-stick skillet, heat olive oil.
Add onion and garlic and sauté until softened, about 3 minutes.
Chop tomatoes and add to skillet with lemon juice and spices.
Bring to a boil; reduce heat and simmer, covered, 15 minutes, stirring once to blend.
Stir in shrimp and cook 3 to 5 minutes, until pink.
Garnish with parsley.
Per Serving
140 Calories, 116 mg Cholesterol,
10 g Carbohydrates, 17 g Protein,
374 mg Sodium, 4 g Fat (4 g Saturated Fat)
Exchanges: 2 meat, 2 vegetable
---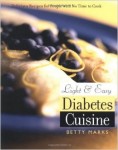 Recipes adapted from:
Light & Easy Diabetes Cuisine
written by Betty Marks, Surrey Books.