Serves: 4
Cooking time: 25 minutes
Preparation time: 5 minutes
Ingredients
2 medium-size Idaho potatoes (about 1 lb.)
2 garlic cloves, minced
6 whole black peppercorns
1⁄2 cup skim milk
1⁄4 teaspoon salt
Paprika
Instructions
Peel potatoes and thinly slice. Place potatoes in a saucepan with garlic and peppercorns; cover with water.
Bring to a boil and cook 20 to 25 minutes until potatoes are soft. Drain.
Place in a food mill, a blender or a food processor fitted with the metal blade and process to a puree.
Return to pan; add milk and salt. Heat, stirring until blended.
Garnish with paprika. Makes 2 cups.
Per Serving
248 Calories, 1 mg Cholesterol,
17 g Carbohydrates, 3 g Protein,
134 mg Sodium, 0 g Fat
Exchanges: 1 starch/bread
---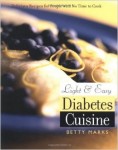 Recipes adapted from:
Light & Easy Diabetes Cuisine
written by Betty Marks, Surrey Books.