These tasty squares may be served hot, at room temperature, or even out of the refrigerator—just cover when
reheating.
Makes 30 squares
1 cup chopped onion
1 cup chopped red bell pepper
1 cup chopped green bell pepper
1 cup sliced mushrooms
1 teaspoon minced garlic
2 (14-ounce) cans artichoke hearts, drained, rinsed, and chopped
3 egg whites, slightly beaten
2 eggs, slightly beaten
1 teaspoon dried oregano leaves
1 teaspoon dried basil leaves
1/4 teaspoon Cayenne pepper
1/2 cup Italian bread crumbs
3/4 cup shredded reduced-fat sharp Cheddar cheese
1/4 cup grated Parmesan cheese
Directions
Preheat oven 350°F. Coat 2-quart oblong dish with nonstick cooking spray.

In medium pan coated with nonstick cooking spray, sauté onion, red and green pepper, mushrooms, and garlic over medium heat until
tender.

Transfer sautéed vegetables into large bowl, add chopped artichokes and remaining ingredients, stirring until combined. Pour mixture into prepared dish. Bake 30 minutes or until mixture is set and top is light brown. Cut into squares.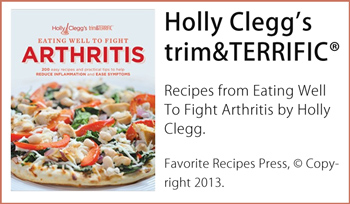 NUTRITION INFORMATION PER SERVING:
Calories 37
Calories from Fat 28%
Fat 1g
Saturated Fat 1g
Cholesterol 16mg
Sodium 119mg
Carbohydrates 4g
Dietary Fiber 1g
Sugar 1g
Protein 3g
Dietary Exchanges: 1 vegetable
Nutrition Nugget: Artichokes are a naturally low-sodium, fat-free, low calorie food, rich in healthy antioxidants and phytonutrients.