Serves: 6
Cooking time: 30 minutes
Preparation time: 5 minutes plus 2 hours soaking
Ingredients
1 cup brown Basmati rice
1 tablespoon vegetable oil
1 small onion, chopped
1 garlic clove, minced
4 whole cloves
1⁄8 teaspoon salt
2 cups chicken broth
1 cinnamon stick
1 teaspoon vegetable oil
1 tablespoon raisins
1 tablespoon blanched slivered almonds or pine nuts
Instructions
Soak rice 2 hours to shorten cooking time.
Rinse and drain. In a large non-stick saucepan, heat 1 tablespoon oil and sauté onion and garlic until tender, 2 to 3 minutes.
Add cloves and cook 1 minute. Add rice and stir to coat. Add salt, broth and the cinnamon stick. Bring to a boil.
Cover, reduce heat and simmer 20 to 25 minutes, until liquid is absorbed. Discard cinnamon stick. Heat 1 teaspoon oil; add raisins and almonds and warm.
Mix with rice and serve.
Per Serving
176 Calories, 0 mg. Cholesterol,
31 g Carbohydrates, 3 g Protein,
41 mg Sodium, 5 g Fat (0.5 g Saturated Fat)
Exchanges: 2 starch/bread, 1 fat
---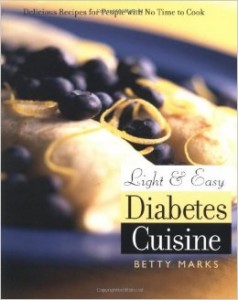 Recipes adapted from:
Light & Easy Diabetes Cuisine
written by Betty Marks, Surrey Books.