Daybreak Scramble Pizza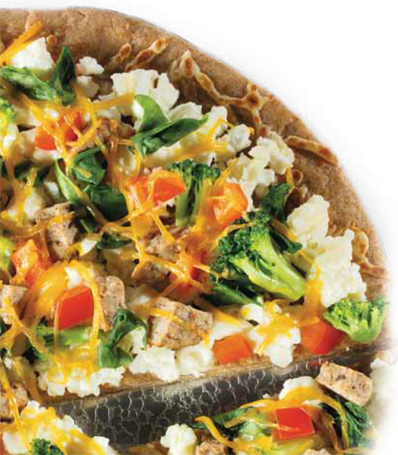 Makes 10 Servings
1 tablespoon margarine
2 cups liquid egg whites
¼ teaspoon salt
¼ teaspoon black pepper
1 (10-ounce) package prebaked whole-wheat pizza crust
1-1½ cups frozen vegetables (broccoli, spinach, and red bell peppers, or a combination of your favorites), thawed
3/4 cup 75% reduced fat shredded Cheddar cheese
2 frozen turkey sausage patties, thawed and cut into bite-sized pieces
NUTRITION INFORMATION PER SERVING:
Calories from Fat 35, Total Fat 4 g, Saturated Fat 1.4 g, Trans Fat 0 g, Cholesterol 10 mg, Sodium 400 mg, Potassium 225 mg, Total Carbohydrate 16 g, Dietary Fiber 3 g, Sugars 2 g, Protein 12 g, Phosphorus 135 mg
Exchanges:
1 Starch 1 Medium-Fat Meat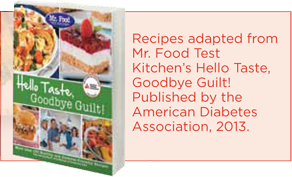 1.
Preheat oven to 400°F. Coat a 10- x 15-inch baking sheet with cooking spray.
2.
In a large skillet, melt margarine over medium heat. Add egg whites, salt, and pepper; scramble and cook until eggs are firm.
3.
Spoon scrambled eggs over crust; top evenly with vegetables, cheese, and sausage pieces.
4.
Bake 8 to 10 minutes, or until cheese is melted. Slice and serve.
Test Kitchen Tip: If using uncooked turkey sausage, brown it before cutting into bite-sized pieces. Also, when testing this recipe, we used the 75% reduced-fat variety of Cabot Cheddar cheese.