Guilt-Free Taco Bowl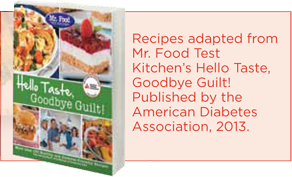 NUTRITION INFORMATION PER SERVING:
Calories 355, Calories from Fat 110, Total Fat 12 g, Saturated Fat 2.8 g, Trans Fat 0 g, Cholesterol 50 mg, Sodium 600 mg, Potassium 650 mg, Total Carbohydrate 38 g, Dietary Fiber 5 g, Sugars 9 g, Protein 29 g, Phosphorus 375 mg
Exchanges:
1½ Starch, ½ Carbohydrate, 1 Vegetable, 3 Lean Meat, 1 Fat

Makes 4 servings
4 (8-inch) whole-wheat flour tortillas, at room temperature Cooking spray
3/4 pound lean ground turkey breast
1½ tablespoons no-added salt taco seasoning
1/3 cup water
½ head iceberg lettuce, shredded (about 4 cups)
1 tomato, diced
1 green bell pepper, diced
½ cup (1 ounce) reduced-fat shredded Cheddar cheese
¼ cup reduced-fat
French dressing
1. Preheat oven to 425°F.
Place 4 ovenproof soup bowls on a rimmed baking sheet. Coat both sides of each tortilla with cooking spray.
2. Carefully line one tortilla into each bowl. Place another ovenproof bowl on top of each tortilla. Bake 7 to 9 minutes, or until tortillas hold their shape.
Carefully remove top bowls and bake tortillas (still in the bottom bowls) 3 to 4 additional minutes, or until tortillas are crisp and golden. (If you don't have enough bowls, bake these one or two at a time.) Remove tortillas from bowls and allow to cool on a wire rack.
3. In a medium skillet over medium-high heat, cook turkey breast 8 to 10 minutes, or until no pink remains. Drain off excess liquid. Stir in taco seasoning and water; reduce heat to low, and simmer 5 minutes.
4. Right before serving, place tortilla shells on a dinner plate and fill each 3/4 full with lettuce. Add ½ cup turkey mixture, then sprinkle evenly with tomatoes, green peppers, and cheese. Drizzle 2 tablespoons French dressing on top. Serve immediately.