A NEW PHRASE YOU MAY HEAR AS THE AFFORDABLE CARE ACT
GETS UNDERWAY IS PATIENT ENGAGEMENT
If you have diabetes or love someone who does, you are already involved in the day-to-day care of this condition. There is no way to avoid being in charge of your diabetes as you make choices, take medicines and keep track of your blood glucose readings. But as the Affordable Care Act is put into place, you may hear the phrase patient engagement.
Although you may already feel engaged with your diabetes, the meaning goes beyond what you do at home. It now includes what happens during visits with your healthcare team.
PATIENT ENGAGEMENT
People who are engaged in their own care have or seek the understanding, knowledge and skills to promote their own health and take part in their health management. In other words, they are constantly trying to learn more about diabetes in order to manage it well and live healthier lives. It also means asking for help from family, friends and other supporters so they can handle the emotional burden and demands of caring for diabetes. Engagement is not a one-way street: Your healthcare team also has to do their job of helping you stay involved with your health.
SHARING IN THE DECISIONS
One important aspect of engagement is creating a partnership with your healthcare team and sharing in decisions about your care. Shared decision-making is a team process that allows you and your provider to make healthcare decisions together, taking into account:
For example, your provider may suggest that you start taking a new medicine for your diabetes. You share your concerns, goals and values, and your provider shares his or her expertise and clinical judgement. By working together with your healthcare provider, you can make the best decisions for your diabetes care.
STRATEGIES FOR SHARED DECISION MAKING
Are you interested in trying shared decision-making? A good way to start is to learn as much as you can about your diabetes. Because not everything you read is up-to-date or accurate, it is always a good idea to confirm what you've read with your healthcare provider, educator, dietitian or pharmacist.
Becoming engaged in your own care may seem like a lot of extra work—but it is in your own best interest. Studies have shown that you will be more satisfied with your care and are more likely to have better outcomes.
Become engaged with your own care. It may seem like a lot of extra work, but it is in your own best interest.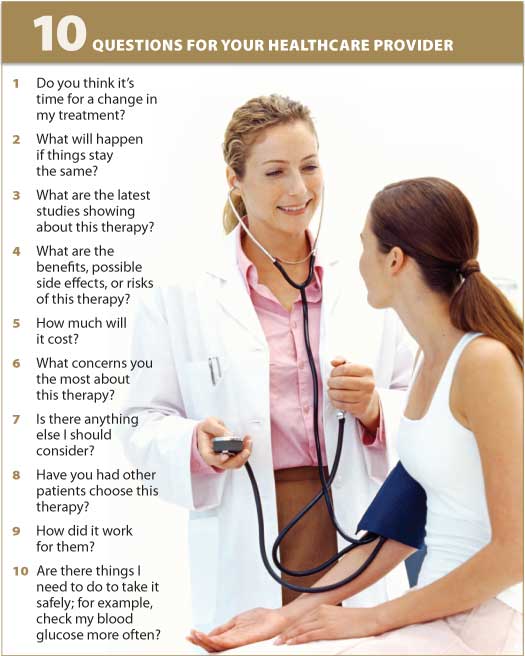 ---
By Martha Funnell, MS, RN, CDE