MOUTH WATERING RECIPES FOR PEOPLE WITH DIABETES AND THEIR FAMILIES
CHERRY-FILLED BLACK FOREST CUPCAKES
Makes 12 cupcakes
6 tablespoons cocoa powder
3/4 cup granulated nocalorie sweetener*
2 tablespoons brown sugar
1/3 cup low-fat milk
1½ teaspoons vanilla extract
1 large egg
½ cup light mayonnaise
1 cup all-purpose flour
1 teaspoon baking powder
1 teaspoon baking soda
½ (20-ounce) can no-sugar-added (or light) cherry pie filling
½ teaspoon almond extract
2 tablespoons granulated nocalorie sweetener*
1 recipe whipped cream cheese frosting (recipe on right)
12 teaspoons finely-grated or -shaved dark chocolate
NUTRITION INFORMATION PER SERVING: (1 CUPCAKE)
cal. 160, total fat 6 g, (Sat. 2 g, Trans 0 g), cholesterol 25 mg, carbs 22 g, fiber 1 g, Sugars 7 g, protein 4 g, Sodium 280 mg
Exchanges: 1½ carb, 1 fat
1. Preheat the oven to 325°F. Line 12 muffin cups with liners and spray with non-stick cooking spray (alternately, foil liners can be used and do not require spraying).
2. Place cocoa powder in a large bowl. Add ½ cup warm water and whisk until smooth. Whisk in the next six ingredients (sweetener through mayonnaise), until mixture is smooth. Gradually sift in flour, baking powder and baking soda and stir until well mixed.
3. Scoop ¼ cup of batter into each muffin cup. Bake for 13 minutes or until the center springs back when touched or a toothpick comes out clean. While cupcakes are baking, in a medium bowl, combine the pie filling, almond extract and 2 tablespoons sweetener. Set aside.
4. Assemble cupcakes when cool, and use an apple corer (or small knife) to remove a plug from the center of the cupcake. Spoon three cherries with some of the gel into the center of the cupcake. Top with 2 tablespoons frosting and dust with chocolate shavings.
WHIPPED CREAM CHEESE FROSTING FOR CUPCAKES
In a small bowl, with an electric mixer on medium speed, beat together 1/3 cup EACH reduced fat tub-style and non-fat cream cheeses and ¼ cup granulated no-calorie sweetener* (or 6 packets). Slowly beat in ½ cup of thawed light whipped topping until just combined.
Using a rubber spatula carefully fold in another ¾ cup whipped topping (1¼ cups total). * If using a baking blend such as stevia-based Truvia Baking Blend, use ½ as much.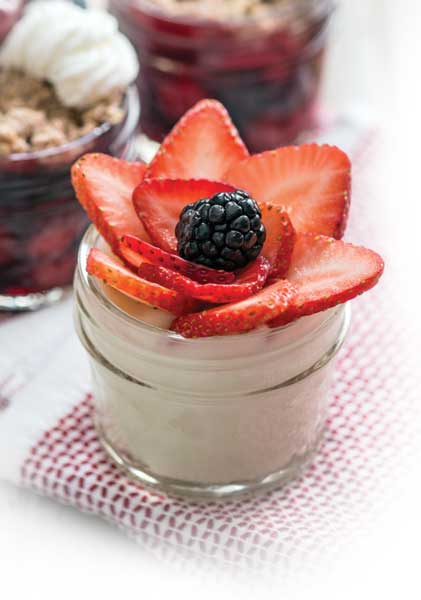 NUTRITION INFORMATION PER SERVING: (1 PUDDING CUP)
cal. 110, total fat 2.5 g, (Sat. 2 g, Trans 0 g), cholesterol 0 mg, Sodium 350 mg, carbs 18 g, fiber 1 g, Sugars 9 g, protein 3 g, Exchanges: 1 carb, ½ fat
FIVE-INGREDIENT STRAWBERRY
BLOSSOM PUDDING CUPS
Makes 4 servings
1½ cups low-fat milk
1 package sugar-free white chocolate pudding
1 cup light whipped topping
8 (up to 10) medium fresh strawberries, washed, stems removed
4 frozen or fresh blackberries
1. Pour milk in a medium bowl. Whisk the milk while slowly adding the pudding mix. Whisk mixture until smooth. Gently fold in the whipped topping. Divide mixture among four 6-ounce ramekins or 4-ounce jars.
2. Slice strawberries using an egg slicer (or by hand, lengthwise). Place a blackberry in the center of each cup of pudding. Starting at the center, insert the strawberry slices, stem end down, around the blackberry. Insert a second layer, between the empty spaces, to create flower effect. Refrigerate for at least 15 minutes, and up to one day before serving.
MOLTEN CHOCOLATE LAVA CAKES
Makes 4 servings
3 ounces dark chocolate (2 1.45-ounce Hershey's Special Dark bars or 6 squares from a 6.8-ounce bar)
1 tablespoon butter
2 tablespoons low-fat milk
1 teaspoon vanilla extract
3 large eggs, room temperature, separated, divided
2 tablespoons cocoa powder, preferably Dutch-processed
2 tablespoons all-purpose flour
1 tablespoon granulated sugar
1 tablespoon powdered sugar, optional, for dusting
1. Preheat oven to 400ºF. Set oven rack to lower third of oven. Lightly spray four 6-ounce ramekins with cooking spray. Set aside.
2. Reserve either eight squares of chocolate from the small bars, or two from the large one. Place remaining chocolate in a medium, microwave-safe bowl with the butter and microwave on high for 60 seconds, or until chocolate is mostly melted. Remove and stir until smooth. Whisk in milk, vanilla and egg yolks until smooth. Sift in cocoa powder and flour and whisk to combine.
3. In a medium bowl, with an electric mixer on high speed, beat the egg whites until foamy. Gradually add 1 tablespoon sugar and beat to soft peaks. Gently fold the egg whites into the chocolate mixture to lighten, taking care not to deflate the egg whites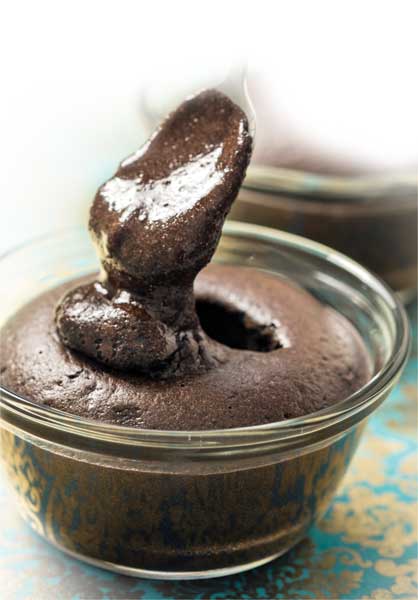 4. Divide the batter among the ramekins. If using the small chocolate bars, press two squares into the center of each cake. For the larger bar, cut one square in half and press into each cake. Bake for 8 to 9 minutes, or until tops are just firm to the touch and the cakes still jiggle slightly in center. Let cool for 2 minutes and serve immediately with a dusting of powdered sugar, if desired.
NUTRITION INFORMATION PER SERVING: (1 LAVA CAKE)
cal. 210, total fat 12 g, (Sat. 7 g, Trans 0 g), cholesterol 150 mg, Sodium 85 mg, carbs 21 g, fiber 2 g, Sugars 15 g, protein 7 g
Exchanges: 1½ carb, 1 lean meat, 1½ Fat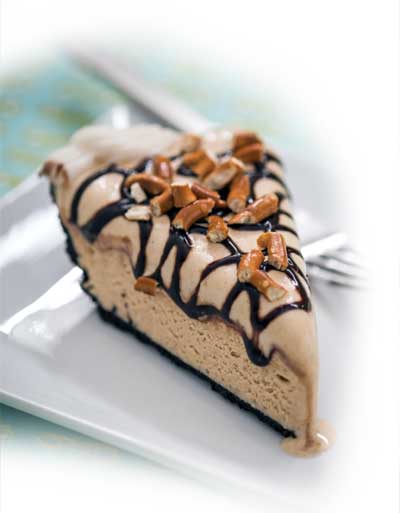 NUTRITION INFORMATION PER SERVING: (1 SLICE)
cal. 235, total fat 13 g, (Sat. 4 g, Trans 0 g), cholesterol 0 mg, carbs 28 g, fiber 4 g, Sugars 14 g, protein 6 g, Sodium 280 mg
Exchanges: 2 carb, 2 fat

10-MINUTE PEANUT BUTTER PRETZEL PIE
Makes 8 Servings
3 cups light, no-sugar-added vanilla ice cream, slightly softened
1/3 cup creamy peanut butter
1 chocolate or Oreo pre-made pie crust
1 tablespoon sugar-free chocolate ice cream topping
1/3 cup roughly crushed pretzels
1 cup light whipped topping, optional garnish
1. In a medium bowl, combine the ice cream and peanut butter until well mixed. Spoon the mixture into the crust and smooth the top. Drizzle the filling with ice cream topping, and sprinkle the pretzels over the pie.
2. Freeze for at least 2 hours before serving. Let pie sit at room temperature for 5 minutes before cutting and garnishing with whipped topping, if desired.
---
by Marlene Koch, RDN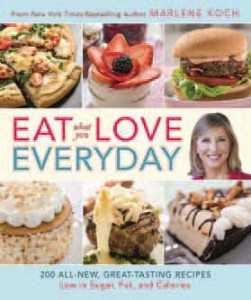 Recipes from 
Eat What You Love Everyday
, 200 all-new, great-tasting recipes low in sugar, fat and calories by Marlene Koch. Running Press, Copyright © 2014