healthy recipes from
chef cheryl forberg
OF NBC'S "THE BIGGEST LOSER"
Serves 8
½ boneless, skinless turkey breast, about 1 ½ pounds
1 ½ cups Cornbread and Dried Fruit Dressing (recipe follows)
Kitchen twine
¼ teaspoon smoked paprika
¼ teaspoon black pepper
¼ teaspoon marjoram
¼ teaspoon thyme
¼ teaspoon sage
1 tablespoon grapeseed or olive oil
Plastic wrap
1. Preheat oven to 350°F.
2. Place large piece of plastic wrap on countertop. Place turkey breast half on plastic and cover. Cover with additional plastic wrap. Using meat mallet, pound turkey to rectangle about 9 X 6 inches, about ¼-inch thick.
3. Remove plastic wrap from top of turkey and spread dressing evenly lengthwise over surface, almost to edge. Roll turkey lengthwise. With kitchen twine, tie roulade lengthwise once and in several places across turkey. Discard plastic wrap.
4. In small bowl, mix together spices. Rub canola oil over all surfaces of roulade; rub spice blend evenly over roulade.
5. Place roulade in shallow roasting pan, then place in oven. Roast for 45-60 minutes or until internal temperature measured with an instant-read thermometer reads 155°F.
6. Remove roulade from oven and let rest 15 minutes before carefully removing twine and slicing into 16 ½ -inch slices.
Nutrition Information per Serving:cal. 140, total fat 3.5 g, (Sat. <1 g, Trans 0 g), cholesterol 65 mg, carbs 5 g, fiber 0 g, Sugars 1 g, protein 22 g, Sodium 150 mg
---
Cornbread and dried fruit dressing
Makes 6 cups
(enough for Turkey Roulade and 8 side dish servings).
4 cups cornbread cubes, dried
4 ounces lean Italian turkey sausage, casing removed
1 tablespoon grapeseed or olive oil
1 cup chopped yellow or white onions
¼ cup chopped celery
¼ cup chopped carrot
1 small garlic clove, crushed
4 each, dried apricots and pitted dried plums, coarsely chopped
½ teaspoon dried thyme
¾ teaspoon dried sage
¼ teaspoon dried marjoram
1 cup fat-free, low-sodium chicken broth
¼ cup minced fresh parsley
½ teaspoon salt
¼ teaspoon ground black pepper
cooking oil spray
1 egg, lightly beaten
Nutrition per (½ cup) Serving:cal. 100, total fat 3.5 g, Saturated fat 1 g, cholesterol 30 mg, Sodium 310 mg, carbs 12 g, fiber 1 g, Sugars 4 g, protein 3 g
1. Preheat oven to 350°F. Place cornbread cubes in large bowl and set aside.
2. In small nonstick skillet, cook sausage over medium-high heat, crumbling and stirring until browned and cooked through. Drain well and set aside.
3. In large nonstick skillet, heat canola oil over medium heat. Stir in onions, celery and carrot; cook 5 minutes, stirring frequently.  Add garlic and cook for 1 minute longer, but don't allow garlic to brown. Stir in sausage, apricots, plums, thyme, sage, marjoram and ¼ cup broth. Bring to a boil. Reduce heat and simmer 3 minutes. Remove from heat; pour vegetable mixture over cornbread. Add parsley and stir well. Season with salt and pepper. (Dressing may be prepared to this stage a day ahead and refrigerated, covered).
4. Whisk together egg and remaining ¾ cup broth and pour over cornbread mixture, tossing well. Spray 2-quart baking dish with canola oil cooking spray (use larger baking dish if not reserving dressing for Turkey Roulade) and transfer all but 1 ½ cups of dressing to baking dish. Cover dish with foil and set aside.
5. After Turkey Roulade has been in oven 30 minutes, place covered baking dish of dressing in oven. After 15 minutes (or when internal temperature of roulade, measured with instant-read thermometer, is 155°F), remove roulade from oven and remove foil from baking dish with dressing. Continue baking dressing for about 15 minutes or until top begins to brown.
---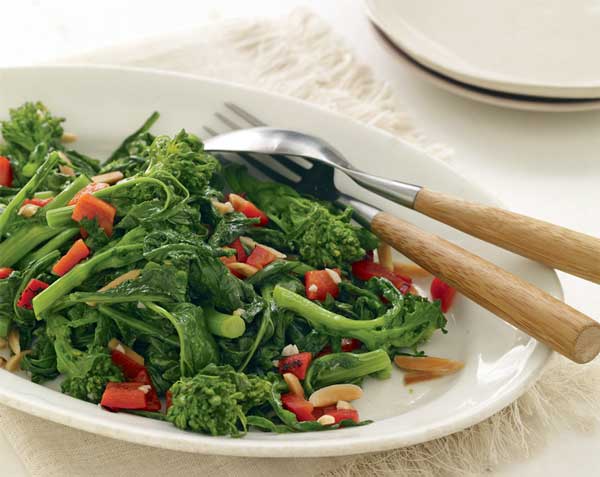 Holiday Rapini Sauté
Serves 8
2 tablespoons olive or grapeseed oil
3 bunches rapini (broccoli rabe), about 3 ¼ pounds, rinsed, trimmed and cut into 3-inch pieces
3 large garlic cloves, minced or crushed
½ teaspoon salt
1 ½ cups diced roasted red bell pepper, from one 12-ounce jar
3 tablespoons slivered almonds, toasted
1. Heat very large Dutch oven over medium-high heat. Add canola oil to pan; add rapini, garlic and salt. Toss well, reduce heat to medium-low and cover. Cook for 10 minutes or until rapini are tender, turning a few times while cooking.
2. Add roasted pepper and toasted almonds, toss and serve.
3. Cook's note: If your rapini is on the bitter side, drizzle a tablespoon or so of balsamic vinegar on top of it.
Nutrition Information per Serving:
cal. 110, total fat 5 g, (Sat. 0 g, Trans 0 g),
cholesterol 0 mg, carbs 11 g, fiber <1 g,
Sugars 3 g, protein 7 g, Sodium 55 mg
---
Recipes adapted with permission from
A Small Guide For Losing Big: From the
Nutritionist for NBC's The Biggest Loser,
by Cheryl Forberg, RD. Copyright
© 2014 Flavor First LLC.For more recipes and nutrition tips,
please visit www.cherylforberg.com