BD AUTOSHIELD DUO™ PEN NEEDLE FREE BOX COUPON!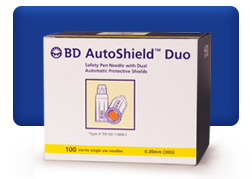 Click here to get your FREE box coupon.
*Up to $25 off your co-pay. For commercially insured patients only.
Offer is limited to 1 per person, per lifetime with a lifetime max benefit of $25. Offer expires 12/31/2015.
You are not eligible if prescriptions are paid by any state or other federally funded healthcare programs, including but not limited to Medicare, Medicaid, Medigap, VA, DOD or TriCare, or where prohibited by law; and you will otherwise comply with the terms above. This co-pay coupon is not insurance. Not valid for use in MA or VT. Offer expires 12/31/15.
Click on the image above for more information.