#DiabetesChat: Diabetes And Living – 10 Things You Need To Know (July 22, 2015)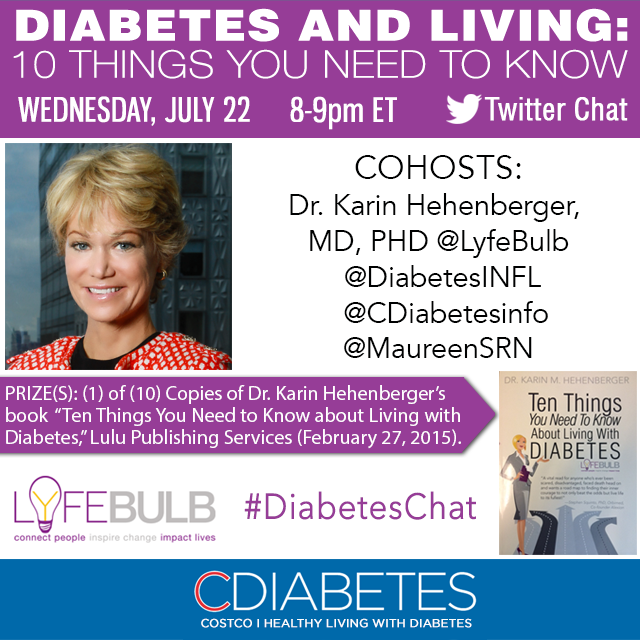 The Invitation
---
Please join Dr. Karin Hehenberger, MD, PhD, as she cohosts #DiabetesChat Tweet Chat with CDiabetes.com on Wednesday, July 22, 8-9pmET. Dr. Hehenberger will be discussing "Diabetes and Living: 10 Things You Need to Know." Tweet Chat participants will have the chance to win (1) of (10) copies of Dr. Hehenberger's book, "Ten Things You Need to Know about Living with Diabetes," Lulu Publishing Services (February 27, 2015).
Make sure you are following @LyfeBulb @CDiabetesinfo @DiabetesINFL, and @MaureenSRN. To join us, we suggest using Tweet Chat. All you'd need to do is enter the hashtag #DiabetesChat in the space provided, authorize the TweetChat app (requires a login to Twitter), and you're good to go.
Background Information
---
Dr. Karin Hehenberger, MD, PhD, is a leading expert in medical and business aspects of the biopharmaceutical industry, with over 15 years in leadership positions at JNJ, Eyetech Pharmaceuticals, Coronado Biosciences, and hedge funds Brummer & Partners and Scandinavian Life Science Ventures.
Her dedication to diabetes is reflected by her time on the senior team at the JDRF and her post-doctorate work at the Joslin Diabetes Center, Harvard Medical School. She received her MD and PhD at the Karolinska Institute in Stockholm, Sweden, where she retains a position with the Department of Endocrinology and Surgery.
Event Transcript
---
Click here to view the analytics of this Twitter chat event.
| | |
| --- | --- |
| diabetictalks | Today at 8pmET, Ask Dr. Karin Hehenberger, founder @LyfeBulb about "Ten Things You Need To Know About Living with Diabetes" #DiabetesChat |
| cdiabetesinfo | Great prices on Weider®Red Yeast Rice Plus @Costco! Helps lower cholesterol: http://t.co/R5KN0G6fD0 #DiabetesChat http://t.co/88YA6R0F13 |
| cdiabetesinfo | Cosamin ® DS, 230 Capsules $42.99 After $11 OFF + Free Shipping http://t.co/1JOcBmdDvp #DiabetesChat http://t.co/1XPuyiJxWm |
| cdiabetesinfo | Save on diabetes supplies! Bayer Contour test strips @ discount on Costco CMPP. http://t.co/9MxQ8Ay8SC #DiabetesChat http://t.co/ykAHMg2gcz |
| cdiabetesinfo | Costco KS OPTIFIBER Quickly dissolves in hot or cold beverages & soft food http://t.co/487XLjflMu #DiabetesChat http://t.co/ARqxoSy05k |
| cdiabetesinfo | CinSulin® water extract of cinnamon @Costco supports healthy blood sugar levels http://t.co/QGXWf3rCQF #DiabetesChat http://t.co/r0CLocHTby |
| cdiabetesinfo | People w/diabetes 2X more likely to develop gum disease. Colgate Total can help http://t.co/cjZhmLhv8j #DiabetesChat http://t.co/4CtW0ySm8c |
| cdiabetesinfo | FREE OneTouch Ultra®2 or UltraMini® Meter from Costco Pharmacy http://t.co/uehdQuj8u7 #DiabetesChat http://t.co/7Xf5danP5s |
| cdiabetesinfo | Get a FREE TRUEresult blood glucose monitoring system @ Costco pharmacy today! http://t.co/l4Y6JVJdWb #DiabetesChat http://t.co/hIKFrLzQDp |
| cdiabetesinfo | Save on a case of Glucerna® Shakes @ Costco! Helps minimize blood sugar spikes. http://t.co/dspKT7Q53t #DiabetesChat http://t.co/OZWh0JbpCk |
| cdiabetesinfo | Free shipping on Costco KS Quit2 Gum! +tips to quit from a Costco pharmacist: http://t.co/jcaTinpFlg #DiabetesChat http://t.co/XHL0yAkzze |
| cdiabetesinfo | Great prices on NatureMade vitamins @Costco For people w/diabetes & prediabetes http://t.co/ZhTNQKgXpe #DiabetesChat http://t.co/rXMdpRoZW4 |
| cdiabetesinfo | We are so fortunate to have Dr. Karin Hehenberger, MD, PhD, founder of @LyfeBulb with us tonight for #DiabetesChat |
| cdiabetesinfo | Please welcome @DiabetesINFL @MaureenSRN @LaurenPincusRD @DiabetesInCntrl to tonight's #DiabetesChat |
| lyfebulb | Great to be here with you all! #DiabetesChat |
| cdiabetesinfo | Glad to have Dr Hehenberger, MD, PhD @LyfeBulb foundr, w/us to discuss "Top 10 Things You Need To Know" abt Living w/#Diabetes #DiabetesChat |
| cdiabetesinfo | FREE e-book w/over 50 great diabetes-friendly recipes! Download now http://t.co/K3q59SaQEA, compliments of Costco Pharmacy #DiabetesChat |
| lowcarbrd | @CDiabetesInfo @DiabetesINFL @MaureenSRN @LaurenPincusRD I'm also here 🙂 #DiabetesChat |
| diabetesinfl | .@LyfeBulb @CDiabetesInfo What an honor to have Dr. Karin Hehenberger with us tonight #DiabetesChat |
| rmlacroix | @LaurenPincusRD @CDiabetesInfo @LyfeBulb @DiabetesINFL I'll be here for a bit. Trying to get a healthy #dinner on the table! #diabeteschat |
| cdiabetesinfo | Q1: How can I maintain a stable blood sugar level in the morning? #Diabeteschat |
| lyfebulb | A1: Mornings are often tough due to the Dawn effect (cortisone surge) #DiabetesChat |
| maureensrn | A1 Avoid those late night snacks; preplan evening meals and exercise to optimize blood sugar levels #diabeteschat |
| lyfebulb | A1: Many w/ diabetes try to eat something small at first and then do exercise to get the insulin resistance down #DiabetesChat |
| lyfebulb | A1: Keeping glucose steady requires breakfast that is not huge in fast carbs, ie no croissant, toast, jams or pastries #diabeteschat |
| maureensrn | A1 Check morning blood sugars at same time every day, if possible, to get accurate readings. #diabeteschat |
| cdiabetesinfo | Save on diabetes supplies! Bayer Contour test strips @ discount on Costco CMPP. http://t.co/xVwSyOREeq #DiabetesChat http://t.co/kZzFzm3e9A |
| lowcarbrd | A1 Eat a breakfast with protein, healthy fat, and a small amount of slow-digesting carbohydrates #DiabetesChat https://t.co/BnAbsBUlHQ |
| lyfebulb | A1: I try to have oatmeal, berries or plain yogurt with nuts and berries #diabeteschat |
| lyfebulb | A1: This will last you longer and keep you from getting hungry quickly #diabeteschat |
| doctorsoption | A1: High-protein, low-carb snack before breakfast reduces post-breakfast hypoglycemia: http://t.co/yjxl5d9fXo #diabeteschat @CDiabetesInfo |
| laurenpincusrd | A1: It's important to get adequate protein in your breakfast to help balance blood sugar #diabeteschat |
| cdiabetesinfo | #S4L A Bigger Breakfast for Better Glucose Control http://t.co/7lLLXAVetR #DiabetesChat |
| lyfebulb | A1: Take a look over this blog article which discusses mornings with #diabetes: http://t.co/JLSTHHNGLP #diabeteschat |
| diabetictalks | A1) Start the day with good fasting blood sugars by compensating for dawn effect when using the pump. #DiabetesChat |
| maureensrn | A1 if youre getting erratic A.M. glucose readings, keep a food and activity journal for a few days. May identify a problem. #diabeteschat |
| malinajlove | @CDiabetesInfo can be difficult with the dawn phenomenon being unpredictable. #diabeteschat |
| malinajlove | @CDiabetesInfo I check 1st thing upon awakening then an hour later because it can jump. #diabeteschat |
| diabetictalks | @malinajlove @CDiabetesInfo It definitely can #diabeteschat |
| pavedsilverroad | A1 I eat a protein snack before bed and basal test occasionally. Finally got it down, woke up in 80s this AM, SO thrilled #diabeteschat |
| maureensrn | A1 If youre diabetic and cant control A.M. readings, get checked for "dawn phenomenon". Rebound hyperglycemia. #diabeteschat |
| cdiabetesinfo | Q2: How does #Diabetes affect one's work life? #DiabetesChat |
| lyfebulb | A2: Diabetes does not have to affect your work life in a negative way #diabeteschat |
| laurenpincusrd | A2: Need to make sure that work does not get in the way of proper nutrition. Don't skip meals! #diabeteschat |
| lyfebulb | A2: But make sure people close to you know you have diabetes so they can intervene if you are low, & need food quick #diabeteschat |
| lyfebulb | A2: Diabetes may affect your travel & work hours, more so if you have a poorly controlled type of diabetes #diabeteschat |
| maureensrn | A2 Diabetes and work life-> mealtime preplanning makes a great difference; may get sidetracked at work. #diabeteschat |
| lyfebulb | A2: Routines are so important to someone living w/ #diabetes #diabeteschat |
| doctorsoption | A2: Americans with Disabilities Act, know where you stand (or when you can sit!): http://t.co/BqJh0RLd7m #diabeteschat |
| pavedsilverroad | A2 It honestly doesn't for me. Insulin pump makes life easier #diabeteschat |
| maureensrn | A2 Have "to go" foods available for the unexpected lunch time meeting ( that's usually catered pizza! 🙁 ) #diabeteschat |
| diabetictalks | A2 If you have a job that requires manual labor you will have to be extra careful and monitor blood sugars often #DiabetesChat |
| cdiabetesinfo | @DiabeticTalks very true we must remember this! #diabeteschat |
| lyfebulb | A2: Consistent eating habits are also critical, which in a high stress environments, isn't always a given #diabeteschat |
| mindfuleatingrd | #diabeteschat @CDiabetesInfo balanced meals and eating are key http://t.co/kG3Xhvkta7 |
| cdiabetesinfo | Save on a case of Glucerna® Shakes @ Costco! Helps minimize blood sugar spikes. http://t.co/GAh8wDaDsE #DiabetesChat http://t.co/YgNuc9QHuC |
| lyfebulb | A2: Stress can also affect sugar levels, so try to combat negative stress and stay calm #diabeteschat |
| maureensrn | A2. When youre ready, tell your coworkers about your condition. Knowledge is power. You may save a life. #diabeteschat |
| lyfebulb | A2: Diabetes should not affect people's judgment of you #diabeteschat |
| malinajlove | A2. can go low before I go in therefore late. I also have to check bs frequently and b allowed snacks at desk. #diabeteschat @CDiabetesInfo |
| lyfebulb | A2: And it is illegal to discriminate against someone w/ diabetes in the work place #diabeteschat |
| laurenpincusrd | Very important. Please think it's only food. Also illness and lack of sleep raise blood sugar. #diabeteschat https://t.co/jA9qFDNf5l |
| laurenpincusrd | I meant people, not please! #diabeteschat https://t.co/Attz5Nl2ip |
| maureensrn | A2 Long work hours, erratic schedules, travel, and unscheduled meetings can easily cause glucose levels to fluctuate. #Stress #diabeteschat |
| lyfebulb | A2: Our blog by @Robinrjsmith discusses #diabetes and work: http://t.co/LIFQAxxskw #diabeteschat |
| diabetictalks | A2 It can have very little impact on work life, but you still need to manage it well. Stop and take care of the lows #diabeteschat |
| primetimeparent | .@MindfulEatingRD @CDiabetesInfo I love almonds plain and almond milk in my coffee #DiabetesChat |
| cdiabetesinfo | @primetimeparent @MindfulEatingRD yum !!! #diabeteschat |
| doctorsoption | If you've lost feeling in your feet, take temperatures each morning & compare spot to spot #diabeteschat http://t.co/FJA1I91NqC |
| mindfuleatingrd | Make exercise part of your routine by choosing activities you enjoy #diabeteschat @CDiabetesInfo http://t.co/eokyoRCOSL |
| maureensrn | A2 Remember, diabetes is NOT a character flaw. Own the situation, get educated, get empowered. #diabeteschat |
| theconj | A2 it means ignoring the looks when you take the time to do what you need #diabeteschat @CDiabetesInfo & @LyfeBulb |
| cdiabetesinfo | Q3: What are good sources of carbohydrates? #DiabetesChat |
| lyfebulb | A3: Oatmeal, multigrain bread, brown rice, crackers #diabeteschat |
| laurenpincusrd | A3: Fruits, veggies, real whole grains,& don't forget lowfat dairy, beans #diabeteschat |
| doctorsoption | A3: I like Dr. Bernstein's No-No's in a Nutshell list: http://t.co/5i0OpoTAhr #diabeteschat |
| lyfebulb | A3: Certain fruits low in fast sugars- berries, esp blueberries #diabeteschat |
| primetimeparent | .@MaureenSRN I love keeping @kindsnacks handy, I am #gfree and don't do pizza #DiabetesChat |
| cdiabetesinfo | Cosamin ® DS, 230 Capsules $42.99 After $11 OFF + Free Shipping http://t.co/POzmm6ZIoC #DiabetesChat http://t.co/1llAPcDxNW |
| pavedsilverroad | @primetimeparent @MindfulEatingRD @CDiabetesInfo Unswt almond milk, stevia, coconut oil + extracts are always in my coffee #diabeteschat |
| maureensrn | A3 Good carb food sources are varied- I think its most important to get a working knowledge of label reading/ portion control #diabeteschat |
| lyfebulb | A3: Avoid Grapes, white rice, white pasta, pastries and sweets #diabeteschat |
| malinajlove | @CDiabetesInfo Q3. Natural, organic, not processed; low glycemic/ insulin index. #diabeteschat |
| doctorsoption | Here is a long list of things that can be eaten: http://t.co/LXpbQWOVqG #diabeteschat |
| cdiabetesinfo | @LyfeBulb @MaureenSRNvery good info #diabeteschat |
| laurenpincusrd | A3: Have you heard of Pichuberries? Very low glycemic- less than blueberries. More info on my blog: http://t.co/SfNwdn5kRa #diabeteschat |
| primetimeparent | .@LaurenPincusRD What is your fave dairy snack? I love @chobani greek yogurt #DiabetesChat |
| lyfebulb | A3: Check out my video which discussing #cooking at home: http://t.co/XJtHzqkENx #diabeteschat |
| mindfuleatingrd | Excellent point. When in doubt ask for a 2nd opinion #diabeteschat @CDiabetesInfo https://t.co/EOeoeJi3E9 |
| lyfebulb | @MaureenSRN @KINDSnacks Thanks for sharing! #diabeteschat |
| pavedsilverroad | A3 I keep my diabetes in exceptional control by eating #lchf I do get carbs from veggies, nuts, nut + coconut flours #diabeteschat |
| lowcarbrd | Veggies,berries, nuts are best because they are high in fiber & keep blood glucose from rising quickly #DiabetesChat https://t.co/mIgnaFw2XO |
| lyfebulb | A3: Dining out versus eating in? You CAN do both! http://t.co/XJtHzqkENx #diabeteschat |
| maureensrn | A3 Most importantly, there is a single "diabetic diet" so find the foods you like, and get the portion that works for you. #diabeteschat |
| primetimeparent | .@MaureenSRN I am always reading food labels, keeping #kosher and #gfree too #DiabetesChat |
| lowcarbrd | Agree! Also cottage cheese with cinnamon and a little sugar substitute #DiabetesChat https://t.co/u0LrrLhm0i |
| rmlacroix | Smart choices! Don't forget beans & lentils! #diabeteschat https://t.co/thr3sEP22D |
| maureensrn | A3 Society is at a disadvantage overall with portion distortion and "multi pack" serving sizes, supersized, all -u-can-eat 🙂 #diabeteschat |
| caloriesproper | Kimchi, Brussels sprouts, leafy greens, nuts, dark chocolate, berries, etc |
| laurenpincusrd | I'm a huge cottage cheese fan! #diabeteschat https://t.co/7sGzvLz8y3 |
| primetimeparent | .@LowCarbRD That sounds so good! #DiabetesChat |
| lyfebulb | @CaloriesProper @CDiabetesInfo Great choices! #diabeteschat |
| caloriesproper | @CDiabetesInfo good carbs: fermented veggies! 🙂 #DiabetesChat eg, sauerkraut, kimchi, pickles, etc. |
| rmlacroix | @CaloriesProper @primetimeparent @CDiabetesInfo my fave is @theochocolate – lots of flavors that are 70% cocoa + 4g fiber! #diabeteschat |
| primetimeparent | .@CaloriesProper @CDiabetesInfo You had me at #chocolate #DiabetesChat, what's your favorite? |
| lyfebulb | @DiabetesDig @LowCarbRD Sounds so good! #diabeteschat |
| lowcarbrd | @LyfeBulb @DiabetesDig I recommend it to patients and eat it pretty much every day myself 🙂 #DiabetesChat |
| caloriesproper | @CDiabetesInfo mushrooms, garlic, onions, leeks, scallions, bok choy… list of 'good carbs' is very long! #DiabetesChat |
| cdiabetesinfo | @CaloriesProper that's great to know Bill glad there are more "good carbs" #diabeteschat |
| cdiabetesinfo | Q4: Does the type of exercise I do affect my blood sugar levels? #DiabetesChat |
| doctorsoption | Article @DiabetesInCntrl Prevent Lows Before, During and After Exercise: http://t.co/judJDp5BA9 #diabeteschat |
| malinajlove | @CDiabetesInfo Q4. Yes, by all means it does.Just read an article that muscle strengthening improves glucose even. #diabeteschat |
| cdiabetesinfo | Costco KS OPTIFIBER Quickly dissolves in hot or cold beverages & soft food http://t.co/CxvQh6CRVD #DiabetesChat http://t.co/xwQp0Lddok |
| primetimeparent | @DoctorsOption @DiabetesInCntrl Thanks for the article, totally helpful sonce I started running #DiabetesChat |
| mindfuleatingrd | @CDiabetesInfo #diabeteschat Think in terms of behaviors, don't focus on weight loss. http://t.co/G35NgBc4fn |
| cdiabetesinfo | #S4L Whole Grains May Extend Life http://t.co/5lygNH5Evq #DiabetesChat |
| managediabetes | Newly diagnosed with #diabetes? Here are some questions you should ask your doctor to ensure good care: http://t.co/brwSLF9YTN #DiabetesChat |
| lowcarbrd | @primetimeparent It really is, and so easy! 🙂 #DiabetesChat |
| laurenpincusrd | Yes! People get very judgemental. There's no one size fits all 🙂 #diabeteschat https://t.co/HlTCgy0iIm |
| maureensrn | A4 Diabetes & exercise-> check blood sugars beforehand; have quick acting glucose available just in case….. #diabeteschat |
| cdiabetesinfo | Great prices on NatureMade vitamins @Costco For people w/diabetes & prediabetes http://t.co/xSWWGcozEB #DiabetesChat http://t.co/R04zRFePxM |
| diabetictalks | A4 All types of exercise have an impact; from walking to running all cardio, burn carbs and reduces blood sugar levels. #DiabetesChat |
| diabetictalks | A4 Lifting weights and anaerobic exercise will actually raise blood sugar levels. #DiabetesChat #Diabetes |
| lowcarbrd | @CaloriesProper @CDiabetesInfo Oh yes to all of these 🙂 #DiabetesChat |
| lyfebulb | A4: Absolutely – exercise always affects the blood sugars #diabeteschat |
| lyfebulb | A4: The more intense & calorie burning the exercise is, the more insulin resistance is reduced and sugar levels drop #diabeteschat |
| lyfebulb | A4: Consistent sports such as swimming and running, are easier to plan for than tennis or soccer #diabeteschat |
| lyfebulb | A4: Our blog contributor @RoyCHealth with #diabetes discusses stretching & diabetes: http://t.co/eyNcICnGZI #diabeteschat |
| maureensrn | A4 Aim for progress, not perfection when starting any exercise regimen. Get medical clearance if need be. #diabeteschat |
| maureensrn | A4 If you know its a strenuous workout check glucose and have carb appropriate snacks on stand by. #diabeteschat |
| cdiabetesinfo | Q5: What device advancements are in the works for #diabeteshealth #Diabeteschat |
| doctorsoption | A5: Nanofiber Sensor Attached to a Smart Phone Detects Diabetes: http://t.co/9Ey3DjNJUR #diabeteschat |
| lyfebulb | A5: The closed loop is being developed by a number of companies, including JNJ and Medtronic #diabeteschat |
| cdiabetesinfo | Save Money on Medicines with the Costco Member Prescription Program http://t.co/F5Ycck6vN2 #DiabetesChat |
| doctorsoption | @LyfeBulb @roycHealth http://t.co/n6vBBoLSHO #diabeteschat great article |
| lyfebulb | A5: This means a insulin pump will deliver insulin contingent upon the glucose levels measured by a second (connected) device #diabeteschat |
| lyfebulb | A5: We are not there yet, but there is a new system approved, where if the glucometer measures a very low glucose value (1) #diabeteschat |
| pavedsilverroad | A5 Still waiting for my bionic pancreas… #twiddlesthumbs #brokenrecord #diabeteschat |
| lyfebulb | A5: Inhaled insulin devices are also either on the market or in clinical development #diabeteschat |
| doctorsoption | A5: An insulin patch in the works http://t.co/qWqh3rBhHK #diabeteschat |
| lyfebulb | A5: Also smaller pumps and more accurate machines to measure sugar continuously #diabeteschat |
| cdiabetesinfo | CinSulin® water extract of cinnamon @Costco supports healthy blood sugar levels http://t.co/FwJb2wbGFN #DiabetesChat http://t.co/rBBSXfwDlG |
| maureensrn | A5 If cost is ever an issue with diabetes supplies, please check the company "PAP"- patient assistance programs. #diabeteschat |
| doctorsoption | A5: Cellphone Application that Records Readings from Glucometer http://t.co/G9HxGYsLyJ #diabeteschat |
| lyfebulb | @DoctorsOption Interesting! #diabeteschat |
| maureensrn | A5 For those challenged with the cost of diabetes, many options exist for partial coverage/free supplies. Avoid $$ stress. #diabeteschat |
| pavedsilverroad | Q5 Honestly, I'm just glad that color-screen and backlit glucose monitors are more readily available… #diabeteschat |
| primetimeparent | .@AlyssaAvant Totally love #periscope, this is such a great party, why not!! #DiabetesChat |
| maureensrn | A5 Many patients use http://t.co/Wh4Su70Rgd as well as company patient assistance programs and free clinics. Options exist. #diabeteschat |
| malinajlove | A5. What advancements? lol. Been doing nearly the same exact thing for 20 years. #diabeteschat @CDiabetesInfo |
| pavedsilverroad | @malinajlove @CDiabetesInfo Yeah, but insulins and BG monitors sure as hell have changed since the 90s… #diabeteschat |
| cdiabetesinfo | Q6: My loved one was just diagnosed with #Diabetes; tips to be more supportive? #DiabetesChat |
| lyfebulb | A6: Connect with the closest and best diabetes clinic, and make sure the person gets treatment, educated, & counseled #diabeteschat |
| cdiabetesinfo | Great prices on Weider® Red Yeast Rice Plus @Costco! Helps lower cholesterol: http://t.co/KObV3mtalh #DiabetesChat http://t.co/eDSbpWJ2ec |
| mindfuleatingrd | Make time to listen to your own wisdom! #diabetes #diabeteschat @CDiabetesInfo http://t.co/0Zf5ZTUEtV |
| diabetictalks | A6 Ask them how they would like you to support them. They are the experts on what works for them. #DiabetesChat |
| laurenpincusrd | A6: First, don't panic. Seek professional help from your MD and a dietitian to plan your care. #diabeteschat https://t.co/BYHq269WLX |
| lyfebulb | A6: Understand as much as possible yourself so you can help your relative #diabeteschat |
| maureensrn | A6 for the newly diagnosed diabetic, family centered education is paramount. Get everyone on "same page". #diabeteschat |
| lyfebulb | A6: Study the literature and reach out to a patient community such as Lyfebulb to meet others w/ similar story #diabeteschat |
| mindfuleatingrd | Stress is a big cause of overeating. Consider #mindfuleating @CDiabetesInfo #DiabetesChat http://t.co/Lxrcp8LiOr |
| pavedsilverroad | Q6 NEVER SAY "can you eat that?" Most unsupportive thing EVER #diabeteschat |
| lyfebulb | A6: Video & info discussing balancing #relationships and #ChronicIllness: http://t.co/XJtHzqkENx #diabeteschat |
| maureensrn | A6 Newly diagnosed diabetic? Avoid, "are you sure you should be…"…..well meaning but it comes off judgmental at time. #diabeteschat |
| caloriesproper | @primetimeparent @thebroadwaywiz @pavedsilverroad oh, cool. Thanks! #DiabetesChat |
| lyfebulb | A6: Take a holistic approach and do not settle for just basic treatment – diet and exercise are critical #diabeteschat |
| doctorsoption | Article #diabetesincntrl Spouses of older patients suffer distress related to diabetes management http://t.co/C5RdAjIW9T #diabeteschat |
| maureensrn | A6 Newly diagnosed? Understand this is a chronic, yet manageable disease. PLEASE, aim for progress, not perfection. #diabeteschat |
| cdiabetesinfo | #S4L Aerobic Exercise Can Help Improve Your Blood Glucose http://t.co/TsyBeAVLfc #DiabetesChat |
| maureensrn | A6 Newly diagnosed? Don't discount diabetic related depression and burnout. It can be overwhelming. Seek help if needed. #diabeteschat |
| malinajlove | @CDiabetesInfo Q6. Learn together! Research together! 🙂 #diabeteschat |
| lowcarbrd | Talk about fears, concerns.Assure that diabetes can be managed w/diet exercise & medication(if needed) #DiabetesChat https://t.co/0ezY5SRgCy |
| diabetictalks | A6 Psychotherapist aren't just for mental problems but are a coping tool and provides support #diabeteschat |
| cdiabetesinfo | Q7: Why is #Diabetes growing worldwide? #DiabetesChat |
| cdiabetesinfo | Get a FREE TRUEresult blood glucose monitoring system @ Costco pharmacy today! http://t.co/xTO4CR3Ggs #DiabetesChat http://t.co/AxC2CL5Exg |
| malinajlove | @CDiabetesInfo Lack of proper nutrition, obesity, bad diabetes gene dump into the gene pool. #diabeteschat |
| primetimeparent | A7. .@CDiabetesInfo @LyfeBulb #DiabetesChat we are eating more and moving less |
| diabetictalks | A7 Technology creates a world where exercise is an option instead of just naturally a part of life. #diabeteschat |
| lyfebulb | A7: #T2D – Western lifestyle is driving much of the new cases, ie bad food habits, and obesity #diabeteschat |
| lyfebulb | A7: #T1D – this is trickier – it is an autoimmune disease and all autoimmune diseases are growing in numbers #diabeteschat |
| lyfebulb | @primetimeparent @CDiabetesInfo That is the truth #diabeteschat |
| diabetesincntrl | FREE enewsletter for diabetes health educators at http://t.co/jTxKZ7iXaW #diabeteschat http://t.co/JueoyuL818 |
| lyfebulb | A7: T1D -maybe due to a virus? improved hygiene? antibiotic therapy? diet? A big area of research #diabeteschat |
| doctorsoption | A7: Researchers also found that complications such as nerve damage are already emerging in young people http://t.co/PYF3cJLYtB #diabeteschat |
| pavedsilverroad | A7 Diet, lack of exercise rising, chemicals in foods leading to gene mutations and interrupted biochemical processes #diabeteschat |
| maureensrn | A7 Worldwide epidemic of diabetes- genetics, environmental, change in diet and activity over the years. Multifactoral. #diabeteschat |
| pavedsilverroad | Q7 I would also venture to say more ppl are looking for it. T2D can sometimes creep slowly & consequently get ignored #diabeteschat |
| maureensrn | A7 Worldwide diabetes-> our lifestyle got much more relaxed; cars, instead of walking, TV,computer and desk time. #Sedentary. #diabeteschat |
| maureensrn | A7 Worldwide diabetes- our diets have too many choices…..we are rich in food, and poor in health. #diabeteschat |
| cdiabetesinfo | Q8: How can I invest in myself? #DiabetesChat |
| doctorsoption | A8: Get motivated to improve your insulin action with physical activity http://t.co/Yy8B8fWNtB #diabeteschat |
| lyfebulb | A8: Learn as much as possible about your disease #diabeteschat |
| cdiabetesinfo | Free shipping on Costco KS Quit2 Gum! +tips to quit from a Costco pharmacist: http://t.co/vBwYDZn3GA #DiabetesChat http://t.co/IKTDYBx9Um |
| laurenpincusrd | @CDiabetesInfo Invest your time in exercise, meditation, cooking and learning how to manage your diabetes. #diabeteschat |
| lyfebulb | A8: Learn from others in similar situations as well as from the literature and from thought leaders #diabeteschat |
| malinajlove | @CDiabetesInfo A8. In what way? Physically, emotionally, spiritually? Economically? Diabetically? #diabeteschat |
| lyfebulb | A8: Join our @Lyfebulb community & help us identify and perhaps fund ideas we can stand behind http://t.co/VsGbY4ZN6y #diabeteschat |
| maureensrn | A8 Invest in self-> support groups, research, education, self care, balanced diet and rest all improve overall health. #diabeteschat |
| pavedsilverroad | A8 Check your BG more often. Disappointed at how some ppl get told to test 1x/week #diabeteschat |
| mindfuleatingrd | Nourish your spirit @CDiabetesInfo #diabetesincntrl #diabeteschat http://t.co/2AJG0JE4aX |
| lyfebulb | A8: Connect w/ the Lyfebulb blog where you hear from other #diabetes patients http://t.co/CyXOiXlEa7 #connect #support #diabeteschat |
| lyfebulb | @MaureenSRN Agree agree agree! #diabeteschat |
| doctorsoption | 5% off any purchase on Doctor's Option just for #diabeteschat – use coupon code DiabetesChat http://t.co/HDjFXUqGZ8 |
| diabetictalks | A8) learn about new techniques, seek diabetes education, and get emotional help if struggling with emotional or physical #diabeteschat |
| maureensrn | A-8 invest in self-> pace yourself. Progress and knowledge come with time. Chronic disease is not a "sprint" race. #diabeteschat |
| lyfebulb | A8: Lyfebulb #SocialClub meets monthly in #NYC around innovative health topics – email events@lyfebulb.com for more info #diabeteschat |
| cdiabetesinfo | Q9: What is the latest on the scientific front for treating #Diabetes? #DiabetesChat |
| diabetictalks | A9 Phone apps to help with management #diabeteschat |
| lyfebulb | A9: Insulin is still the primary treatment for T1D but better delivery methods are coming to the market #diabeteschat |
| doctorsoption | A9: Rapid-acting insulin called Afrezza enters the blood very quickly – http://t.co/SKjz93GXi7 – #diabeteschat |
| lyfebulb | A9: Including: better continuous delivery, inhaled insulin and better glucose measuring devices #diabeteschat |
| maureensrn | A9 inhaled insulin, advanced pumps, bionic pancreas; advances everyday. Exciting times ahead. #diabeteschat |
| cdiabetesinfo | People w/diabetes 2X more likely to develop gum disease. Colgate Total can help http://t.co/xZvSMANmZD #DiabetesChat http://t.co/AY4vzyWwmL |
| lowcarbrd | A9 Carbohydrate Restriction: http://t.co/Hf37epNz2U #DiabetesChat https://t.co/GpRhqfXzxV |
| lyfebulb | A9: In the pipeline there are so called "therapeutic vaccines" (1) #diabeteschat |
| pavedsilverroad | Q9 I'm SUPER interested in that insulin patch. Emailed head of lab asking abt human trials, he said he'd get back LOL #diabeteschat |
| lyfebulb | A9: These vaccines may be used prior to the violent symptoms of #diabetes and thus could PREVENT full-blown diabetes (2) #diabeteschat |
| lyfebulb | A9: There are also at least two kinds of glucose responsive insulins in development #diabeteschat |
| maureensrn | A9 advances in diabetes-> the recognition for formal education for all newly diagnosed!! yeah!!!!! #diabeteschat |
| lyfebulb | A9: There are also a number of immune therapies that may thwart the immune attack on betacells in pancreas after Dx #diabeteschat |
| mindfuleatingrd | Make exercise mean something #Diabetes #diabeteschat me on my 5th Tour de Cure http://t.co/aOTrUzHy8G @CDiabetesInfo http://t.co/mvUY7uf9uO |
| cdiabetesinfo | #S4L Break the Stress-Eating Cycle http://t.co/ntyweoOlCQ #DiabetesChat |
| malinajlove | A9. APPS, CGM, watches, pumps, pens, hope. #diabeteschat @CDiabetesInfo |
| maureensrn | A9 Advances in diabetes-> recognition of the need for multifactorial chronic disease management. #diabeteschat |
| lyfebulb | A9- Many advances to anticipate. In the meantime take care of your body- eat right, exercise, & get a great healthcare team #diabeteschat |
| andrewjpg | @CDiabetesInfo A. I've heard that stem cells can help: http://t.co/M9wdONdzA5 #DiabetesChat |
| cdiabetesinfo | Q10: Eating/drinking out, parties – how can I get a handle on #Diabetes & social life #DiabetesChat |
| laurenpincusrd | A10: Plan ahead! Check menus online or ask what is being served at a party. Bring a dish you can eat #diabeteschat https://t.co/XB57ZzzTnT |
| lyfebulb | Great question! RT @CDiabetesInfo Q10: Eating/drinking out, parties – how can I get a handle on #Diabetes & social life #DiabetesChat |
| doctorsoption | A10: A bit of good news: moderate alcohol compared to heavy drinking reduces risk for type 2 diabetes http://t.co/ijhgFyycZA #diabeteschat |
| lyfebulb | A10: Try to do some research on the menu before going to a restaurant, to ensure there are healthy options available #diabeteschat |
| lyfebulb | A10: Order side dishes in lieu of calorie-rich appetizers and ask to remove the starch in a heavy main course #diabeteschat |
| laurenpincusrd | A10: Delish low carb party dish! Zucchini, Tomato and Onion Bake: http://t.co/q8cXVsY24k #diabeteschat http://t.co/5n3gYyVCtR |
| pavedsilverroad | @CDiabetesInfo That cake looks awfully delicious… #justsaying #diabeteschat |
| pavedsilverroad | A10 Good news: I hate people. Don't have to worry about social life #diabeteschat |
| lyfebulb | A10: Watch out for sauces and dressings that may be full of sugar and cream, and don't drink sodas #diabeteschat |
| cdiabetesinfo | OneTouch Ultra®2 or UltraMini® Meter from Costco Pharmacy http://t.co/Do9WwSKT0X #DiabetesChat http://t.co/noG7a38D3i |
| andrewjpg | A10. It's been very hard for me but if I do drink or have dessert I allow myself one sip or bite and that's it. #DiabetesChat @CDiabetesInfo |
| doctorsoption | A10: Just like anyone trying to keep off that extra 5 lbs during the holidays, the key is moderation #diabeteschat |
| lyfebulb | A10: I recorded two videos discussing just this! #drinks #dining & #diabetes http://t.co/XJtHzqkENx #diabeteschat |
| maureensrn | A10 Diabetes and social life-> check menu online first; have some routine go to food items. Use apps to calculate carbs etc #diabeteschat |
| pavedsilverroad | A10 On the rare occasion I do eat out though, I order a meat and veg. No rice/potatoes/bread. Drink H2O. #diabeteschat |
| lyfebulb | A10: Never drink alcohol without having something to eat to avoid going low later #diabeteschat |
| maureensrn | A10 Diabetes and social life- realize it doesn't have to be "about the food" and enjoy yourself in the moment. #diabeteschat |
| malinajlove | A10. Had to stop when ended up in the hospital Nt a good idea If I do Im home, ppl remnd me to chck bs etc #diabeteschat @CDiabetesInfo |
| diabetictalks | 10 Social drinking is 2-3 drinks in this world that can be one mixed drink. Drink responsibly to avoid out of control BG #Diabeteschat |
| lyfebulb | I agree, a great piece of advice. Hard for some to remember at times @MaureenSRN #diabeteschat |
| maureensrn | A10 Eat beforehand; check out all food items if it's a buffet; dance and socialize and stay away from temptation. #diabeteschat |
| lowcarbrd | Focus on high-protein, low-carb appetizers, entrees..Limit alcohol to 1 glass wine & consume with food. #DiabetesChat https://t.co/BfBIryfUOg |
| cdiabetesinfo | Continue the conversation on what you must know re living w/diabetes & like @CDiabetesinfo on Facebook #DiabetesChat http://t.co/PDGBxr3KPL |
| primetimeparent | I was on #periscope & gave you all shout outs! #DiabetesChat thank you all for your comments and answers tonight! |
| lyfebulb | A10: Alcohol shuts down the liver's ability to secrete glucose when in need, so a person with diabetes is extra vulnerable #diabeteschat |
| doctorsoption | FREE Pedometer with purchase of A1c 10 pack just for #diabeteschat while supplies last http://t.co/wtUNDM4vCg |
| malinajlove | @CDiabetesInfo Q10. Eating out: CalorieKing is the bible. #diabeteschat |
| lyfebulb | A10: One of our #Diabetes bloggers @Robinrjsmith just wrote on #drinks & diabetes: http://t.co/PrZwQZmhyn #diabeteschat |
| doctorsoption | A10: Don't make yourself an unconscious diabetic. http://t.co/sDfMPnKILj – Dr. Bernstein's advice on alcohol #diabeteschat |
| maureensrn | A10 diabetes and eating out-> if all else fails, tell the server "YOU ARE ALLERGIC TO THE FOOD"..yes, I've done it! #proud #diabeteschat |
| cdiabetesinfo | Share your tips with us on Facebook and Pinterest #DiabetesChat |
| cdiabetesinfo | Follow and pin us over on Pinterest #DiabetesChat —http://t.co/wSjvxrvVWP |
| lyfebulb | So great to hear from everyone. Thank you all for sharing your thoughts on these topics tonight. #diabeteschat |
| pavedsilverroad | A10 NEVER DRINK ALONE and ALWAYS HAVE DD. Have someone you trust stay sober in case of need. Good advice for anyone, really #diabeteschat |
| cdiabetesinfo | Thanks @malinajlove #diabeteschat |
| doctorsoption | @LyfeBulb You were great, thanks for all your support and advice! #diabeteschat |
| cdiabetesinfo | Follow us on instagram #DiabetesChat #dailyinspiration http://t.co/p17txjOS52 |
| pavedsilverroad | @MaureenSRN I've told servers I have celiac so that no wheat ends up in my food. Often they look confused 🙁 #diabeteschat |
| mindfuleatingrd | Self forgiveness is a great gift to give yourself #diabeteschat @CDiabetesInfo http://t.co/gJBMGUAB5M |
| cdiabetesinfo | @PavedSilverRoad @MaureenSRN probably better tell them you're allergic not everyone knows all terms #diabeteschat |
| cdiabetesinfo | Keep following us on Twitter and let us know about your #diabetes needs #DiabetesChat http://t.co/b6DTeBwGhm |
| diabetictalks | One last share: check out my blog on alcohol and drugs #Diabeteschat http://t.co/lPMSjoCPNw |
| cdiabetesinfo | Find more information about taking care of your diabetes & great recipes on the @CDiabetesinfo website http://t.co/os3ocFD4Kf #DiabetesChat |
| maureensrn | Thank you, everyone, for a great Twitter chat party……now, about that chocolate cake photo!! hahaha. Stay healthy. #diabeteschat |
| doctorsoption | @MaureenSRN hahaha #diabeteschat |
| cdiabetesinfo | Check out @CDiabeteinfo's website http://t.co/qdQ5PsPOzb for past #DiabetesChat topics |
| mindfuleatingrd | #Diabetes #diabeteschat remember diabetes is a disease of SELF management. Go ahead, take charge! @CDiabetesInfo http://t.co/rfMY2EXt7j |
| cdiabetesinfo | Special thanks to @DiabetesINFL @LaurenPincusRD @MaureenSRN @DiabetesInCntrl @DiabeticTalks #DiabetesChat |
| cdiabetesinfo | Thank you Dr. Karin Hehenberger, MD, PhD, founder of @LyfeBulb for sharing your real life experiences of living w/#diabetes #DiabetesChat |
| lyfebulb | My pleasure! #diabetes #DiabetesChat https://t.co/rwWxlW28vp |
| cdiabetesinfo | Please join our next #DiabetesChat on 8-5, 7-8pmET w/Susan B. Dopart, M.S., R.D., C.D.E. |
| pavedsilverroad | @MaureenSRN Psst…BEST chocolate cake EVER. So rich, OMG http://t.co/ACKmvfUQiX #diabeteschat |
| cdiabetesinfo | Susan Doport, @smnutritionist will be chatting about Prevention and Treatment of #type2 3diabetes in Children and Adolescents #DiabetesChat |
| primetimeparent | @MaureenSRN How did I miss that chocolate cake photo???? #DiabetesChat #chocolate |
| cdiabetesinfo | Great prices on Weider®Red Yeast Rice Plus @Costco! Helps lower cholesterol: http://t.co/R5KN0G6fD0 #DiabetesChat http://t.co/4eMLCP2dMZ |
| baerbelsmile | @DiabeticTalks @MaureenSRN #Diabeteschat great article , drugs/alcohol can be a killer if you have Diabetes |
| cdiabetesinfo | Cosamin ® DS, 230 Capsules $42.99 After $11 OFF + Free Shipping http://t.co/1JOcBmdDvp #DiabetesChat http://t.co/ZGehL6QeSB |
| cdiabetesinfo | Save on diabetes supplies! Bayer Contour test strips @ discount on Costco CMPP. http://t.co/9MxQ8Ay8SC #DiabetesChat http://t.co/HVDkkPymy2 |
| cdiabetesinfo | Costco KS OPTIFIBER Quickly dissolves in hot or cold beverages & soft food http://t.co/487XLjflMu #DiabetesChat http://t.co/QSxBfCp3IR |
| cdiabetesinfo | CinSulin® water extract of cinnamon @Costco supports healthy blood sugar levels http://t.co/QGXWf3rCQF #DiabetesChat http://t.co/npusiBx4WC |
| cdiabetesinfo | People w/diabetes 2X more likely to develop gum disease. Colgate Total can help http://t.co/cjZhmLhv8j #DiabetesChat http://t.co/PaeSfViROD |
| cdiabetesinfo | FREE OneTouch Ultra®2 or UltraMini® Meter from Costco Pharmacy http://t.co/uehdQuj8u7 #DiabetesChat http://t.co/g9NBjtOPuK |
| cdiabetesinfo | Get a FREE TRUEresult blood glucose monitoring system @ Costco pharmacy today! http://t.co/l4Y6JVJdWb #DiabetesChat http://t.co/uoqchtsTEY |
| cdiabetesinfo | Save on a case of Glucerna® Shakes @ Costco! Helps minimize blood sugar spikes. http://t.co/dspKT7Q53t #DiabetesChat http://t.co/T5N8gXQS0V |
| cdiabetesinfo | Free shipping on Costco KS Quit2 Gum! +tips to quit from a Costco pharmacist: http://t.co/jcaTinpFlg #DiabetesChat http://t.co/CSb4hGrLcW |
| cdiabetesinfo | Great prices on NatureMade vitamins @Costco For people w/diabetes & prediabetes http://t.co/ZhTNQKgXpe #DiabetesChat http://t.co/94aeyoey7a |