Lifestyle Changes for Healthy Aging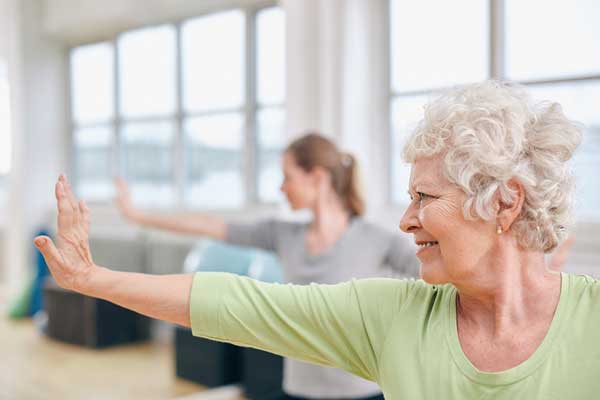 This blog has been compensated by OmniChannel Health Media and its advertiser. All opinions are mine alone.
As we age, we are at higher risk for developing chronic diseases, such as type 2 diabetes, heart disease, high blood pressure and arthritis. According to the National Council on Aging, about 92% of older adults have at least one chronic disease, and as many as 77% have at least two. A staggering 57 million Americans over the age of 20 have prediabetes, which increases the risk of developing type 2 diabetes, heart disease and stroke. These daunting numbers make healthy aging seem nearly impossible, but there is hope. Studies have shown that by making lifestyle changes, the risk of developing diabetes is reduced by 71%.
Diabetes is a concern for many reasons, including its connection with other chronic diseases, like arthritis. People who have been diagnosed with diabetes are twice as likely to develop arthritis. Osteoarthritis affects approximately 34% of older adults, and is a common cause of physical disability. Common signs of arthritis include joint discomfort, swelling, tenderness and stiffness.
One common way to promote joint health is with nutritional supplements. Cosamin, which contains glucosamine and chondroitin, is believed to help slow the breakdown of cartilage. Studies suggest glucosamine can help promote joint comfort and health. Cosamin, available at Costco, is the original, and most researched, glucosamine/chondroitin sulfate brand: http://cdiabetes.com/fall2015/cosamin-ds-230-capsules/
While studies have shown that glucosamine supplementation does not cause significant changes in blood glucose over time, it's important to talk to your health care provider and to monitor your blood glucose to ensure that your levels do not increase when taking any dietary supplement.
A simple way to improve both arthritis and type 2 diabetes is to participate in physical activity. Exercise helps reduce the pain associated with arthritis, while also improving blood glucose levels. Low-impact exercise, like walking or swimming, is encouraged, as well as gentle stretching.
With a healthy diet, regular physical activity and nutritional supplements, healthy aging is possible. Work with your health care professional to find out what changes are right for you.
---
This blog has been compensated by OmniChannel Health Media and its advertiser. All opinions are mine alone.
The contents of the CDiabetes.com Site, such as text, graphics, images, and other material contained on the CDiabetes.com Site ("Content") are for informational purposes only. The Content is not intended to be a substitute for professional medical advice, diagnosis, or treatment. Always seek the advice of your physician or other qualified health provider with any questions you may have regarding a medical condition. Never disregard professional medical advice or delay in seeking it because of something you have read on the CDiabetes.com Site.