Cinnamon for Managing Blood Glucose?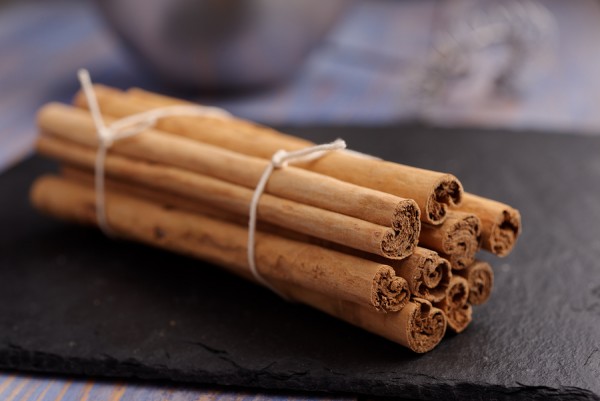 This blog has been compensated by OmniChannel Health Media and its advertiser. All opinions are mine alone.
Cinnamon is a delicious and fragrant spice, commonly used in baking pies, muffins and delicious sweet treats like cinnamon rolls. However, did you know that cinnamon may also have health benefits?[1]
What is cinnamon?
Cinnamon comes from the bark of the Cinnamomum tree found in Southeast Asia, South America and the Caribbean. There are two types of cinnamon:
Cassia cinnamon, which comes from the bark of an evergreen tree that grows in Southeast Asia, is the cinnamon commonly found in grocery stores.
Ceylon cinnamon, a rarer and more expensive cinnamon native to Sri Lanka and Madagascar, is lighter in color and milder in flavor than Cassia.
Can cinnamon help maintain healthy blood glucose levels?
By taking cinnamon supplements or adding cinnamon to your food, you may be able to manage blood glucose levels.[2] While research has been mixed, there is some evidence that cinnamon may be helpful in reducing both fasting blood glucose and A1C levels.[3]
It's thought that cinnamon helps control blood glucose levels by reducing the risk of insulin resistance.[4] In other words, cinnamon may help insulin work better in moving glucose from your bloodstream into cells to be used for energy.
Is cinnamon safe?
Cinnamon is considered to be safe, whether you sprinkle it on your morning oatmeal or take it in supplement form. However, there is one ingredient in cassia cinnamon, coumarin, that is linked to liver damage in some people.
What is CinSulin®?
CinSulin is made using cinnamon bark, water, heat and pressure to form a water-soluble extract. Unlike cinnamon that is used in baking or some dietary supplements, CinSulin contains only highly concentrated water-soluble compounds. Possible harmful fat-soluble compounds, like coumarin, have been removed.
Has CinSulin been studied?
Yes. Water-extracted cinnamon, like that found in CinSulin, has been studied inhuman clinical trials and has been found to be both safe and effective.[5] Results have been published in peer-reviewed medical journals.[6]
Is CinSulin right for you?
When using cinnamon as part of your healthy blood glucose regimen,you need fewer CinSulin capsules compared with other cinnamon supplements, which saves money. CinSulin is not a replacement for your diabetes medicine. Take CinSulin as part of a healthy lifestyle that includes a healthy eating regimen, staying active daily and getting at least eight hours of sleep each night. As a reminder, it's always important to check with your healthcare provider before taking any type of dietary supplement.
Where can you buy CinSulin?
If you and your healthcare provider feel that taking CinSulin is the right choice for you, CinSulin can be purchased at a Costco warehouse near you or at Costco.com. Visit cdiabetes.com/cinsulin for more information.
---
This blog has been compensated by OmniChannel Health Media and its advertiser. All opinions are mine alone.
The contents of the CDiabetes.com site, such as text, graphics, images, and other material contained on the CDiabetes.com site ("Content") are for informational purposes only. The Content is not intended to be a substitute for professional medical advice, diagnosis, or treatment. Always seek the advice of your physician or other qualified health provider with any questions you may have regarding a medical condition. Never disregard professional medical advice or delay in seeking it because of something you have read on the CDiabetes.com site.
*These statements have not been evaluated by the Food and Drug Administration. This product is not intended to diagnose, cure, treat or prevent any disease.
---
[1] Anderson, Richard A., Re: Chromium and Polyphenols from Cinnamon, lecture given at 2007 summer meeting of the Nutrition Society, University of Ulster.
https://www.cambridge.org/core/services/aop-cambridge-core/content/view/S0029665108006010
[2] Davis, Paul A., and Yokoyama, Wallace, 1993, Re: Cinnamon Intake and Fasting Blood Glucose: Meta-Analysis, Journal of Medicinal Food, 14 (0) 2011, 1 – 6.
https://www.ncbi.nlm.nih.gov/pubmedhealth/PMH0033234/
[3] Mang, B. et al, 2006, Re: Cinnamon Extract and Plasma Glucose, HbA1c , and Serum Lipids, European Journal of Clinical Investigation, 36, 340-344.
http://www.mjota.org/images/Cinnamon_diabetes_Mang_202006.pdf
[4] Wang, Jeff, Re: Cinnamon Extract and Insulin Resistance Parameters, presented at the ASRM annual meeting, October 21, 2006, in New Orleans, LA.
http://www.olleolle.com/wp-content/uploads/Wang-PCOS.pdf
[5] Stoeckert, Barbara J., et al, Re: Cinnamon Extract and Blood Glucose, study presented at the FASEB annual meeting, April 26, 2010, in Anaheim, CA.
http://www.fasebj.org/content/24/1_Supplement/722.1.short
[6] Roussel, Anne-Marie, et al, 2009, Re: Antioxidant Effects of a Cinnamon Extract, Journal of the American College of Nutrition, Vol. 28, No. 1, 16-21.
https://www.ncbi.nlm.nih.gov/pubmed/19571155