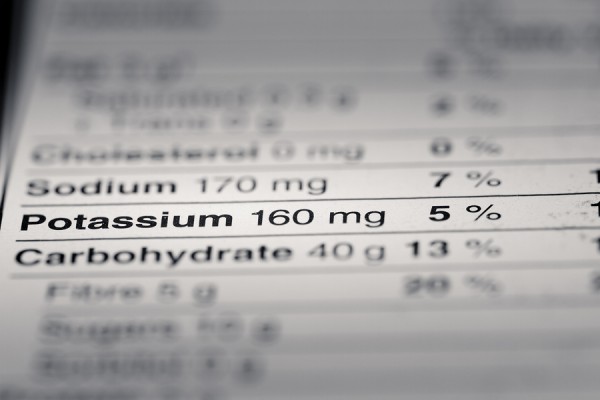 Potassium is an important nutrient that most Americans don't get enough of on a daily basis. In fact, because most people don't get enough potassium, it is considered a "nutrient of public health concern." So learn more about this important nutrient and how you can make sure you get enough every day.
What is potassium?
Potassium is a mineral and an electrolyte. Electrolytes carry electrical impulses to your cells.
Why do we need potassium?
Potassium plays several roles, including:
Building proteins
Building muscle
Breaking down and using carbohydrate
Maintaining normal body growth
Controlling the electrical activity of the heart
Controlling acid-base balance in the body
Managing blood pressure
Potassium may even play a role in bone health by helping to lower the loss of calcium through urine.
How much potassium do you need?
Adults need 4700 milligrams (mg) of potassium every day. At a minimum, 3510 mg a day helps reduce blood pressure and the risk for heart disease. But most Americans fall short, getting anywhere from just 2800-3300 mg for men, and 2200-2400 mg for women.
What foods contain potassium?
The good news is that there are many foods that contain this important mineral. Key sources are fruits and vegetables, but beans, dairy foods, meat, poultry, fish and soy products are great sources, too. Here's how much potassium is in the foods that you're already eating:
1 medium baked potato: 941 mg potassium
1 cup nonfat yogurt: 579 mg potassium
1 medium sweet potato: 542 mg potassium
1 medium banana: 442 mg potassium
½ cup cooked spinach: 419 mg potassium
¼ cantaloupe: 368 mg potassium
½ cup kidney beans: 358 mg potassium
How can you get more potassium in your eating plan?
One of the easiest ways to boost your potassium intake is to eat several servings of fruits and vegetables every day. If finding fresh produce is a challenge, remember that you can always turn to frozen and even canned fruits and vegetables (be sure to buy no-salt-added canned vegetables). Add vegetables to soups, stews and sauces. For lower-carb, high potassium foods, go with lean meats, poultry, fish and tofu.
What about getting too much or too little potassium?
Too little or too much potassium can lead to irregular heartbeat and cause other serious side effects. These conditions can occur for medical reasons, such as kidney disease or infection, or from taking certain medications. If you have kidney problems or take medications like diuretics, ask your doctor about how much potassium is safe for you to consume.