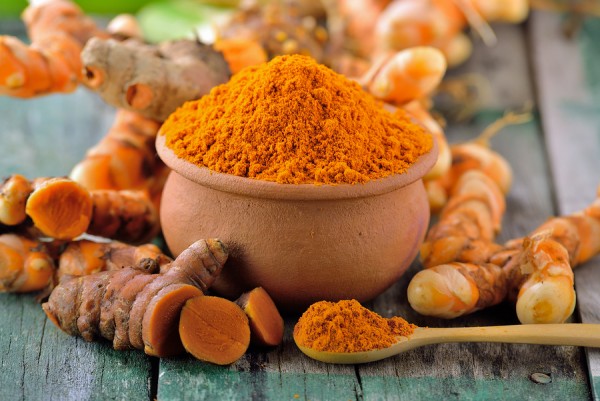 One of the healthiest spices around is turmeric. If this golden spice isn't in your cupboard yet, make sure to add it to your shopping list. Not only does turmeric lend color and flavor to curries, stews and rice dishes, it provides a number of health benefits that you won't want to miss!
What is turmeric?
Turmeric is a spice native to India and Southeast Asia. It's been used for thousands of years as a flavorful ingredient and as a medicine. Turmeric comes from the root of the Curcuma longa plant, and is related to ginger and cardamom. Turmeric is also a natural coloring agent, and can be used as a safe fabric dye.
What are turmeric's health benefits?
The ingredient in turmeric that provides most of its health benefits is 'curcumin.' Curcumin is a natural substance that acts as an anti-oxidant and anti-inflammatory.  According to research, turmeric (or curcumin) can help to:
Lower cancer risk. Based on animal studies, curcumin can aid in detoxification – binding toxins together to be excreted, lowering the risk of cancer. In lab tests, curcumin has been shown to prevent cancer cells from spreading, and to stop the growth of tumors. In a study of men with pre-cancerous lesions in the colon, 4 grams of curcumin daily for 30 days reduced the number of lesions by 40%.
Lower risk of heart disease. Turmeric, when combined with other spices, like ginger, garlic, black pepper, cinnamon and clove, can lower the level of triglycerides (blood fats). And because of its anti-inflammatory properties, curcumin has been shown to lower blood pressure and heart disease in animals. In a study of people who had bypass surgery, taking curcumin in capsule form was found to lower the risk of having a heart attack by 30 percent.
Delay diabetes. In a study of people with prediabetes, curcumin capsules prevented the onset of diabetes.
Preserve brain function. Turmeric also contains 'aromatic tumerone,' or 'ar-tumerone,' which shows promise for brain health. In rats, ar-tumerone helped to repair brain stem cells. Brain stem cells are involved in recovery from stroke and in Alzheimer's disease. On a side note, curcumin may help to improve memory in Alzheimer's patients.
Pain reliever. In people with joint pain or arthritis, curcumin supplements worked just as well as ibuprofen in helping to relieve joint pain.
Heartburn helper. Turmeric can help relieve an upset stomach and indigestion. And, it might be beneficial for those who have stomach ulcers, irritable bowel syndrome or inflammatory bowel disease.
Words of caution
While turmeric and curcumin show a lot of promise in helping to prevent or treat certain diseases and conditions, it's important to realize that many studies have only been done on animals, not humans. In addition, turmeric can interfere with blood clotting and possibly interact with certain medications.  Other side effects include upset stomach, nausea, diarrhea and dizziness. For these reasons, it's important to talk with your health care provider before taking turmeric supplements.
Enjoying turmeric
Here are some ways to add turmeric to your every day meals:
Stir turmeric into egg salad for a color boost.
Mix it into brown rice; stir in raisins and cashews.
Add turmeric to lentil dishes.
Add it to egg dishes, such as scrambled eggs and frittatas.
Toss it with roasted cauliflower, potatoes and other root vegetables.
Sprinkle it into homemade soups.
Add turmeric to sautéed greens, such as spinach, kale or collard greens.
Blend it into a smoothie!