Check Your Risk for Diabetes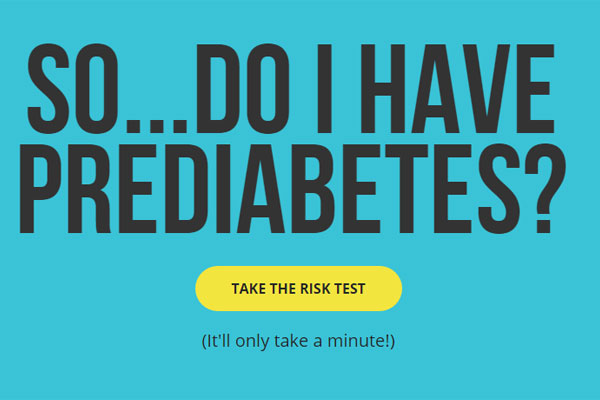 The CDC (Centers for Disease Control and Prevention) is encouraging everyone to find out if they are at risk for prediabetes or diabetes.
More than one in three adults in the United States has prediabetes, a serious health condition that can lead to type 2 diabetes, heart attack and stroke – that's 86 million people. But the majority of people with prediabetes don't know they have it. People with prediabetes have higher than normal blood sugar levels, but not high enough to be diagnosed with full-blown diabetes. They might not feel sick or have other symptoms. But if not treated, up to one-third of people with prediabetes will develop type 2 diabetes within five years.
The website DoIHavePrediabetes.org has a short, easy-to-take online test to find out if you are at risk for prediabetes. The test can also be taken through texts and interactive TV and radio announcements. If the test shows that you are at risk, you should discuss this with your healthcare provider.
If you have prediabetes, simple lifestyle changes, like physical activity and meal planning, can help prevent it developing into diabetes.
Because it considers prediabetes one of the biggest public health crises in the United States, the CDC has teamed up with the American Diabetes Association and the American Medical Association (AMA) to launch a campaign to raise awareness about prediabetes. The campaign website has lifestyle tips and links to the CDC's National Diabetes Prevention Program, including CDC-recognized programs across the country. People can also sign up for text messaging with ongoing support and lifestyle tips.
Roughly 29 million people in the United States, more than 9 percent of the U.S. population, have diabetes, mostly type 2. Knowing that you have prediabetes is crucial to stopping it developing into type 2 diabetes.