Coconut Oil: Healthy or Not?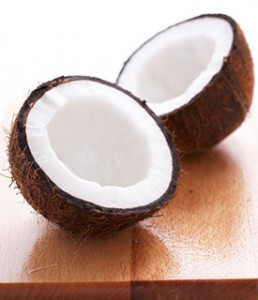 You don't have to look too hard these days to find a mention of coconut oil on the Internet. And you can also find coconut oil in your local grocery store, where it's practically been flying off the shelves. But is this fat really a "superfood," as many claim, or do we need to step back and learn more about this tropical oil before we add heaps of it to our meal plans?
Coconut Oil
Pure coconut oil, the kind that doesn't contain any hydrogenated fats, is a highly saturated fat. 92 percent of its fatty acids (the building blocks of fat) are saturated. Compare this to heart-healthy olive oil, which is only 15% saturated fat. One look at coconut oil and you can quickly see that at room temperature, it's a white, solid fat (a sign that it's saturated). Food manufacturers, especially candy makers, love using coconut oil in their products because it stays fresh for a long time and doesn't melt easily.
The Claims
Coconut oil is an unusual type of fat in that it has a blend of different types of short and medium chain fatty acids. Because it's a fat that comes from plants, it has no cholesterol. Supporters of coconut oil claim that its fatty acid profile may help with:
Raising HDL (good) cholesterol levels
Slowing the aging process
Improving hair and skin condition
Fighting off viruses and bacteria
Boosting brain function in people with Alzheimer's disease
The Verdict
Coconut oil is indeed a unique type of fat, and it may be true that using small to moderate amounts in your diet can be helpful. However, it's important to understand that there is not much credible research to support these health claims. Many of the studies that have been done with coconut oil have involved lab animals, not people. And the studies done in humans have been small and conducted over a very short amount of time.  One small study, done with young Malaysian men and women fed coconut oil for 5 weeks, showed higher levels of both LDL (bad) and HDL (good) cholesterol.  However, health experts are quick to point out that raising HDL cholesterol does not mean that coconut oil is necessarily a healthy fat to use, especially as coconut oil also raises LDL cholesterol.
Some health experts and organizations, including the American Heart Association, don't support the use of coconut oil over olive oil, canola oil, and peanut oil. This is because of the lack of strong, scientific evidence that coconut oil provides any real health benefit.
What To Do
While there's no good proof that coconut oil is a superstar food, it doesn't mean that you can't include it in your cooking and in your food choices. Coconut oil has a high smoke point, making it ideal for frying foods. If you decide to give it a try, make sure that you purchase unrefined, "virgin" coconut oil. Refined coconut oil is highly processed and may contain trans fats, which are a harmful type of fat. Also, use coconut oil sparingly. Like all fats, coconut oil is high in calories. One tablespoon has 120 calories and 14 grams of fat. Until we learn more about coconut oil, continue to eat mostly heart-healthy fats, such as olive oil, nuts, seeds, oily fish, and avocado.