Lowering Heart Health Risks Especially Important For People With Diabetes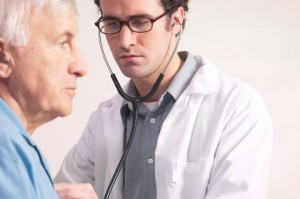 You may know that having diabetes puts you at a high risk for a variety of heart problems. However, according to a new study published in the journal Diabetes Care, serious heart problems can be avoided or delayed if people with diabetes take a few steps to improve their health today. The first step is to get regular checkups with your healthcare provider, especially if you have major risk factors for heart disease. These risk factors include:
High blood pressure (hypertension)
According to the researchers involved in this study, the best way for adults with diabetes to avoid a heart attack or stroke is to meet with their healthcare providers and come up with a long-term care plan. Heart problems are a leading cause of death for people with diabetes. So, even though your main concern may be to control your blood glucose levels, it is also important to manage the heart health factors listed above. Even if you don't have heart disease now, the study shows that if you have diabetes, you still have a high risk of heart problems.
In addition to seeing your healthcare provider, there are a few great ways to improve your heart health, including:
Getting at least 150 minutes of physical activity every week
Losing 5 to 7 percent of your body weight if you are overweight or obese
Controlling your blood glucose levels
Seeing healthcare providers at least once a year
Lowering stress (seeing a mental health professional may help)
Getting enough high quality sleep every night (7-8 hours for adults)
Eating a balanced meal plan full of fruits, vegetables, whole grains, legumes, unprocessed meats, nuts, seeds, dairy products, and healthy fats like olive oil