Nuts for the Holiday Season
Laura Garcia - RN, MSN, BSN, PHN, CVN, CDE, CPT
The holiday season can be hectic. And if you have diabetes, it can be a challenge to eat right and keep your blood sugars level. Here's something that can help, and it's available at your local Costco!
I'm a Diabetes Educator, an RN, and I've had type 2 diabetes since my first pregnancy, 25 years ago. I manage my diabetes by keeping my weight steady, taking 10,000 steps every day, monitoring my carbohydrates and taking my medication.
One way I eat healthy is by using Silk Almond milk every day. Almond milk has half the carbohydrates of 1% cow's milk, and with only 60 calories a cup, you can enjoy it over cereal, in your coffee, as part of a favorite recipe, or served straight up in a glass.
For more information about the many benefits of Almond Milk, check out the Silk website at Silk.com. Silk almond milk starts with Non-GMO verified California grown almonds.
60 calories per serving
• 50% more calcium than cow's milk
• Excellent source of vitamins
• Absolutely no cholesterol or saturated fat
• Free of dairy, soy, lactose, gluten, casein, egg and MSG
• Verified by the Non-GMO Project's product verification program
• No artificial colors or flavors
A fun holiday recipe is:
Roasted Carrot Ginger Cashew Soup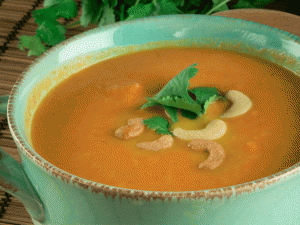 Ingredients:
1 1/2 lbs carrots, peeled and cut into 1-inch pieces
3-4 cloves garlic
3 Tbsp. olive oil, divided
1/2 cup chopped onion
4 cups vegetable or chicken stock
1 Tbsp. grated ginger
1 cup Silk Unsweetened Almond Milk (or try Silk Unsweetened Cashew Milk for variety)
1 cup roasted cashews, for garnish
Cilantro leaves, for garnish
Preparation
Preheat oven to 400°F.
Place carrots and garlic on a baking sheet and toss with 2 Tbsp. olive oil. Sprinkle with salt and pepper.
Roast in preheated oven for 35-40 minutes, stirring occasionally, until carrots are tender and browned.
Meanwhile, add onion and remaining 1 Tbsp. olive oil to a large saucepan or Dutch oven and sauté until onion is golden brown.
Add stock and ginger, turn heat to low and simmer until carrots are done roasting. Once carrots are roasted, add to stock mixture.
Puree soup in batches in a food processor or use an immersion blender, blending until soup is smooth.
Return to pan and add Silk. Heat through.
Pour into bowls and garnish with cashews and cilantro, if desired.
Preparing simple recipes with Silk Almond Milk is an easy way to care of yourself while you enjoy the holidays with your love ones.