Diabetes Friendly Shopping At Costco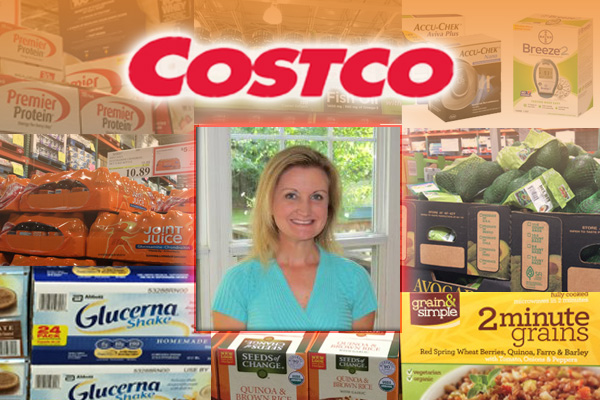 This past weekend, I visited my local Costco warehouse in the Annapolis, Maryland area for the first time.  After walking through Costco, I realized that it is not just a store for those with large families and bulk shopping needs. With the vast array of healthy food options and wholesale prices of such items, Costco is a great place for anyone who wants to live a healthy lifestyle on a budget, especially for those trying to prevent or control diabetes.
The first thing that caught my eye as I entered Costco was the wide variety of drinkable supplements and meal replacements.  Costco carries not only the more common brands of diabetes-friendly meal replacements such as Glucerna, but also value-priced brands such as Premier Protein shakes which are only 160 calories, 30 grams of protein, and 1 gram of sugar.  Since those with diabetes may be at greater risk than non-diabetics for arthritis and joint pain, Costco also carries drinkable supplements such as Joint Juice that contain 1500mg of glucosamine plus Chondroitin, Vitamin C, and Vitamin D3 which are compounds all known to improve joint health.
Costco also offers many heart healthy supplements such as Fish oil that help to decrease blood fats, biotin that helps the body use carbohydrates for energy, as well as CoQ10 supplements that help fight free radicals in the body that can increase risk of heart disease.  Also available were CosaminDS for joint health and Preservision for eye health.  Costco also carries the Nature Made Diabetes Health Pack which includes the vital vitamins and minerals those with prediabetes and diabetes would most benefit from such as a multivitamin, fish oil and vitamin D, magnesium, vitamin C, alpha-lipoic acid, and chromium.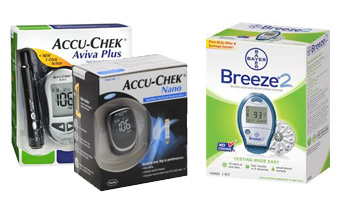 Costco carries two brands of glucometers, Accu-Chek and Bayer.  The Accu-Chek Nano glucometer kit has 6-preloaded lancets, while the Accu-Chek Aviva is preferred by most healthcare plans.  Both monitors allow for multiple test sites and 5 to 6 second accurate results.  Bayer's Contour Next keeps a memory of past glucose tests that can be used for accurate tracking, while the Bayer's Breeze offers a 10-test disc to reduce the need for loading test strips.
Just outside of the pharmacy section were diabetes-friendly sweeteners ranging from common artificial sweeteners such as Truvia, Equal, and Splenda to all-natural, low-glycemic options such as blue agave nectar at only 20 calories and 5 grams of sugar per teaspoon.

In the grains section, I was able to sample several of the products sold such as Quinoa and brown rice mix by Seeds of Change as well as Grain & Simple's 2 minute mix of red spring berries, quinoa, farro, and barley.  Both products were flavorful, easy to prepare, and rich in protein and fiber, the latter of which are important components of a diabetes-friendly meal regimen. Another unique offering included edamame spaghetti, which can be a diabetes-friendly substitute to pasta at 24 grams of protein and 11 grams of fiber per 2 ounce dry serving.
Costco also offers a large variety of protein rich and low sugar Greek yogurts, egg whites, egg substitutes, and organic eggs as well as various brands of low-sugar desserts such as Yasso frozen Greek yogurt bars at only 100 calories, 16 grams of carbohydrate, and 5 grams of protein per bar. Frozen berries of all kinds also provided fiber rich snack options.
Costco also carries a wide array of fresh and organic produce from peaches and peppers to apples and avocados.  Produce was fresh, inexpensive, and could be purchased in either bulk or standard portions. Pre-packaged salads chock full of fresh chicken, cranberries, almonds, and other fruits and veggies in the nearby fridge section provide those with pre-diabetes or diabetes a healthy meal on the go.
Several brands of omega-3 rich whole grain breads such as Alpine Valley Multi-Grain with Omega-3 and Dave's Organic Bread with 21 whole grains and seeds are also carried at Costco.  Omega-3 is a heart healthy antioxidant, while the fiber and protein in the bread helps control blood glucose levels. Healthy snack choices such as Boom ChickA Pop popcorn, Kashi Chocolate Almond and Sea Salt Chewy Granola Bars, and Snapea Crisps offer a lightly salted treat in a fiber-rich, low sugar form.
From my tour through Costco, I learned that it is a one-stop shop for those who want to live a healthy lifestyle, especially for those who are trying to prevent or control diabetes.
Visit cdiabetes.com/guide to get a free "Costco Diabetes and Heart-Healthy Shopping Guide" eBook.