Some Obese People Do Not Face Metabolic Problems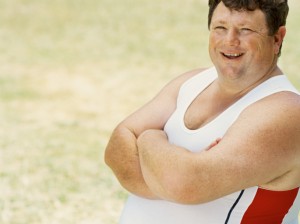 Most healthcare providers will tell you that overweight and obesity are connected to serious metabolic conditions, like high blood pressure, high triglycerides (blood fats), type 2 diabetes and heart disease. For many people with a BMI (Body Mass Index) over 30, this is true. But some research has shown that it's not true for every overweight or obese person. A recent study from the Washington University School of Medicine in St. Louis has found that obese people who do not have any of metabolic problems will not develop any, even if they gain more weight.
The research, which was published in the most recent edition of The Journal of Clinical Investigation, looked at 20 obese people. The scientists told them to gain about 15 pounds. This was hard for them to do, but most were able to by eating fast food every day. Before and after the study, the researchers did some tests to see how their metabolism held up to the weight gain. These tests included:
Blood glucose levels
Insulin sensitivity
How much fat was in their livers
Blood fat levels (cholesterol and triglycerides)
Those who had unhealthy test results at the beginning got even worse after gaining weight with a fast food diet. But, surprisingly, those who were metabolically healthy at the beginning of the study (all the tests came back normal) were just as healthy after putting on about 15 pounds.
This means that some obese people have a much lower risk of type 2 diabetes and heart disease than others. Past research has shown that about one quarter of all obese people do not have metabolic problems. According to this study, this means they are not likely to have the serious problems that other obese people have to watch out for.
Source
http://www.sciencedaily.com/releases/2015/01/150102172716.htm