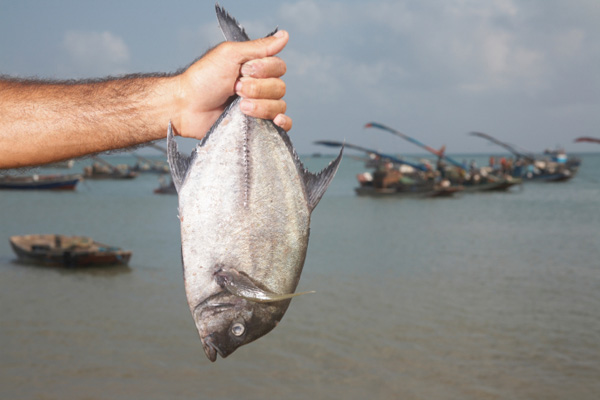 Eating fish is a treat all year round, but summertime is when people seem to enjoy their seafood the most. There's something special about enjoying a lobster roll, steamed clams or salmon on the grill after a day at the beach or being outside in the fresh air. However, choosing fish can be confusing for many people. You might also have concerns over possible health issues, such as the mercury content of fish or bacteria found in some seafood. The good news is that seafood can be part of a healthy eating plan – read on to learn how.
Buying Fish
Fish is an excellent source of protein and B vitamins. Fatty fish, like salmon, tuna, herring and mackerel, contain healthy fats called omega-3 fatty acids, as well as vitamins A and D. And salmon and sardines, if the bones are left in, are a good source of calcium.
Fresh fish. Ideally you're buying fresh fish, which you should get from a reputable seafood market. Your supermarket might also carry quality fresh fish. The key is to make sure that the fish smells like seawater; if it has a strong or bad odor, pass it by. Fresh fish should be displayed on ice; the fish's eyes should be firm and bright, not sunken in. The flesh should feel firm to the touch and the scales should look moist. If possible, try to buy wild fish over farmed fish, as wild fish is more sustainable. Plan to use fresh fish within two days of purchase; otherwise, cook it right away or freeze it.
Frozen fish. Frozen fish can be a healthy option, especially if you live in an area where quality fresh fish isn't available, or if it's too expensive. Frozen fish is generally flash frozen several hours after it's caught. Flash freezing minimizes the formation of ice crystals which can damage the fish. If you're in the market for frozen fish, steer clear of damaged packaging. If you're able to see the fish, look for white spots or frost – these are signs of fish that has been frozen, thawed and then refrozen, which you want to avoid. Also, skip the fish if the package is stored on the top shelf of the freezer case. Thaw your fish in the refrigerator, not on the counter, or under cold, running water to thaw it more quickly.
Canned fish. Think canned fish isn't a good choice? Think again! Canned fish, such as salmon, tuna, sardines and herring, can be good for both your health and your food budget. If the environment is a concern for you, make a "green" choice by purchasing canned fish that is caught by troll or pole and line. Or look for the blue Certifiable Sustainable Seafood label from the Marine Stewardship Council. And it's best to buy canned fish from the U.S. If you're a tuna lover, look for light tuna that comes from skipjack tuna, rather than albacore, as it's lower in mercury. Finally, to save calories, buy canned fish packed in water, rather than oil. Water-packed fish also retains more of its omega-3 fatty acids.
Best Choices
Fish, in general, is a very healthy food. The American Heart Association recommends eating fish at least twice a week to improve heart health. Fish with the highest amount of omega-3 fatty acids include:
Sablefish
Atlantic mackerel
Arctic char
Wild salmon
Herring
Sardines
Rainbow trout
Some fish have high levels of mercury, an element which can harm the brain, heart and other organs. High levels of mercury in unborn and young children can be harmful to the nervous system, affecting their ability to think and learn. Fish with the most mercury include:
King mackerel
Marlin
Orange roughy
Shark
Atlantic swordfish
Tilefish
Tuna (bigeye or ahi)
The Environmental Protection Agency and the Food and Drug Administration advise pregnant women to avoid eating high-mercury fish; however, because fish is such a healthy food, they do recommend eating up to 12-ounces per week of low mercury fish.