Can Meat-Free Meal Plans Really Cure Diabetes?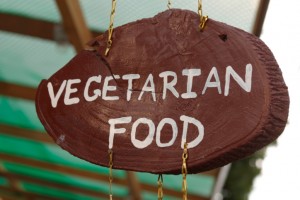 Recently, some health writers have claimed that a new study from Keio University and the George Washington School of Medicine showed that skipping animal products (like meat, milk and eggs) controlled diabetes better than medicine. A few even wrote that these plans can cure diabetes! Is this true? Is type 2 diabetes reversible? What can we learn from this study? Read on to find out.
The research
This study, which was published in Cardiovascular Diagnosis and Therapy, looked at 6 past studies to see how well vegetarian and vegan meal plans controlled diabetes. These plans were all very different. Some people ate fish but not other meat; some ate milk products and eggs but not meat; and some ate no meat, fish, eggs, or milk products at all. To see how well their diabetes was controlled, the researchers looked at blood glucose levels and A1C (a measure of blood glucose control over the past 2-3 months).
Together, the studies looked at a total of 255 people, most of whom were American. The researchers found that meat-free meal plans were connected with:
A slightly lower A1C level (0.39%)
No difference in fasting blood glucose
What do these results mean?
As you can see, these meal plans did not seem to make a big difference in diabetes control. Though the plans were connected to a slightly lowered A1C, blood glucose levels stayed the same. In fact, the researchers wrote that these plans seem to be less effective at controlling blood glucose than metformin, the most common diabetes medicine.
It was hard for the scientists to see which parts of the meal plans made the most difference. Some of the vegetarian and vegan plans were low-fat, others were low-carb, and they were all made up of very different foods. For now, it looks unlikely that meat-free plans work better for people with diabetes than other plans. Of course, more research will be needed to know for sure.
Conclusion
Unfortunately, there is no cure for diabetes right now. While some meal plans may seem to make a big difference in the short-term, researchers have not found any single plan that can reverse the condition permanently.
It's important to talk to a trusted healthcare provider about your personal health needs before making any big changes to your lifestyle. A great meal plan is one that is balanced, enjoyable, and gives you enough energy to be physically active. Many types of plans–whether they include animal products or not–can be healthy with the right balance. Meet with a dietitian or Certified Diabetes Educator if you're interested in changing your eating habits to better control your diabetes.
References
http://www.nhs.uk/news/2014/11November/Pages/Vegetarian-diet-beneficial-for-people-with-diabetes.aspx
http://www.thecdt.org/article/view/4977/5858
http://www.express.co.uk/life-style/health/185165/Veggie-diet-better-than-drugs-to-beat-diabetes
http://www.dailymail.co.uk/health/article-2847116/How-vegetarian-CURE-diabetes-Plant-based-diets-improve-blood-sugar-levels-scientists-claim.html