Fall is here!  Cookouts, picnics and frozen treats are behind us.  Now we can look forward to cooler days and crisp nights.  We can also look forward to enjoying tasty – but healthy – foods that nourish our bodies and minds at the same time.  Give these three foods a try during the autumn season.
Pumpkin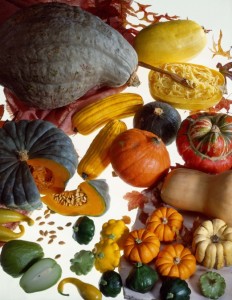 Pumpkins tend to conjure up images of Jack O' Lanterns and Thanksgiving pie – and let's not forget about pumpkin-flavored beer! But there's more to pumpkin than just Halloween.  One cup of mashed pumpkin contains just 40 calories and 12 grams of carbohydrate.  It's also a good source of fiber and boasts a mean dose of vitamin A and potassium.  You can easily cook your own pumpkin or, if you're in a hurry, grab a can of pumpkin (not the pumpkin pie mix, though!).
How to eat it:
Whip up a pumpkin smoothie using pureed pumpkin, Greek-style yogurt, a drizzle of honey and a dash of cinnamon and nutmeg.
Combine cooked, mashed pumpkin with sautéed onion and garlic and add some fresh sage. Thin a bit with chicken or vegetable broth and stir into cooked whole-wheat pasta.
Nibble on a handful of roasted pumpkin seeds. One-quarter of a cup has 150 calories, 10 grams of protein and only 4 grams of carb.
Spread whole-grain toast with pumpkin butter, a thick blend of pureed pumpkin, spices and sugar. One tablespoon contains about 40 calories and 10 grams of carb.
Brussels sprouts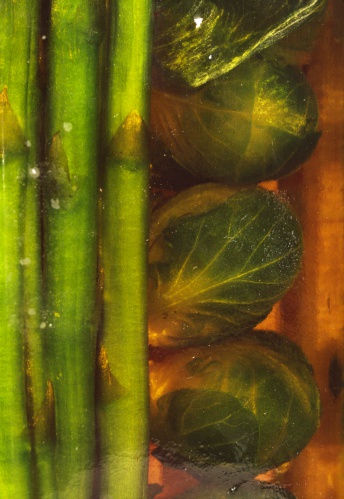 Possibly your least favorite food as a child, Brussels sprouts truly can be tasty!  These vegetables that look like mini-cabbages are practically bursting with nutrients, namely, vitamin K, vitamin C, potassium, fiber and omega-3 fatty acids.  Brussels sprouts are thought to help fight cancer and heart disease, thanks to their high content of antioxidants.  One cup of steamed or roasted Brussels sprouts contains 56 calories, 11 grams of carb and 4 grams of fiber.
How to eat them:
Combine quartered, steamed Brussels sprouts with some chopped red onion, walnuts and crumbled goat cheese. Drizzle with balsamic vinegar olive oil and serve as a salad or side dish.
Cook some turkey bacon and chop into small pieces. To the sauté pan, add chopped garlic, red pepper flakes, halved Brussels sprouts and a dash of sea salt.  Sauté for about 10 minutes until the Brussels sprouts are lightly browned; stir in the turkey bacon and serve.
Pomegranate seeds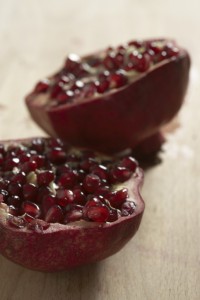 Glistening like little red jewels, pomegranate seeds are fun to eat and are a great source of vitamins C, K and antioxidants.  A half-cup of these seeds contains 72 calories, 16 grams of carb and 3.5 grams of fiber.
How to eat them:
Stir seeds into Greek-style yogurt along with sliced almonds or your favorite granola for a hearty, healthy breakfast.
Sprinkle the seeds into your favorite salad.
Dress up low fat vanilla frozen yogurt with a topping of pomegranate seeds for a simple but elegant dessert.
Spread your favorite crispbread with light cream cheese and top with a sprinkling of pomegranate seeds for an easy snack.