Be a partner in your own healthcare
Do you want to be healthy? Who is in charge of keeping you healthy? Is it you or your healthcare provider, or both of you?
Maybe you believe that you are in charge of your own health and that no one will take better care of yourself than you will? Or perhaps you like the idea of putting your health into someone else's hands. So, which is the best approach?
It's All About Team Work
Experts now believe that to get the best results from your healthcare team, you need to have just that—a team. In a team everyone works together, and this is what you need to do to help keep yourself in good health.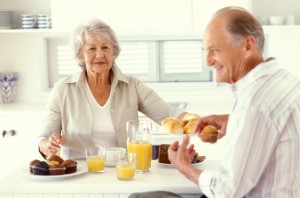 How You Can Get the Most Out of Your Team
Your healthcare provider can do a lot for you, but they also need a lot from you. You benefit from all they learned in school plus everything they have learned in their years working. So, just as they have so much to give to each visit, you need to offer something too. Remember, the keys to creating a good team with your healthcare provider are:
Talk openly about any questions or concerns you have and get them respond to you in return.
Prepare a list of questions or points of discussion before each visit, and ask them to have the answers to your questions on hand to discuss. Here are some simple steps you can take to help make sure your partnership with your healthcare provider delivers solid results and good health for you!
1) Prepare for each and every office visit. Often, the best thing to do is to make a list of 3 to 4 questions before you get to the office. Write them down and take the list with you to the appointment so you will not forget anything! These can be questions about screening tests for conditions like diabetes, high blood pressure, or colon cancer. You might also ask if you need a flu shot or other vaccines.
Be sure you understand what is going on in your health care plan from the medicines you need to take, to the specialists you may be seeing for any other conditions. Do not be embarrassed to aks questions. It's better for you and your healthcare provider if everyone is on the same page.
2) Make sure your healthcare team has all the facts they need to take the best possible care of you. Provide a full past medical history—even things you might not think are important. Also, be sure to tell your healthcare provider about any diseases or conditions of your family members, since they can have a big impact on your risk for these problems. For example, heart disease, stroke, and some types of cancer can run in families.
It is also important that you provide a full list of the medicines you take, including both prescription and over-the-counter products, even if you do not take them that often. Some over-the-counter medicines may be dangerous if mixed with your prescription medicines, so it is important that your healthcare team knows about anything you take.
3) Be sure to tell your healthcare provider about any recent changes or stresses in your life that have come up since your last visit. This can include things like unexplained weight gain or loss, trouble sleeping, or feeling more out of breath when climbing stairs. Major life events like job loss, divorce, or death of a friend or family member should also be reported.
4) Put the main issues at the top of your question list. Time can be tight at your office visits. So, to be sure that the important things do not get missed, be sure to put the most important questions or concerns you have at the top of your list. If you do not get to everything, you can arrange another visit or bring the same list along to your next appointment.
5) Be honest with your healthcare provider! Tell your healthcare provider everything, including whether you take all your medicines, how much alcohol you drink, how active you are, and if you are have troubles in the bedroom. All of these things can affect your health in different ways. If you never talk about it, you will never get it fixed!
Working together will help you achieve your goal of staying in good health! Therefore, follow the tips below for a successful partnership with your healthcare provider:
Prepare for every visit.
Provide a full and detailed personal, family, and medical history.
Speak up about any recent changes in your life.
Speak about the most important topics and concerns at the start of each visit.
Be honest with your healthcare provider so they will know if changes should be made to your healthcare plan. This helps ensure you can be at your best for many years to come!
Revised by Staci Gulbin, MS, MEd, RD, LDN