Garlic for Diabetes
Reviewed by Amy Campbell MS, RN, CDE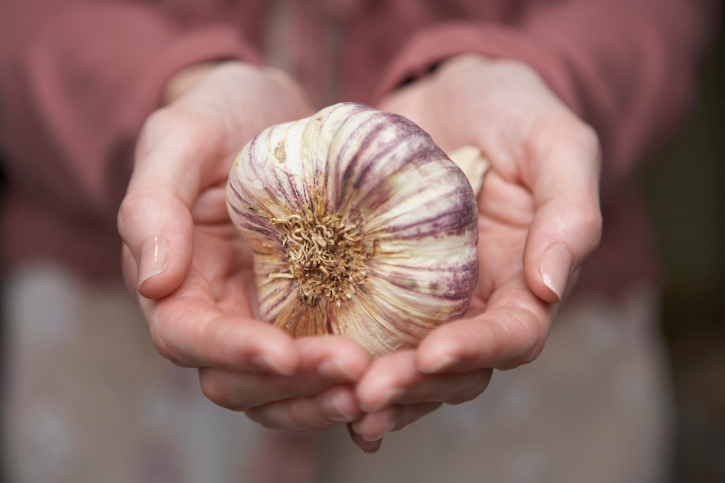 Garlic gives great flavor to food and warding off vampires in horror movies. But did you know that garlic may also help you manage your diabetes?
Garlic and diabetes
Research shows that garlic may be helpful in treating diabetes. A recent study found that the amount of insulin that can be used in the body is increased when garlic is consumed. This means that the body has to work less to make insulin, so a lower insulin dosage is needed to control blood glucose levels. In this study, blood glucose levels dropped when people ate garlic or took it as a supplement. Garlic also helps to reduce inflammation by lowering chemicals called cytokines. Inflammation is linked with insulin resistance, type 2 diabetes and heart disease.
Garlic and heart health
Garlic may also have a large impact on heart health. People with diabetes have a higher risk of having a heart attack and getting heart disease, so heart health is a key goal. Garlic was shown to lower bad cholesterol (LDL), total cholesterol, and blood fats, or triglycerides. Garlic was even shown to reduce the process that makes blood clot, making it less likely that one would have a heart attack or a stroke.
Garlic is rich in antioxidants, which are chemicals in food that help prevent cell damage. By blocking damage to cells, antioxidants can help lower risk of other diseases and illnesses.
Should you take garlic for your diabetes and heart health?
Garlic is fine to use in usual amounts in your food and in cooking. However, garlic can have some side effects if you eat a lot of it or if you take a garlic supplement. It can thin the blood when eaten in large amounts, and a lot more research needs to be done before we can be sure of what garlic can do and how safe it is. This does not mean that it cannot be part of a healthy lifestyle. Like any new supplement or treatment for your diabetes, talk to your healthcare provider before you start taking it. Whether you eat garlic or not, keep taking your regular medications and practice a healthy lifestyle to keep your blood glucose levels and heart healthy.