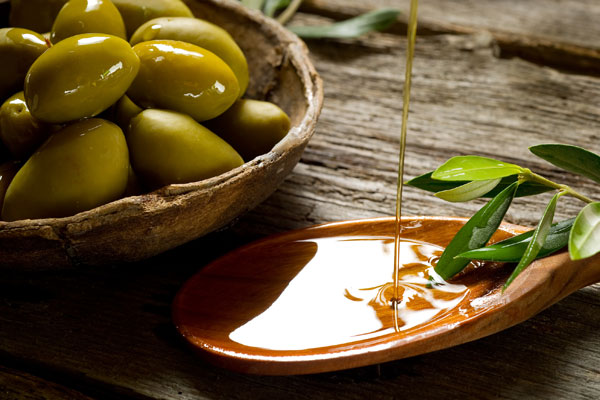 Olive oil has a wonderfully rich flavor, making it perfect for drizzling on salads, breads and pasta, as well as for cooking. Not only is olive oil delicious, it's one of the healthiest oils around! Find out what makes olive oil so good for you.
What is olive oil?
Olive oil is made from the fruit of the Olea europaea (olive tree). Olive trees originated in Mediterranean countries, but today they're grown around the world. The oil is used in foods as well as in cosmetics, soaps and even some medicines.
Olive oil is available in different grades, ranging from regular olive oil to virgin olive oil to extra virgin olive oil. Grading is based on the level of acidity in the oil, as well as the process used to extract the oil. Extra virgin olive oil, sometimes called "EVOO," is the highest quality olive oil (and most expensive). It's an unrefined oil, untreated by chemicals and unaltered by temperature.
What are the health benefits of olive oil?
Thanks to the popularity of the Mediterranean diet, a way of eating that also includes fruits, vegetables, legumes and fish, you can easily reap the health benefits of olive oil.
Heart disease protection: Studies show that people who regularly consume olive oil are less likely to have high blood pressure, high cholesterol, heart disease and inflammation.
Stroke prevention: In one study, older people who regularly used olive oil had a 41% lower risk of stroke compared to people who didn't use this oil.
Lower risk of depression: A diet rich in unhealthy trans fats can raise the risk of depression, according to a Spanish study of 12,000 people. Compared with people whose main dietary fat was olive oil, the trans fat-eaters had a 48% higher risk of developing depression.
Lower blood sugar levels. A Mediterranean diet that includes EVOO has been shown to lower blood sugar levels, as well as LDL (bad) cholesterol.
Reduced cancer risk. A study in the British Journal of Cancer showed that women who eat a Mediterranean diet can reduce their risk of uterine cancer by 57%. And scientists have discovered that olive oil can reduce breast cancer risk by promoting tumor cell death.
Nutritional value of olive oil
Olive oil is rich in monounsaturated fat, a healthy type of fat that can lower cholesterol and protect against heart disease. It also contains vitamin E and polyphenols that act as antioxidants and anti-inflammatory agents to help fight disease. However, it's important to remember that olive oil is still a fat, and therefore is high in calories. One tablespoon of olive oil contains:
0 milligrams of cholesterol
All grades of olive oil contain the same amount of calories and fat per serving. "Light" or "extra light" olive oils are not lower in calories or fat; the term "light" refers to the lighter color and flavor that results from processing the olive oil with heat and chemicals to remove impurities.
Fitting olive oil into your eating plan
Use olive oil instead of butter for cooking.
Drizzle olive oil over vegetables before roasting them in the oven.
Brush olive oil on meats before grilling them.
Toss freshly popped popcorn with a small amount of olive oil and sprinkle with Parmesan cheese for a heart-healthy, high fiber snack.
Make your own salad dressing by mixing olive oil with a vinegar of your choice. Sprinkle in a small amount of salt and pepper and fresh herbs, such as oregano, thyme or tarragon.