How to Prevent Diabetes Foot Complications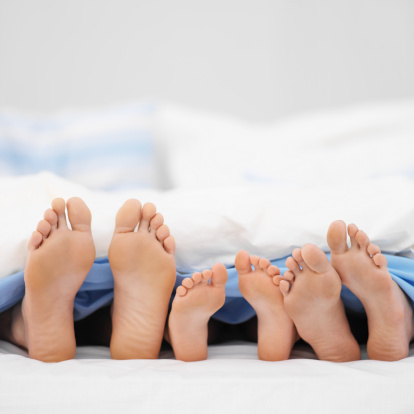 Non-healing foot ulcers are common in people with type 2 diabetes.1 Skin ulcers that result from diabetes foot complications can cause other, more serious problems, such as amputation.1 You can prevent complications by carefully checking your feet on a daily basis, and having your healthcare provider perform a foot exam once a year.3 In addition, it's important to find the foot cream that is right for you, and to use it on a daily basis as a part of your foot care routine.1
There are many ways that diabetic foot cream can help you keep your feet healthy. Creams can be used to soothe itchy or dry skin, soften callused skin, and smooth cracks on the soles of your feet. Some creams also offer relief from the pain, tingling, and numbness connected to foot complications.
7 Tips for Taking Care of Your Feet:
Check your feet daily for corns, calluses, open wounds, bleeding, or infections.
Wear properly fitted, comfortable shoes.
Avoid walking barefoot.
Be very careful when you trim your toenails, and trim straight across.
Wear soft cotton or wool socks to help absorb moisture. And, wearing white socks makes it easier to identify any sores that may be bleeding.
Use moisturizing lotion on the tops and bottoms of dry feet. Do not use moisturizers between your toes.
Avoid soaking your feet in hot water.3
Examples of Over the Counter Diabetic Foot Creams
Product
Ingredients
Uses
Manufacturer
Directions
Diabeti-Derm Foot Rejuvenating Cream
Glycine Soja (Soybean) Oil, Glycerin, Dimethicone, Arginine HCl, Menthol, Melaleuca Altemifolia (Tea Tree) Leaf Oil, Avena Sativa (Oat) Kernel Extract, Camphor

Hydrates severely dry skin
Softens calluses
Soothes irritated areas

Health Care Products

Wash feet in warm water. Let air dry or pat dry with soft towel.
Check feet carefully for any sores, bruises, rashes or swelling.
Apply foot cream immediately after drying. Rub gently into calluses, cracks and any rough or irritated areas.

Zostrix High Potency Foot Pain Relief Cream
Capsaicin 0.075%

Helps relieve foot pain, tingling and numbness

Health Care Products

Apply a thin film of cream to affected area and rub in until fully absorbed.
Apply 3-4 times daily. Best results occur after 2-4 weeks of continuous use.

Gold Bond Ultimate Diabetic Skin Relief
Dimethicone 3% and White Petrolatum 30%

Relieves dry, cracked skin, and soothes skin discomfort

Sanofi

Apply generously to affected area as needed.

Jeval Medical Diabetic Foot Cream
Menthol 3.0%

Penetrates and rehydrates
Helps prevent splits and infections

Jeval Laboratories

After bathing, dry feet carefully, apply cream to prevent cracking.
Apply generously to affected area; massage into painful area until thoroughly absorbed into skin; repeat as necessary, but no more than 4 times daily.
---
References:
Armstrong DG, et al. Diabetic Foot Ulcers: Prevention, Diagnosis and Classification. Am Fam Physician. 1998 March 15;57(6): 1325-1332.
Lavery LA, et al. Diabetic Foot Prevention: A neglected opportunity in high risk patients. Diabetes Care. 2010 July 33: 1460-1462.
"Foot Care." Diabetes.org. America Diabetes Association, 2014. 30 July, 2014.