Pros and Cons of Insulin Pump Therapy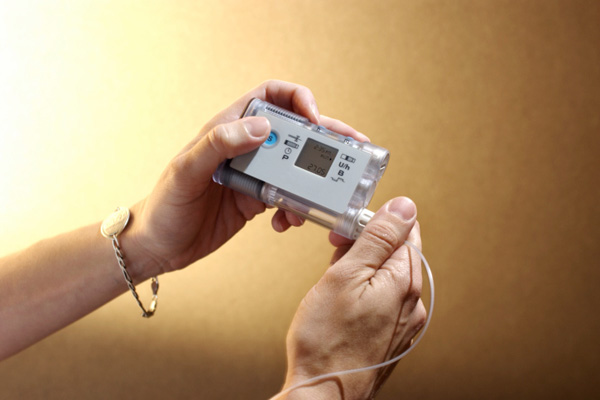 If you inject insulin several times a day, you might be interested in using an insulin pump. Using an insulin pump might be a lot easier than having to inject yourself, and it can also mean more freedom and flexibility with your lifestyle. However, if you're thinking about using a pump, you should know that wearing a pump entails work and responsibility. Here are the pros and cons of using an insulin pump for diabetes management.
Pros
An insulin pump delivers insulin continuously, 24 hours a day. There should be fewer "peaks and valleys" in your blood sugar levels.
Only one type of insulin is used with an insulin pump, and that's a fast-acting insulin. You'll no longer be using longer-acting insulin while using a pump.
Insulin delivery with pumps is more precise and more accurate than with injections. For example, with a pump you can "bolus" (administer a full dose all at once) 5.75 units of insulin. With injections, you'd need to inject 5 or 6 units of insulin.
For the most part, injections go away when you use a pump. However, every few days you will have to inject (insert) an infusion set that allows the pump to deliver insulin.
An insulin pump gives you the flexibility to decide when, what and how much you want to eat. You can even skip a meal if you choose to do so (not that we're recommending it!).
An insulin pump lets you exercise when you want without having to plan your exercise around meals or snacks to avoid low blood sugar.
The use of insulin pumps has been shown to improve A1C levels.
Many private health insurance plans cover insulin pump use for both type 1 and type 2 diabetes.
Cons
Learning how to use an insulin pump requires time and dedication.
It can also take time to get "regulated" on the pump, which means working with your diabetes care team to determine your basal rates and bolus doses. It also means a lot of blood sugar checks!
Pump supplies can be costly, ranging from $250 to $500 per month.
The risk for diabetic ketoacidosis increases with the use of an insulin pump.
There is also an increased risk for skin infections at the insertion site.
Wearing a pump all the time can be annoying and can get in the way, especially when you're sleeping or on vacation. However, one pump company does make a tubeless pump.
Many people gain weight when they go on an insulin pump. This may be due to improved blood sugar control, or because you now have the freedom to eat as much as you want – as long as you "cover" your carbohydrate intake appropriately with insulin.
You might have a harder time getting insulin pump therapy covered if you have Medicare, although it's possible.
While many people choose not to use an insulin pump, those who do are very happy and satisfied with the freedom and improved diabetes control. If you're considering pump therapy, it's important to know that a "successful pumper" is a person who is willing and able to put in the time and effort that is required. Be prepared to check your bloods sugar many times each day, keep detailed records, whether on paper or with a smartphone app, count your carbs precisely, and spend time working closely with your diabetes care team to help ensure that your pumping experience is a safe and positive one.