#DiabetesChat: Diabetes and Social Media Support (June 10, 2015)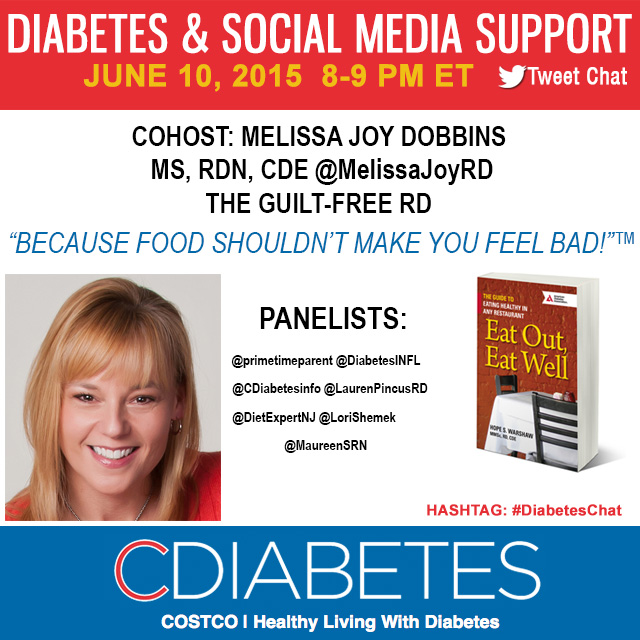 Online support for people living with Diabetes is booming. Blogs, websites, podcasts and online magazines provide everything from healthy recipes to product reviews. Not sure where to find all of these great resources? Join us for a tweet chat with Melissa Joy Dobbins MS, RDN, CDE, @MelissaJoyRD, The Guilt-Free RD – "Because food shouldn't make you feel bad!"™.
Melissa is an award winning, nationally recognized food and nutrition expert, media spokesperson, speaker, blogger and podcaster. She has over 20 years' experience, and a proven track record, of providing real solutions to real people for enjoying their food with health in mind.
Melissa along with several panelists answered questions about navigating social media and finding the resources you need. For those of you who couldn't make it to the Twitter chat event, we prepared a transcript so you don't miss out on all the great info they all gave us. See you on our next #DiabetesChat tweet event!
By the way, Maureen Sullivan, host of The Health and Humor Show also interviewed Melissa. Here's a direct link to the episode: http://healthandhumorshow.podomatic.com/entry/2015-06-07T09_09_30-07_00
Click here to view the analytics of this Twitter chat event.
Event Transcript
---
| | |
| --- | --- |
| cdiabetesinfo | Get our FREE e-book with over 50 great diabetes-friendly recipes today @cdiabetesrecipes.com, compliments of Costco Pharmacy #DiabetesChat |
| primetimeparent | After the chat listen to: the #healthandhumor show #DIabetesChat #DIabetesSupp @MaureenSRN interviews @MelissaJoyRD… |
| maureensrn | Delighted to be part of tonights #DiabetesChat party…..greetings from Tampa Bay, Florida! I'm a RN/CDE. |
| cdiabetesinfo | @MaureenSRN a pleasure to have you Maureen #diabeteschat |
| cdiabetesinfo | & @LoriShemek @LaurenPincusRD @DietExpertNJ @MaureenSRN #DiabetesChat #DiabetesSupp #DiabetesChat |
| cdiabetesinfo | Shout out to @MelissaJoyRD #guiltfreeRD who is w/us tonight for #DiabetesChat #DiabetesSupp |
| primetimeparent | @CDiabetesInfo @CDiabetesinfo @MelissaJoyRD #DiabetesChat here from NY! |
| laurenpincusrd | Hi #diabeteschat friends. I'm Lauren, an RDN, diabetes influencer and owner of http://t.co/h3M0CB4FAQ @CDiabetesinfo Let's chat! |
| diabetesinfl | We've got #DiabetesInfluencers @LoriShemek @MaureenSRN @DietExpertNJ @LaurenPincusRD w/us to give you the best #DiabetesChat #DiabetesSupp |
| cdiabetesinfo | We're happy to have Melissa Joy Dobbins, MS, RDN, CDE with us tonight @MelissaJoyRD #DiabetesChat #DiabetesSupp |
| cdiabetesinfo | @MelissaJoyRD The Guilt-Free RD –"Because food shouldn't make you feel bad!"™ #GuiltFreeRD #DiabetesChat #DiabetesSupp |
| dietexpertnj | Hi everyone cant wait to get started! #DiabetesChat |
| dietexpertnj | Im Erin a RD/CDE from NJ http://t.co/UHicSigfgg #diabeteschat |
| melissajoyrd | HI this is Melissa in Chicago! I'm the Guilt-Free RD & CDE – I love empowering PWD to enjoy life! #DiabetesChat |
| cdiabetesinfo | Q1 Where do you go online 2 find answers/support about living with diabetes?#DiabetesChat #DiabetesSupp |
| laurenpincusrd | A1: #diabeteschat is a gr8 place to ask questions abt diabetes. See influencer page 2 follow our blogs & social media http://t.co/dmZerOdne0 |
| dietexpertnj | A1: I direct my patients to sites such as @JoslinDiabetes and @dMeetings1 for education #diabeteschat |
| maureensrn | A1- http://t.co/yB7mMfpuSv; http://t.co/VvhbKyzajE, http://t.co/zwnaIei7i4 are great sites for #diabetes #education #diabeteschat |
| cdiabetesinfo | Free Shipping on Cosamin® DS 230 Capsules- Help Promote Joint Comfort & Mobility http://t.co/A1qcNih4tA #DiabetesChat http://t.co/OF5Uem09G6 |
| maureensrn | #diabeteschat https://t.co/VwC3ZssgzL |
| cdiabetesinfo | Save on diabetes supplies! Bayer test strips-available on Costco CMPP program. http://t.co/m9TNtnhQJH #DiabetesChat http://t.co/mSPyoIgf5T |
| melissajoyrd | A1: @eatright @AADEDiabetes @AmDiabetesAssn @AADEDiabetes info http://t.co/XtfqRdXQ43 #DiabetesChat |
| maureensrn | A1- International Diabetes Federation @ http://t.co/vkYuBr9xc6 is a great site for education #diabeteschat |
| cdiabetesinfo | (S4L) Save for Later- 15 Mobile apps for people with #diabetes:http://t.co/U0gP2Fxuwg #DiabetesChat |
| maureensrn | National Diabetes Education Program @ http://t.co/I0kizRIgnk is a great education site for #diabetes. #diabeteschat |
| cdiabetesinfo | Great prices on NatureMade vitamins @Costco For people w/diabetes & prediabetes http://t.co/aFZXshRclV #DiabetesChat http://t.co/wQu1qxzmhH |
| diabetesinfl | (S4L) Save for Later- 15 Mobile apps for people with #diabetes:http://t.co/RBmrbNlJ23… #DiabetesChat |
| maureensrn | #PedagogyEducation.com has learning modules on #diabetes #education. #diabeteschat |
| maureensrn | World Health Organization (WHO) and CDC are great international #diabetes #education sites. #diabeteschat |
| cheryl888888 | @CDiabetesInfo @DiabetesINFL A1 webmd #diabeteschat |
| cdiabetesinfo | Q2 Are you a member of any Facebook groups where you can share your experiences living with diabetes? #DiabetesChat #DiabetesSupp |
| cdiabetesinfo | After the chat listen to: the #healthandhumor show #DIabetesChat #DIabetesSupp @MaureenSRN interviews @MelissaJoyRD http://t.co/TJRzv0N8hM |
| pinkhippo13 | @CDiabetesInfo A1 Normally I look on Facebook for support groups #DiabetesChat |
| melissajoyrd | A2: Diabetes Every Day by @diabetesevryday : http://t.co/MGMpSB40GV #DiabetesChat |
| maureensrn | #diabeteschat info https://t.co/yGl2r1v3tI |
| pinkhippo13 | @CDiabetesInfo A2 I don't have diabetes, but my mother does. So I often look for new info & tips for her via social media #DiabetesChat |
| cdiabetesinfo | Save on a case of Glucerna® Shakes @Costco Helps minimize blood sugar spikes http://t.co/WRQ9Mogwpg #DiabetesChat http://t.co/xx1nx677rG |
| laurenpincusrd | So nice to help out mom! #diabeteschat https://t.co/xSC8q1rleG |
| maureensrn | Any #diabetic health Bloggers here tonight? Please post your link. Many thanks. #diabeteschat |
| cdiabetesinfo | Find more information about exercise and #glucose management on the @CDiabetesinfo website http://t.co/4VFJpEzSbh #DiabetesChat |
| helparoundapp | Would you help a neighbor with #diabetes? Become a #DiabetesHelper on @HelpAroundApp http://t.co/w4b5Pa2eug #DiabetesChat #doc #gbdoc #ourd |
| maureensrn | great #diabeteschat info site for #education. Thanks, Stuart!! https://t.co/Hg9Kw0Zdys |
| dietexpertnj | @MaureenSRN My blog http://t.co/PaDB2tsJFQ offers many family friendly health recipes that r great for those w diabetes #DiabetesChat |
| melissajoyrd | My Sound Bites blog "When Diabetes Hits Close to Home" abt my T2 dad & T1 niece http://t.co/WOyoHa2Xcd #DiabetesChat |
| cdiabetesinfo | Q3 What are some of your top concerns about living with diabetes that you need answers to? #DiabetesChat #DiabetesSupp |
| pinkhippo13 | @CDiabetesInfo A3 Preventing nerve damage! #DiabetesChat |
| laurenpincusrd | Get fit! I'm giving away a @fitbit on my blog right now! http://t.co/7hlpaWeuGy #diabeteschat @MaureenSRN |
| melissajoyrd | A3: Meal & snack ideas, BG monitoring, stress mgt, & support #DiabetesChat |
| cdiabetesinfo | CinSulin® water extract of cinnamon @Costco,supports healthy blood sugar levels! http://t.co/ZWEAse5DUC #DiabetesChat http://t.co/5e1mbDKcmX |
| dietexpertnj | A3: achieving a healthy weight, lowering glucose levels, fitting in exercise, & staying motivated! #DiabetesChat |
| maureensrn | A3-Top #diabetic concerns that need to be addressed->diabetes burnout #diabeteschat |
| maureensrn | A3-Top #diabetic concerns that need to be addressed->diabetes sick day management #diabeteschat |
| maureensrn | A3-Top #diabetic concerns that need to be addressed->diabetes "stress, distress, fatigue" #diabeteschat |
| maureensrn | A3-Top #diabetic concerns that need to be addressed->diabetes, weight loss, medication compliance and COSTS. #diabeteschat |
| middlefairy | @CDiabetesInfo A3 Husband takes Metformin two in morning, two at night..is that too much? #DiabetesChat |
| cdiabetesinfo | Q4 Do you follow any specific diabetes focused brands on Twitter or Facebook?#DiabetesChat #DiabetesSupp |
| themamamaven | @LaurenPincusRD @fitbit @MaureenSRN I love my @Fitbit #DiabetesChat |
| helparoundapp | Find people with #diabetes near you on the @HelpAroundApp. Download for free http://t.co/w4b5Pa2eug #DiabetesChat #doc #gbdoc #ourd |
| pinkhippo13 | @CDiabetesInfo A4 I like to follow Fifty50 #DiabetesChat |
| lyfebulb | A4: We love @diaTribeNews @AmDiabetesAssn @diabetesdaily #diabeteschat |
| cdiabetesinfo | Great prices on Weider® Red Yeast Rice Plus @Costco! Helps lower cholesterol: http://t.co/R5KN0FOEeq #DiabetesChat http://t.co/x9fMU4kiQ3 |
| dietexpertnj | Great choices! I also love @CDiabetesInfo @EverydayHealth @verticalhealth @WebMD #diabeteschat https://t.co/UQ0LYQ3OLb |
| lyfebulb | A4: Another great resource @ezbds and also http://t.co/ndpqU6IHhW #diabeteschat |
| lyfebulb | A4: A listing of some #ChronicDisease organizations, including #diabetes specific: http://t.co/M0El2mXQZd #diabeteschat |
| cdiabetesinfo | Q5 Are you more likely to buy diabetes specific products based on an ad or a review by a Diabetes Educator? #DiabetesChat #DiabetesSupp |
| pinkhippo13 | @CDiabetesInfo Q5 I surely would #DiabetesChat #DiabetesSupp |
| dietexpertnj | A5: I base my decisions on research and reviews by health care professionals I trust #diabeteschat |
| laurenpincusrd | A5: Labels can be very confusing & misleading. Consult your dietitian/diabetes educator for personalized advice. #diabeteschat |
| melissajoyrd | A5: I always trust the recs of a CDE! #DiabetesChat |
| hopewarshaw | #DiabetesChat For up to minute #diabetes news, staying ahead of curve: @diaTribeNews, @DiabetesMine |
| maureensrn | A5- I would prefer #diabetic products to have some level of medical review…..for safety sake. #diabeteschat |
| cdiabetesinfo | Free shipping on Costco KS Quit2 Gum! +tips to quit from a Costco pharmacist: http://t.co/m34f2f8aaF #DiabetesChat http://t.co/DufLglyAS5 |
| maureensrn | Q5- very leery of some products with little research to back their claims. #diabeteschat |
| dietexpertnj | #Heartdisease is a concern for #diabetes my tips to quickly lower #bloodpressure & #bellyfat may help https://t.co/5J76T5faRP #diabeteschat |
| maureensrn | A5-I am fearful that #diabetic population doesn't receive adequate education to make healthy choice/decisions. #diabeteschat |
| cdiabetesinfo | Q6 Have you attended any expos or other diabetes based events this year? #DiabetesChat #DiabetesSupp |
| maureensrn | I cringe whenever I see a #diabetic product and "cure" in the same sentence. #reality #education, #empowerment. #diabeteschat |
| dietexpertnj | Absolutely! Just because its marketed as healthy doesnt mean it really is! #diabeteschat https://t.co/7fEB8zM1DJ |
| lorishemek | Choose to eat low-carb foods like veggies or whole grains => important to help keep your blood sugar balanced. #DiabetesChat |
| pinkhippo13 | @CDiabetesInfo A6 I've never been #DiabetesChat #DiabetesSupp |
| lyfebulb | A6: The Lyfebulb team just returned from a very informative #ADA2015 @AmDiabetesAssn #diabeteschat |
| laurenpincusrd | Yikes! So frustrating as a health professional. #diabeteschat https://t.co/NfwOUfCFmX |
| melissajoyrd | Listen 2 my radio podcast interview w @HopeWarshaw about her new book Eat Out Eat Well: http://t.co/Tjs9MeGyNe #DiabetesChat |
| middlefairy | @CDiabetesInfo A6: No I haven't. #DiabetesChat |
| hmajpd | Which are the best low carb veggies? #diabeteschat https://t.co/pWrrcESf5l |
| lyfebulb | A6: We also were present in Stockholm, Sweden at the Nobel Conference in May- focused on #diabetes and #metabolic #disease #diabeteschat |
| cdiabetesinfo | Get a FREE TRUEresult blood glucose monitoring system @ Costco pharmacy today! http://t.co/TJHfMbL6Lw #DiabetesChat http://t.co/eHnI7toj9u |
| melissajoyrd | A6: I'm speaking on social media & doing a workshop w @HopeWarshaw at #AADE15 in NOLA in August! http://t.co/OAztBagRIx #DiabetesChat |
| bmarketingmaven | Costco is always one of my stops the veggies and fruits look awesome #DiabetesChat |
| dietexpertnj | Very true! & being a perimeter shopper at @Costco is always the best bet for glucose control #diabeteschat https://t.co/lWX4G5Cqxn |
| hmajpd | @BMarketingMaven Love Costco, they always have a nice selection. #diabeteschat |
| maureensrn | A6- attended AADE 2014 last August- 5 days of education. #Amazing Experience. #diabeteschat |
| maureensrn | A6- I also am in the volunteers speakers bureau for the ADA. Amazing stories shared by my audiences. #diabeteschat |
| maureensrn | A6- I am on a mission to erase the word "noncompliant" from the healthcare dictionary…….. #diabeteschat |
| maureensrn | A6- Tell me some of the best expos and events you've attended and what topic caught your attention most?! Thanks. #diabeteschat |
| cdiabetesinfo | Q7 We are so glad you joined us tonight! What other #tweetchats do you participate in? #DiabetesChat |
| laurenpincusrd | A7: #Healthtalk often features really informative health info on a variety of topics. #diabeteschat |
| pinkhippo13 | @CDiabetesInfo A7 Normally chats about healthy eating #DiabetesChat |
| lorishemek | Did You Know? Just 1 tablespoon of honey has 4 ½ teaspoons of sugar. #DiabetesChat Watch out for hidden and even 'healthy' sugars. |
| helparoundapp | Location-specific #diabetes question? Find #DiabetesHelpers near u on @HelpAroundApp http://t.co/w4b5Pa2eug #DiabetesChat #doc #gbdoc #ourd |
| lyfebulb | A7: We host #tweetchats @Lyfebulb on various disease topics and a big focus on #diabetes as our founder is a #T1D #diabeteschat |
| cdiabetesinfo | FREE OneTouch Ultra®2 or UltraMini® Meter from Costco Pharmacy!http://t.co/vndJ5MWSnv #DiabetesChat http://t.co/AM7xotXBkr |
| lyfebulb | A7: Would love to hear about other #diabetes focused #tweetchats– please share! #diabeteschat |
| melissajoyrd | A7: I also enjoy #rdchat #foodiechat #agchat #podcastchat #DiabetesChat |
| cdiabetesinfo | Q8 What are some summer fun & healthy eating tips/ideas? #DiabetesChat #DiabetesSupp |
| managediabetes | Seeking the support of your peers with diabetes? Learn about various resources here: http://t.co/Ff7xZXjGEz #DiabetesChat |
| laurenpincusrd | A8: This Protein Packed Skinny Frozen Mocha has 21g protein & only 6g sugar/136 calories. #diabeteschat http://t.co/4Jloq5js8O |
| dietexpertnj | A8: Summer is a great time to get outside & get moving! Walking just 10min/day can lower glucose levels #diabeteschat #walkingofftheweight |
| hmajpd | a8: We always grill alot in the summer. We eat lighter too as its hot in Florida. #diabeteschat |
| maureensrn | #diabeteschat info https://t.co/V8aDxxLqo2 |
| laurenpincusrd | A8: Bring this Tri Colored Pepper Potato Salad to your next BBQ- no mayo! http://t.co/I2qxIBRbBB #diabeteschat http://t.co/QA1dXBwcOG |
| melissajoyrd | A8: I love serving "caprese on a stick" (grape tomatoes, small mozz balls & basil on a toothpick drizzled with olive oil #DiabetesChat |
| pinkhippo13 | @CDiabetesInfo A8 Picnic in the local parks! #DiabetesChat |
| cdiabetesinfo | (S4L) Peer support and your #health: http://t.co/MMOo0KYuqw #DiabetesChat |
| dietexpertnj | Summer is also a great time to eat more veggies & fruits! Try my new cinnamon oat mango bites http://t.co/yEECrfSGeG #diabeteschat |
| maureensrn | A8- summer fun: stay hydrated; monitor activity and glucose levels, have quick acting glucose available, and SPF 🙂 🙂 #diabeteschat |
| helparoundapp | People with #diabetes help each other on the @HelpAroundApp Become a #DiabetesHelper http://t.co/w4b5Pa2eug #DiabetesChat #doc #gbdoc #ourd |
| laurenpincusrd | Try this Pumpkin Vinaigrette on your summer salads, only .1g sugar per serving. http://t.co/TLe7qEpbMY #diabeteschat http://t.co/uugzNf2lg6 |
| bmarketingmaven | Question how do you feel about coconut water? #DiabetesChat |
| dietexpertnj | @BMarketingMaven #coconutwater is great for hydration & electrolytes replacement, but it does have carbs u need to count #diabeteschat |
| cdiabetesinfo | Save Money on Diabetes Medicines with the Costco Member Prescription Program! http://t.co/ol9xLNzerI #DiabetesChat |
| laurenpincusrd | A8: Avocado, Black Bean and Tomato Salad – perfect diabetic friendly side dish: http://t.co/3YRK6eNB14 #diabeteschat http://t.co/fPjac47L3m |
| christyschomp | A8: Keep meals quick, easy and fresh! My Carrot & Jicama Slaw is a gr8 side to grilled meats or fish! http://t.co/DYxFdL4jJh #DiabetesChat |
| cdiabetesinfo | Q9 How does social media use effect your health? #DiabetesChat #DiabetesSupp |
| laurenpincusrd | A9: Hopefully by getting great advice, recipes and encouragement, though it's time spent sitting 🙁 #diabeteschat Must get up and move. |
| maureensrn | A9 social media and #diabetes-be cautious of who is running site and their credentials. You deserve correct education. #diabeteschat |
| melissajoyrd | A9: I get current diabetes info & support 24-7 #DiabetesChat |
| pinkhippo13 | @CDiabetesInfo A9 Makes me aware of new studies, healthy foods too #DiabetesChat #DiabetesSupp |
| maureensrn | A9- I worry BIG TIME whenever I see that a single item can "cure" or "erase" a chronic disease. Buyer, beware! #diabeteschat |
| maureensrn | A9-Social media has vastly improved the general public access to #diabetes education. Bravo for EVERYONE's efforts here. #diabeteschat |
| cdiabetesinfo | Costco KS OPTIFIBER Quickly dissolves in hot or cold beverages & soft foods – http://t.co/1yv9hwLeSD #DiabetesChat http://t.co/vU9GrbIR4n |
| christyschomp | A9: Definitely check ur source of info, especially when it comes to health, nutrition and diet advice! #DiabetesChat #BuyerBeware |
| cdiabetesinfo | Q10 How can social media platforms help us keep up with changes in science & nutrition? #DiabetesChat #DiabetesSupp |
| laurenpincusrd | A10: As RDs we are constantly keeping up with the latest science & nutrition news. Follow us on social media to keep current. #diabeteschat |
| melissajoyrd | A10: by sharing recent studies & helpful resources #DiabetesChat |
| pinkhippo13 | @CDiabetesInfo A10 Post new studies when they become available #DiabetesChat #DiabetesSupp |
| maureensrn | #diabetesChat info https://t.co/HoGHB1WAUF |
| cdiabetesinfo | People w/diabetes are 2Xmore likely to develop gum disease Colgate Total helps http://t.co/9GKxDBiiKJ #DiabetesChat http://t.co/dr7cZoc7RU |
| maureensrn | #diabeteschat info https://t.co/CjI5RQNVcQ |
| alyssaavant | @LaurenPincusRD as a dietitian you can help us even if we aren't a diabetic right? #diabeteschat |
| bmarketingmaven | I seem to find that social media confirms many of the ideas I have heard and also can always learn new things #DiabetesChat |
| cdiabetesinfo | (S4L) Can being connected keep you #healthy?: http://t.co/788RD6GORu #DiabetesChat #DiabetesSupp |
| christyschomp | A10: Reputable sources will always support the science and update users on cutting edge, reliable research. #DiabetesChat |
| laurenpincusrd | Of course! RT @AlyssaAvant @LaurenPincusRD as a dietitian you can help us even if we aren't a diabetic right? #diabeteschat |
| cheryl888888 | @DiabetesINFL @CDiabetesInfo A7 pschat #diabeteschat |
| maureensrn | Q10- social media platforms- I would love to see a collaborative panel of patients & providers truly talking TO each other. #diabeteschat |
| dietexpertnj | Absolutely! RDs are the go-to experts on all things #nutrition Follow us 🙂 https://t.co/5J76T5faRP #diabeteschat https://t.co/1dr897G0X9 |
| melissajoyrd | Did everyone see this NEW Joint Statement on DSME by @eatright @AADEDiabetes & @AmDiabetesAssn http://t.co/pl7tDtCBSI #DiabetesChat |
| diabetesinfl | (S4L) Can being connected keep you #healthy?: http://t.co/N0rlKk5gr3… #DiabetesChat #DiabetesSupp |
| cdiabetesinfo | Continue the conversation & "like" @CDiabetesinfo on Facebook #DiabetesChat http://t.co/C9EIxZ9SPh |
| christyschomp | @AlyssaAvant @LaurenPincusRD Dietitians r the original health coaches! Some offer specialized care, but trained 2 help all! #DiabetesChat |
| maureensrn | A shout out to @AnswersForSleep– great source for #diabetes and #sleep related conditions. #diabeteschat |
| hmajpd | @MaureenSRN That would be so helpful for patients #diabeteschat |
| dietexpertnj | Remember to always ask questions & look at the sources when deciphering #diabetes information #diabeteschat |
| hmajpd | Hadn't seen this yet. Thanks for sharing. #diabeteschat https://t.co/c0DweGClSh |
| maureensrn | #diabeteschat members, meet Dr Rosenberg!! #Diabetes and #Sleep Disorders. https://t.co/g8Z00hOrLA |
| melissajoyrd | Also check out my Sound Bites blog interview w @HopeWarshaw http://t.co/hcmvxVqlBr #DiabetesChat |
| cdiabetesinfo | Follow and pin us over on Pinterest #DiabetesChat — http://t.co/q2BJnXZ64p |
| dietitianeats | Would be fantastic! I think hashtags help those searching 4 info on Twitter & insta, not reliable on FB yet @MaureenSRN #DiabetesChat |
| maureensrn | A10-Social media platforms need to address the often unspoken issues with #diabetes ( #depression & #burnout). #diabeteschat |
| maureensrn | A10- Imagine the impact of having a conference and ALL the speakers were #diabetics and all the audience were doctors! 🙂 #diabeteschat |
| cdiabetesinfo | Keep following us on Twitter and let us know about your #diabetes needs #DiabetesChat http://t.co/kS4ULWbapJ |
| dietitianeats | Thanks 4 bringing this up! It's so important to educate on long term change not remedies with persuasive promises @MaureenSRN #DiabetesChat |
| maureensrn | A10- My dream conference title: "Diabetes: Stop The Blame Game". #subtle, huh? 🙂 #diabeteschat |
| cdiabetesinfo | Check out the @CDiabetesinfo website http://t.co/4VFJpEzSbh for past #DiabetesChat topics |
| maureensrn | A10- Imagine the arena of #diabetes #education avoiding the word "noncompliant"….yeah!! #diabeteschat |
| maureensrn | A10- With regards to #diabetes, one must first be educated before deciding to make the informed choice to be noncompliant. #diabeteschat |
| melissajoyrd | .@MaureenSRN That's why I'm the Guilt-Free RD! We have to take the Fear Factor OUT of diabetes! #DiabetesChat |
| cdiabetesinfo | Hope you'll join us for the next #DiabetesChat chat #timechange 6/16 1-2pmET with @HelpAround #diabeteslife |
| hopewarshaw | #DiabetesChat: a source for reliable resources from me, @diabeteshf, @DebGreenwood, @sweetlyvoiced, @MrMikeLawson http://t.co/3TAoQiTTAc |
| cdiabetesinfo | Don't forget! @MaureenSRN interviews @MelissaJoyRD on the #healthandhumor show #DiabetesChat #DiabetesSupp http://t.co/TJRzv0N8hM |
| melissajoyrd | I hope everyone had a great time on the chat tonight and remember: ENJOY your food with health in mind! #DiabetesChat |
| cdiabetesinfo | (S4L) How your cell phone can contribute to your #health:http://t.co/7O0WQGyEub… #DiabetesChat |
| maureensrn | I know were coming to a close: just wanted to personally thank everyone.These chats are so important.#Education = #Empowerment #diabeteschat |
| cdiabetesinfo | Thank you to @MelissaJoyRD & @DiabetesINFL for educating the online Diabetes community #DiabetesSupp #DiabetesChat |
| maureensrn | #diabeteschat info https://t.co/FY82kGb4g2 |
| cdiabetesinfo | People w/diabetes are 2X more likely to develop gum disease Colgate Total helps #DiabetesChat http://t.co/lKJSCUL15e http://t.co/Pe4oxFajVZ |
| cdiabetesinfo | FREE OneTouch Ultra®2 or UltraMini® Meter from Costco Pharmacy! #DiabetesChat http://t.co/lsw2ZnlX4a http://t.co/5agIksBY8g |
| cdiabetesinfo | CinSulin® water extract of cinnamon @Costco supports healthy blood sugar levels #DiabetesChat http://t.co/AMXVaSubLg http://t.co/qWGmnTYE8o |
| cdiabetesinfo | Save on a case of Glucerna® Shakes @Costco Helps minimize blood sugar spikes http://t.co/WRQ9MnYVxI #DiabetesChat http://t.co/vmLzw0BQwn |
| cdiabetesinfo | Free shipping on Costco KS Quit2 Gum! +tips to quit from a Costco pharmacist: #DiabetesChat http://t.co/cxjWmhjLWL http://t.co/OOAIgfPzhj |
| cdiabetesinfo | Free Shipping on Cosamin® DS 230 Capsules- Help Promote Joint Comfort & Mobility http://t.co/A1qcNiyFSa #DiabetesChat http://t.co/bc1rafk0pi |
| cdiabetesinfo | Get a FREE TRUEresult blood glucose monitoring system @ Costco pharmacy today! #DiabetesChat http://t.co/CQl1ClXFmV http://t.co/2PsBiirFkF |
| cdiabetesinfo | Costco KS OPTIFIBER Quickly dissolves in hot or cold beverages & soft foods: #DiabetesChat http://t.co/xe3JPqp37k http://t.co/Z0sMmbl6RQ |
| cdiabetesinfo | Great prices on Weider® Red Yeast Rice Plus @Costco! Helps lower cholesterol: http://t.co/R5KN0G6fD0 #DiabetesChat http://t.co/7J51LhVBTd |
| cdiabetesinfo | Great prices on NatureMade vitamins @Costco For people w/diabetes & prediabetes #DiabetesChat http://t.co/G1i5CeU46l http://t.co/40Nx2XjoNB |