#DiabetesChat: Menu Planning for Easter And Passover (March 25, 2015)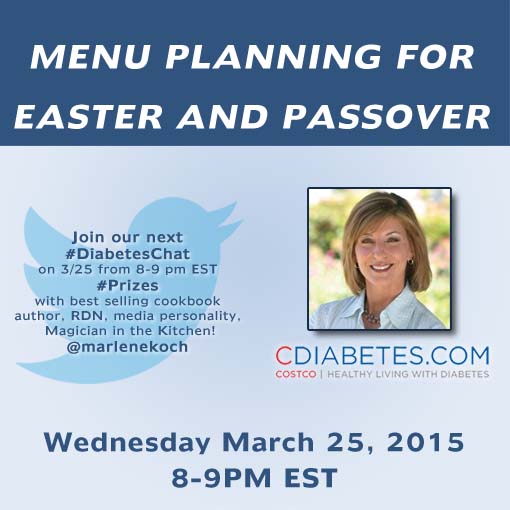 The holiday season is upon us and there are conversations happening everywhere about family gatherings and food planning. For those with diabetes or other food challenges, @cdiabetesinfo has designated a twitter chat all about Healthy Menu Planning for the Holidays with best-selling author @marlenekoch. By participating in this online discussion, you will eligible to win (1) of (3) signed copies of Marlene Koch's cookbook Eat More of What You Love.
Click here to view the analytics for this Twitter chat event.
Event Transcript
---
diabetesincntrl
Does anybody have any questions before we begin tonight's chat? #diabeteschat
marlenekoch
Holidays should be fun for EVERYONE. I passionately believe everyone can enjoy the foods they love! Am ready for questions! #diabeteschat
nutritionjill
Hi Marlene, great to see you tonight. Jill here from SE VA. Desperate for new app ideas for Passover #diabeteschat
bmarketingmaven
Hi like Nancy would love to know desserts for Passover #diabeteschat
themamamaven
I would like to know some #Passover dessert ideas that won't spike my father's blood sugar & taste great. #diabeteschat #healthyholidays
trueandwell
We have a guest with diabetes coming to our seder. Excited to hear more tonight with #diabeteschat @primetimeparent
addictingops
@marlenekoch @DiabetesInCntrl Would love to celebrate Easter, but in a healthy way. What do you recommend? #diabeteschat #easter
hollyclegg
Looking for perfect #Easter brunch @DiabetesINFL kids will love Bunny Biscuits! http://t.co/5VpZenG1ov #DiabetesChat http://t.co/byNvZOSowa
primetimeparent
Welcome everyone to tonight's #diabeteschat all about #healthyholidays and #menuplanning
doctorsoption
FREE enewsletter for diabetes health educators at http://t.co/qM4OqhIQej #diabeteschat http://t.co/0PAtQQF0xF
cdiabetesinfo
Grab our FREE e-book w/over 50 great diabetes-friendly recipes today at http://t.co/pF2srffzKC, compliments of Costco Pharmacy #DiabetesChat
cdiabetesinfo
Save! 24 bottle case Glucerna® Shakes frm Costco help minimize blood sugar spikes #DiabetesChat http://t.co/lsmMlh6m3m http://t.co/K63Kyq6vRW
melinda74
@primetimeparent I need sugar free desserts #DiabetesChat
cdiabetesinfo
@melinda74 @primetimeparent We will help you out Melinda! #diabeteschat
hollyclegg
Have fish for #Easter? Try tblackening @DiabetesINFL no fat added all flavor! #diabeteschat http://t.co/usgHDKeDNb http://t.co/ZmNshZCWBa
cdiabetesinfo
Q1 April is a busy month for celebrating holidays and eating, what will you be celebrating #passover #easter? #diabeteschat
diabetesincntrl
@ADdictingOps @marlenekoch For Easter, why not keep it simple and serve carrots up in a fun way! Healthy and fitting! #diabeteschatWed Mar 25 17:07:19 PDT 2015   ReplyRetweetFavorite
dietexpertnj
@DiabetesInCntrl @ADdictingOps @marlenekoch Great idea! Hard boiled eggs r a great choice too- festive & healthy! #diabeteschatWed Mar 25 17:08:19 PDT 2015   ReplyRetweetFavorite
marlenekoch
Back away from Easter basket & make yourself a bunny tray, carrots, celery & garden delights. Serve with or Ranch Dressing. #diabeteschatWed Mar 25 17:08:46 PDT 2015   ReplyRetweetFavorite
marlenekoch
Deviled eggs are one of my fav's. Eggs are good for you! These have just 35 calories http://t.co/9r2aYo76JP #diabeteschatWed Mar 25 17:09:14 PDT 2015   ReplyRetweetFavorite
cdiabetesinfo
@marlenekoch Love deviled eggs! #diabeteschatWed Mar 25 17:09:36 PDT 2015   ReplyRetweetFavorite
dietexpertnj
They look delicious! RT @marlenekoch: Deviled eggs are one of my fav's. These have just 35 calories http://t.co/tjXQGx0O72 #diabeteschatWed Mar 25 17:10:31 PDT 2015   ReplyRetweetFavorite
hollyclegg
@marlenekoch @CDiabetesInfo I even like to dip in Greek yogurt with Ranch packet seasoning for low fat, protein option #diabeteschatWed Mar 25 17:11:16 PDT 2015   ReplyRetweetFavorite
laurenpincusrd
@themamamaven @nutritionjill my Apple Quinoa Bake has no added sugar and allowed on #Passover http://t.co/8Btk1KFiEm #diabeteschatWed Mar 25 17:11:20 PDT 2015   ReplyRetweetFavorite
marlenekoch
@melinda74 @cdiabetsinfoJust 50 calories and 5 carbs each! Cheesecake Stuffed Strawberries! http://t.co/ZUVBkMKsMK #diabeteschat
melinda74
@CDiabetesInfo A1 Easter #DiabetesChat
dietexpertnj
My whole grain Dark Chocolate Raspberry Muffins can make a great #healthydessert http://t.co/zI9xex5gsb #diabeteschat
diabetesincntrl
@themamamaven Welcome, Nancy! As long as you work towards a healthy lifestyle – you will achieve it! #diabeteschat
cdiabetesinfo
Costco KIRKLAND SIGNATURE OPTIFIBER Dissolves fast in hot & cold drinks, soft foods: #DiabetesChat http://t.co/JiWi9Ry90i http://t.co/ZD6z1fS5uu
dietexpertnj
Yum! RT @marlenekoch: @cdiabetsinfoJust 50 calories and 5 carbs each! Cheesecake Stuffed Strawberries! http://t.co/fZ9SPaHvUi #diabeteschat
mylighttrackrd
#diabeteschat For my Easter celebration, I'm going to use Knox gelatin and sugar-free flavored water to make a sugar-free gelatin "cake."
marlenekoch
You can also make meringue cookies or a Pavlova. They use real sugar but are very low in carbs. It's total carbs that count! #diabeteschat
melinda74
@marlenekoch thanks!! #DiabetesChat
hollyclegg
Yummy!"@DietExpertNJ: My whole grain Dark Chocolate Raspberry Muffins can make a great #healthydessert http://t.co/l47ieNbBcd #diabeteschat"
themamamaven
@LaurenPincusRD @nutritionjill Sounds amazing. Gluten free, right? Doing 1st Seder at my Grandma in Law's ( 99 w Celiac) #diabeteschat
dietexpertnj
Exactly! Watch total carbs- sugar free isnt always best for glucose levels RT @marlenekoch: It's total carbs that count! #diabeteschat
laurenpincusrd
Yup, gluten free and vegan. RT http://t.co/8Btk1KFiEm @themamamaven @nutritionjill #diabeteschat
marlenekoch
You can find the Pavlova recipe on my website. #diabeteschat
diabetesincntrl
Just for #diabeteschat A1CNow 10 Pack and FREE pedometer while supplies last. http://t.co/14UFAXiWHe
cdiabetesinfo
Can you give us a link to your site @MarleneKoch #diabeteschat
cdiabetesinfo
Q2 Will you be hosting your families in your home or will you be a guest elsewhere? #diabeteschat
melinda74
@CDiabetesInfo A2 still unsure probably stay home #DiabetesChat
mindfuleatingrd
@CDiabetesInfo @marlenekoch #Easter thinking of purple foods like cabbage. any ideas 2 share? #diabeteschat
dietexpertnj
A2: I will be an #Easterdinner guest, but I always offer to bring a dish so a healthy option is available #planahead #diabeteschat
marlenekoch
Excited to share diabetes friendly holiday tips with you @ CDiabetesinfo #diabeteschat. I love to do brunch!
corlansky
#diabeteschat glad to include Passover talk in spring holiday chats #diabeteschat
laurenpincusrd
@CDiabetesInfo Celebrating #Passover with my HUGE family, about 40 people. My fave holiday. I'm making the broccoli souffle #diabeteschat
diabetesincntrl
#diabeteschat Spice things up! Serve a healthy fruity smoothie in a champagne flute! Nothing like celebrating Easter in style!
sweetfoodie
Sorry I'm late! Happy to join in 🙂 #diabeteschat
cdiabetesinfo
@sweetfoodie Welcome Caroline! #diabeteschat
cdiabetesinfo
Grt prices on brand name vitamins at Costco! For people w/diabetes & prediabetes #DiabetesChat http://t.co/GiStdqGa4g http://t.co/aiP9yCqSU3
marlenekoch
Bringing a delicious dish you enjoy, that fits your diet is the perfect hostess gift! #diabeteschat
dietexpertnj
& a great way to make sure there's a healthy option! RT @marlenekoch: Bringing a delicious dish you enjoy, that fits your diet#diabeteschat
hollyclegg
@CDiabetesInfo whole family always comes in town to go to my parents but I take over the kitchen! #diabeteschat
themamamaven
@DiabetesInCntrl Determined NOT to get it. Had GD during my last preg 5 yrs ago & they couldn't get my insulin levels correct. #diabeteschat
diabetesincntrl
@themamamaven I hope that you are on track of being healthy now! It is a good thing to be continually tested for pre-diabetes #diabeteschat
cdiabetesinfo
Save Money on Medicine with the Costco Member Prescription Program http://t.co/6lJBmZG7mN #DiabetesChat http://t.co/KiHnIg0Pzn
mindfuleatingrd
@CDiabetesInfo @marlenekoch #beautiful food makes everything so special! Loads of color- full of nutrition 2 #diabeteschat
themamamaven
@DiabetesInCntrl Thanks, blood sugar was fine when I was tested last, always have to be vigilant. #DiabetesChat
cdiabetesinfo
Q3 What are some of the favorite dishes that you look forward to eating every #passover #easter? #DiabetesChat
marlenekoch
I will be spending Easter with my family. We will enjoy this Quick and Easy (healthy) Spinach Quiche http://t.co/5gH2XvKb0d #diabeteschat
marlenekoch
Always check out all of the options before you fill your plate. Pile veggies on first! #diabeteschat
themamamaven
@LaurenPincusRD @nutritionjill Impressed. I will try making it. #diabeteschat
hollyclegg
@DiabetesInCntrl love this idea! #DiabetesChat
laurenpincusrd
A3: Love my mom's potato kugel, though I make her use less oil 🙂 #diabeteschat @marlenekoch @CDiabetesInfo
smnutritionist
My #glutenfreecookiebook is 4 #diabetes -each less than15 gms/carbs & most work 4 #passover & #easter #diabeteschat http://t.co/LHipsWnadT
mylighttrackrd
For Easter dinner last year, I made a root mash with sweet potatoes, carrots, and rutabaga with a touch of salt and pepper. #diabeteschat
cdiabetesinfo
@MyLighttrackRD That sounds delicious #diabeteschat
sweetfoodie
YUM! MT @MyLighttrackRD: For Easter last year, I made a root mash with sweet potatoes, carrots, & rutabaga #diabeteschat
melinda74
@CDiabetesInfo A3 deviled eggs, egg salad #DiabetesChat
laurenpincusrd
Oops, forgot link to noodle kugel: http://t.co/nHLRKAARpw For diabetes, swap out the sugar for a sub like granular stevia. #diabeteschat
cdiabetesinfo
Q4 Are there any foods you feel are "off-limits"? #DiabetesChat
cdiabetesinfo
So thrilled to have so many great dietitians and educators here tonight to help us prepare for our holiday meals!#diabeteschat
diabetesincntrl
@hollyclegg Thank you! We should all toast to hard work in such a sweet way.. literally! #diabeteschat
dietexpertnj
Use the rating system when filling your plate at holidays- only fill ur plate with the 9s &10s- the foods u really love! #diabeteschat
laurenpincusrd
Cool, let me know how it comes out. Always a crowd pleaser. It can be breakfast w yogurt or cottage cheese too.@themamamaven #diabeteschat
mindfuleatingrd
@hollyclegg @marlenekoch @CDiabetesInfo Great- using cottage cheese is hi pro and low carbs too #diabeteschat
marlenekoch
@LaurenPincusRD I have something for you. Sweet Noodle Kugel with 1/2 the cal/carb. 1/3 the usual fat http://t.co/YWQPgJyITR #diabeteschat
mindfuleatingrd
#diabeteschat I eat what I love with #diabetes – mindful eating so important!
hollyclegg
What about Glazed Pork Tenderloin for easy 'fancy' #Easter meal @DiabetesINFL http://t.co/0XvMmu0c2x #Diabeteschat http://t.co/o7aYs9AHg8
marlenekoch
Roast veggies. Nature's candy! #diabeteschat
dietexpertnj
So true! Flavor them w cinnamon, nutmeg or even a splash of honey for a treat RT @marlenekoch: Roast veggies. Nature's candy! #diabeteschat
hollyclegg
#diabeteschat @marlenekoch @DiabetesINFL Line your baking pan with foil with roasting veggies for easy clean up!
marlenekoch
@Hollyclegg Yes, line roasting pan with foil for easy clean up. #diabeteschat
melinda74
@CDiabetesInfo A4 cakes, bread #DiabetesChat
cdiabetesinfo
CinSulin® patented water extract of cinnamon supports healthy blood sugar levels #DiabetesChat http://t.co/lCpTHY59SD http://t.co/DLjwdTf7yn
dietexpertnj
A4: All foods can fit at celebrations- moderation is key! Allow urself a few spoonfuls of indulgent foods, but dont overdo it #DiabetesChat
bmarketingmaven
The desserts do sound really great and tasty #diabeteschat
themamamaven
@LaurenPincusRD I will, and it looks pretty easy (always a plus). #DiabetesChat #healthyholidays
diabetesincntrl
@themamamaven So glad to hear! #diabeteschat
marlenekoch
Yes, leave room for those things you REALLY must have. Cut out the so-so high carb foods that are not special! #diabeteschat
smnutritionist
Instead of mashed potatoes making #mashedcauliflower w Parmesan in ramekins very satisfying #diabeteschat
laurenpincusrd
@marlenekoch I have a Noodle Kugel too! Can use sugar sub, too bad can't have on #Passover 🙁 It's one of my favorites. #diabeteschat
hollyclegg
@MindfulEatingRD @DiabetesINFL my 3 kids grew up on them & now my 3 year old grand son asks for them! #diabeteschat
themamamaven
@DietExpertNJ Smart! #DiabetesChat #healthyholidays
addictingops
@CDiabetesInfo I've always felt that chocolate was off limits. Is that the case? #diabeteschat
marlenekoch
A mixture of 1/2 potatoes and 1/2 cauliflower for mashing is the perfect blend of good health and great taste! #diabeteschat
cdiabetesinfo
Q5 Do you have a special dish that you make at #passover #easter that you would love to make healthier?  #DiabetesChat
doctorsoption
Diabetes care products – scales, insulin wallets, pedometer & more ON SALE #diabeteschat http://t.co/U0u6qbgJEo
primetimeparent
I am picking the first winner of @marlenekoch's bestselling book #eatwhatyoulove so make sure I see your tweets and use #diabeteschat
bmarketingmaven
I have been taking the Cinsulin and I do think it helps #diabeteschat
themamamaven
@CDiabetesInfo Passover #DiabetesChat #healthyholidays
smnutritionist
Zucchini ricotta pie w Parmesan – easy, #glutenfree & very #lowcarb #diabeteschat http://t.co/oO02Z1khqZ
melinda74
@CDiabetesInfo A5 banana split cake #DiabetesChat
mindfuleatingrd
@marlenekoch #diabeteschat that being smart and mindful! The best combination
marlenekoch
@mindfuleatingrd Every bite is a new choice! #diabeteschat
primetimeparent
@corlansky @EstelleSErasmus @cdiabetesinfo @marlenekoch @diabetesinfl #diabeteschat great to have you here
laurenpincusrd
I use cottage cheese in tons of recipes! It's a must have! RT @MindfulEatingRD @hollyclegg @marlenekoch @CDiabetesInfo #diabeteschat
dietexpertnj
Me too! It's So versatile! RT @LaurenPincusRD I use #cottagecheese in tons of recipes! RT @hollyclegg @marlenekoch #diabeteschat
mindfuleatingrd
@hollyclegg @DiabetesINFL #diabeteschat what's a great side dish that isn't carb rich??
smnutritionist
Here's the #mashedcauliflower #diabeteschat http://t.co/70KV4kaBwi
corlansky
@nutritionjill #Diabeteschat Great idea for passover recipe ideas on app
marlenekoch
Creamed cottage cheese and non-fat Greek yogurt are both wonderful creamy lower carb, high protein ingredients! #diabeteschat
cdiabetesinfo
Costco has grt prices on Weider® Red Yeast Rice Plus – helps lower cholesterol #DiabetesChat http://t.co/R5KN0FOEeq http://t.co/N4orNF5UnY
mindfuleatingrd
"@smnutritionist: Zucchini ricotta pie w Parmesan – easy, #glutenfree & very #lowcarb #diabeteschat http://t.co/q2deqJrkXR looks yummy!
diabetesincntrl
Want to snack on jelly beans this Easter? How about snacking on some dried fruit instead! High in minerals and vitamins! #diabeteschat
smnutritionist
@ADdictingOps 1-2 squares of #Darkchocolate – especially over 75% has very little carbs & full of #flavonols 4 health #diabeteschat
diabetesincntrl
#diabeteschat Poucho Cooling wallets for insulin and other care products on sale! http://t.co/HPiVIRdCTJ
marlenekoch
@sweetfoodie. Love Rutabaga in blended with mashed potatoes! #diabeteschat
corlansky
#DiabetesChat Love that #Passover is on Friday night this year, college kids able to join us!
dietexpertnj
Love this melted on fruit! RT @smnutritionist: #Darkchocolate over 75% has very little carbs & full of #flavonols 4 health #diabeteschat
cdiabetesinfo
@marlenekoch @sweetfoodie Rutabaga is one of my favs. #diabeteschat
mindfuleatingrd
@marlenekoch read those labels to guide product choice! For dips plain yogurt works best #diabeteschat
marlenekoch
@mindfulrd Yes, not all products are alike. I like non-fat plain Greek yogurt. Made by straining, not thickening. #diabeteschat
 
cdiabetesinfo
Q6 What are some of the naturally healthy foods that you enjoy during #passover or for #easter? #DiabetesChat
pharmacyfriend
My Twitterfeed is dominated tonite by #diabeteschat and Canadian politics #cbcasks .makes me want to eat chocolate and turn to a hockey game
hollyclegg
These Peanut Butter Cookies are so good you won't beileve they are diabetic! @DiabetesINFL http://t.co/u0xFjNHGy9 #diabeteschat
melinda74
@CDiabetesInfo A6 boiled eggs can make a ton of recipes #DiabetesChat
marlenekoch
@rlewis I second the thought. Thrilled to see so many colleagues here! #diabeteschat
hollyclegg
@MindfulEatingRD @marlenekoch I love a good zip lock bag to marinate in!! #DiabetesChat
corlansky
#Diabeteschat Baked Herbed Gefilte Fish Recipe http://t.co/Fb1e32agOI best gefilte fish from frozen loaf purchased in supermarket
trueandwell
I'm making a spaghetti squash "noodle" kugel for both seders! Recipe will be up on http://t.co/4DffQgUaP2 by tomorrow morning! #diabeteschat
cdiabetesinfo
Get a FREE TRUEresult blood glucose monitoring system frm Costco pharmacy today! #DiabetesChat http://t.co/OwrvaNMD3P http://t.co/JuL7zfKKuW
mindfuleatingrd
@marlenekoch love that! Great bumper sticker! #diabeteschat
primetimeparent
@sweetfoodie Congrats! You won a (signed) copy of @marlenekoch's book! #diabeteschat
mindfuleatingrd
"@marlenekoch: @mindfuleatingrd Every bite is a new choice! #diabeteschat"so true
marlenekoch
Even Passover brisket, when well trimmed, fits with just 6 gms fat in 3oz. #slow cooker Yum. http://t.co/6cI9eMZOIV #diabeteschat
primetimeparent
Looking for the next winner of @marlenekoch's book #eatwhatyoulove #diabeteschat #healthyholidays
doctorsoption
Get a Free Prediabetes Info Kit sponsored by @DiabetesInCntrl on Doctor's Option #diabeteschat http://t.co/BA6Xvi0IFS
hollyclegg
Kale Fruity salad is as pretty as it is healthy! #Diabeteschat @MindfulEatingRD @DiabetesINFL http://t.co/hNfsbLtVYp http://t.co/fyuKL7nTfm
primetimeparent
@trueandwell That sounds delicious! Can you share the recipe? #diabeteschat
marlenekoch
Woot! @sweetfoodie. Make the Luscious Coconut Cupcakes with Cream Cheese Frosting. Only 18 carbs!! #diabeteschat
mindfuleatingrd
@hollyclegg @DiabetesINFL that is so beautiful! #diabeteschat
hollyclegg
@MindfulEatingRD @DiabetesINFL absolutely! Teach them young:) #diabeteschat
diabetesincntrl
Have kids with diabetes? Treat them with toys & inexpensive gifts instead of candy. They will have more to brag about #diabeteschat
cdiabetesinfo
You can also find more information about exercise & #glucose management on the @Cdiabetesinfo website http://t.co/4VFJpEzSbh #DiabetesChat
corlansky
#Diabeteschat carb counting for #Passover does not have to be difficult.
 
cdiabetesinfo
Q7 How do you deal with food challenges, like eating too many carbs or taking an extra piece of cake? #DiabetesChat
primetimeparent
@DietExpertNJ @marlenekoch I can't wait to try these #diabeteschat
dietexpertnj
U r SO creative!! Love it! RT @marlenekoch: @sweetfoodie. Make Luscious CoconutCupcakes w Cream Cheese Frosting only18 carbs!! #diabeteschat
hollyclegg
@MindfulEatingRD @DiabetesINFL thank you!! #Diabeteschat
diabetesincntrl
Have kids with diabetes? Treat them with toys instead of candy for Easter. They will have more to brag about #diabeteschat
dietexpertnj
A7: Dont go hungry to holiday meals- a snack before prevents overindulging! #DiabetesChatWed Mar 25 17:38:05 PDT 2015   ReplyRetweetFavorite
 
cdiabetesinfo
Q8 What tips do you have for managing blood sugar levels during the holidays? #DiabetesChat
primetimeparent
@corlansky Yum! #diabeteschat
marlenekoch
Don't worry if you overdo, think about what you will do next, not what you have already done!! #diabeteschat
laurenpincusrd
@DietExpertNJ My go to is a hard boiled egg! #diabeteschat
mindfuleatingrd
@marlenekoch @rlewis #diabeteschat. What's your favorite app to serve?
melinda74
@CDiabetesInfo A7 moderation is very hard #DiabetesChat
dietexpertnj
A7: If u over do it, get up & get moving- its the fastest way to lower glucose -then make better choices at the next meal! #DiabetesChat
primetimeparent
@DiabetesInCntrl I love dried fruit! #diabeteschat
marlenekoch
Eat a small snack to keep from getting too hungry. Small but effective trick. Keep something in the hand that grabs for food! #diabeteschat
mindfuleatingrd
@corlansky love it! What other low carbs ideas do you have?#diabeteschat
smnutritionist
Eating protein at each meal & #snack 2 help keep #bloodglucose balanced w/ #diabeticfriendly treats #nutbutter & #darkchocolate #diabeteschat
diabetesincntrl
#diabeteschat Check out http://t.co/usuMkF23Vu for loads of FREE information on managing diabetes #lowcarb http://t.co/EDJJGx4pK7
diabetesincntrl
@primetimeparent What is your favorite dried fruit? Apricots always taste amazing! #diabeteschat
mylighttrackrd
The morning before holiday parties I like to go for a jog and at dinner I load up on veggies first before I reach for dessert. #diabeteschat
marlenekoch
This tasty all-natural Green Tea Refresher is nice to hold :). http://t.co/w9U22a7ro5 #diabeteschat
melinda74
@CDiabetesInfo A8 check levels often #DiabetesChat
dietexpertnj
Aim for a pre-celebration snack that wont spike glucose- #almonds, #pistachios, #veggies, #cottagecheese, #eggs #diabeteschat
bmarketingmaven
I made the spaghetti squash once it was interesting I don't know if I did it right #diabeteschat
cdiabetesinfo
Free shipping on Costco KS Quit2 Gum! + tips to quit from a Costco pharmacist: #DiabetesChat http://t.co/2RCmKH6VBP http://t.co/qQYMMZOrQq
hollyclegg
@DiabetesInCntrl @primetimeparent just put apricot preserves in my Apricot Oatmeal Bars today! #DiabetesChat
trueandwell
@primetimeparent #diabeteschat here it isSpaghetti squash "noodle" kugel for #Passover #glutenfree #paleo #vegetarian http://t.co/NyCRzN21LX
 
cdiabetesinfo
Q9: Does your feast include alcohol? If so, how do you manage alcohol consumption?#DiabetesChat
marlenekoch
Holidays are about family & food, but family should come first! Engage in conversation with a loved one instead another bite! #diabeteschat
hollyclegg
@DiabetesInCntrl @primetimeparent just put apricot preserves in my Apricot Oatmeal Bars today! #diabeteschat http://t.co/V7giklXXLy
mindfuleatingrd
So many people with #diabetes might think the holiday is over. No true! Great ideas #diabeteschat
corlansky
@themamamaven @trueandwell Love this idea spaghetti squash works and is delicious! #Diabeteschat learning from each other!
marlenekoch
1 glass of wine or cocktail for women, 2 for men usually okay. Forgo sugary mixers, and watch blood sugar 4hr later. #diabeteschat
hollyclegg
Berry Parfait will be the perfect end to your #Easter meal! @DiabetesINFL http://t.co/nzzgSyoFpS #diabeteschat http://t.co/A9wnGnnVcI
melinda74
@CDiabetesInfo A9 nope #DiabetesChat
diabetesincntrl
@CDiabetesInfo If your Easter feast includes alcohol, be sure to monitor your blood sugar before, during, and after drinking #diabeteschat
primetimeparent
Ready to pick the third and final winner of @marlenekoch's bestselling book #eatwhatyoulove so make sure you tweet with #diabeteschat
doctorsoption
FREE Pedometer with purchase of A1c 10 pack just for #diabeteschat while supplies last http://t.co/aVULCiEpsq
marlenekoch
So many great folks here prove that all foods fit with a little planning (and some great diabetes friendly recipes). #diabeteschat
smnutritionist
@bmarketingmaven try yellow squash – use cheese grater, boil & mix in ricotta Parmesan & herbs #diabeteschat http://t.co/JCwZckkg7M
dietexpertnj
Remember that alcohol can stimulate appetite & increase risk of hypoglycemia- limit to 1-2 cocktails & have it w a meal #DiabetesChat
hollyclegg
@MindfulEatingRD @marlenekoch what about spraying nonstick spray in a measuring cup before measuring sticky ingrd like honey? #diabeteschat
mindfuleatingrd
Including. A walk between eating helps with lowering blood sugar #diabeteschat
trueandwell
Here's a picture of a slice of the spaghetti squash "noodle" kugel. Recipe on previous tweet #diabeteschat http://t.co/SK2NyE0K0m
marlenekoch
Thank you @dietexpertNJ Yes, extra blood sugar management precautions with ETOH are in order. #diabeteschat
laurenpincusrd
@CDiabetesInfo Lots of wine 🙂 They make you drink at the Seder! #diabeteschat
corlansky
#Diabeteschat Important to monitor kids with DM at Pesach; wine is important part of #seder.
cdiabetesinfo
FREE OneTouch Ultra®2 or UltraMini® Meter from Costco Pharmacy! #diabeteschat http://t.co/EDq1ZeNeTb http://t.co/afwbfP6eKJ
myemdclass
I like this one! @marlenekoch: @LaurenPincusRD I have something for you. Sweet Noodle Kugel http://t.co/2KHVy6xMo1 #diabeteschat
 
cdiabetesinfo
Q10 Do you make time during the holidays to exercise? What if you are away from home? #DiabetesChat
diabetesincntrl
Feel free to follow us! Ask any questions! We care about strengthening your goals and lifestyle any way that we can #diabeteschat
marlenekoch
Nothing better than a walk around the block to help keep blood sugar in check. Make it a family affair! #diabeteschat
corlansky
@CDiabetesInfo Absolutely never take vacation from activity particularly during holiday eating with friends and family. #diabeteschat
mindfuleatingrd
@hollyclegg @marlenekoch #diabeteschat. Don't forget waxed paper! Makes clean up easy for rolling out pies and safe reheating.
primetimeparent
Congrats @marshel1969 and @itisanidealworld you won @marlenekoch's book #diabeteschat
smnutritionist
@CDiabetesInfo Just a 10 minute walk after each meal can greatly assist with lowering #bloodglucose #diabeteschat
mindfuleatingrd
@marlenekoch @sweetfoodie no way! What a great tip #diabeteschat
cdiabetesinfo
FREE diabetes care products frm Costco Pharmacy! Value up to $75.Expires 3/31/15 #diabeteschat http://t.co/EDq1ZeNeTb http://t.co/J5fqbGsusB
dietexpertnj
A10: U can exercise anywhere even when traveling! Get a #pedometer and track ur steps- aim for 10,000/day #DiabetesChat
trueandwell
Green soup is a winner in our #sugarfree house too! Just cauliflower, kale, #bonebroth, olive oil, s&p #diabeteschat http://t.co/FxvwxHX6gT
melinda74
@CDiabetesInfo A10 walk #DiabetesChat
mylighttrackrd
Sometimes after Easter dinner, me and my mother and cousins go for a post-meal walk around the neighborhood to get fresh air. #diabeteschat
mindfuleatingrd
@marlenekoch @sweetfoodie. I think no one cooks rutabaga anymore! I love it! Low carbs veg #diabeteschat
diabetesincntrl
@themamamaven @CDiabetesInfo There's always time to exercise! Exercises that don't take too much room like planks or sit ups #diabeteschat
cdiabetesinfo
Share your healthy menu planning with us on Facebook and Pinterest #diabeteschat
cdiabetesinfo
Grab our FREE e-book w/over 50 great diabetes-friendly recipes today at http://t.co/pF2srffzKC, compliments of Costco Pharmacy #diabeteschat
diabetesincntrl
#diabeteschat FREE enewsletter for diabetes health educators at http://t.co/jTxKZ7iXaW http://t.co/lCV1pbn7ZH
trueandwell
@CDiabetesInfo yoga yoga yoga! Easy to slip away for 30 mins without leaving the family #DiabetesChat
corlansky
@DiabetesInCntrl Thank you for support #Diabeteschat CDE's need to feel the love.
cdiabetesinfo
Thank you @marlenekoch for being with us today. Any parting words? #diabeteschat
 
cdiabetesinfo
Q11 What if you do overindulge? How do you feel? What do you do to get back on track? #DiabetesChat
marlenekoch
A11 We are all human. To get keep you on track, make sure to keep your log going. Denial is not your friend. Think positive!! #diabeteschat
diabetesincntrl
@themamamaven @CDiabetesInfo Building muscle is always important to remember! Challenge yourself in a workout! #diabeteschat
melinda74
@CDiabetesInfo A11 mom and dad get sleepy if sugar levels get real high #DiabetesChat
smnutritionist
@CDiabetesInfo Lower your carb intake, increase protein & activity till #bloodglucose values calm down #diabeteschat
diabetesincntrl
@corlansky Got nothing but love and support to pass around! A supportive environment makes all the difference. #diabeteschat
mylighttrackrd
A11: Work out the next day and get back on the healthy eating wagon. It's not if you fall, but if you are able to get back up! #diabeteschat
primetimeparent
@sweetfoodie @marlenekoch #diabeteschat so nice, picking another winner!
marlenekoch
This chat is great. Planning ahead is key to creating a happy, healthy, delicious holiday for ALL! #diabeteschat
dietexpertnj
A11: Your diet will never be perfect & it doesn't need to be. Make healthy choices the majority of the time & accept slip ups #diabeteschat
mindfuleatingrd
@trueandwell @CDiabetesInfo #mindfuleating. And diabetes. Are a great combination #diabeteschat
primetimeparent
Congrats @melinda74 you won @marlenekoch's book! #diabeteschat
primetimeparent
If you won a #prize during tonight's #diabeteschat please follow me back so I can get your info.
virginialeerd
@trueandwell I have got to try this #bonebroth! #diabeteschat
scritchfieldrd
"@CDiabetesInfo Just a 10 minute walk after each meal can greatly assist with lowering #bloodglucose #diabeteschat" #Spring2Wellness
bmarketingmaven
Thank you all again #diabeteschat
marlenekoch
Congratulations @melinda74! LOTS of great lower carb desserts for you to try… #diabeteschat
melinda74
@primetimeparent @marlenekoch thanks!! #DiabetesChat
mindfuleatingrd
@marlenekoch and making the planning fun! #diabeteschat
primetimeparent
@marlenekoch Such great tips and with health, happiness, and family at heart#diabeteschat
cdiabetesinfo
Thank you everyone for joining us today #Diabeteschat
mindfuleatingrd
@MindfulTCME To learn more about # mindfuleating and #diabetes #diabeteschat
hollyclegg
"@melinda74: @primetimeparent @marlenekoch thanks!! #DiabetesChat" thanks!
marlenekoch
Thank you @primetimeparent @CDiabetesinfo for having me. And to all who joined in! #diabeteschat
cdiabetesinfo
Hope you'll join us for the next #diabeteschat April 8 , 8-9pm EST
cdiabetesinfo
Thank you again to @marlenekoch for the  menu planning tips just in time or #passover and #easter #DiabetesChat
dietexpertnj
TY to @marlenekoch @primetimeparent RT @CDiabetesInfo #Diabeteschat
diabetesinfl
@BMarketingMaven Thanks for joining us! Come back on 4-8 for another #diabeteschat
diabetesincntrl
#diabeteschat may be ending now, but we always welcome questions! Feel free to follow to receive advice, tips, news & more!
mindfuleatingrd
http://t.co/FnF4re2var has free resources if interested in #mindfuleating eating #diabetes #diabeteschat
mylighttrackrd
Thanks for a great chat! Some great recipes and tips! See you at the next chat! #diabeteschat
cdiabetesinfo
G'night, day, or afternoon. Healthy eating! and #healthyholidays #diabeteschat
rustnutrition
This barley risotto is a great high fiber spring dish for the spring holidays. http://t.co/YYd7ziDHJl #diabeteschat
diabetesinfl
For those that are interested there is now a chat on #dsma #diabeteschat
diabetesinfl
The conversation about #diabetes still going on over at #dsma with @DiabetesSocMed #diabeteschat
primetimeparent
@melinda74 @marshel1969 @itisanidealworld Congrats again, please follow back so we can get your prize out to you #diabeteschat
abbymathis
It's my last night as a 22 year old and I'm going to bed before 9pm with large Ketones
determinedt1d
Started taking Ballet Barre class. Great low-impact exercise, works muscles without dropping sugars. So excited I tried it! #DiabetesChat
simplyveg777
Bitter Gourd Fry http://t.co/0nQqsibL3e #diabeteschat #DiabetesAlertDay #healthyliving #diabetesmanagemet http://t.co/biiW0SuDui