#DiabetesChat: Diabetes and Mindful Eating (April 8, 2015)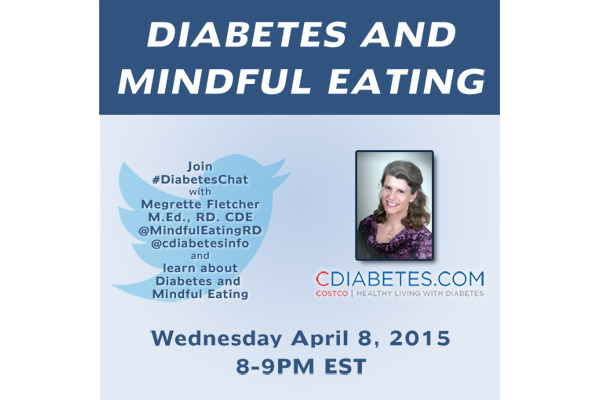 Many thanks to writer, speaker, dietitian, and diabetes educator Megrette Fletcher M.Ed., RD. CDE and everybody who attended our April 8 Twitter chat event for making it a big success!
Megrette showed us how mindful eating can break bad habits and bring us joy and health.
Click here to view the analytics of this Twitter chat event.
Event Transcript
---
| | |
| --- | --- |
| mindfuleatingrd | #mindfuleating tip #diabetes – wanting to eat due to an emotion means ur human. Pause Breathe Smile #diabeteschat. http://t.co/OAF8Pg2HWt |
| suburbanwifedp | #win 1 of (5) copies of Eat What You Love, Love What You Eat w/Diabetes #diabeteschat 4-8, 8pmET #mindfuleating @primetimeparent |
| mindfuleatingrd | #mindfuleating tip Tune in to what you want #diabetes #diabeteschat. ENJOY vs eating w/guilt. |
| mindfuleatingrd | #diabetes #diabeteschat #midfuleating Learn patterns of thinking so you can live the balanced, vibrant life you crave http://t.co/3rvxgOxugf |
| cdiabetesinfo | We are so fortunate to have Megrette from @mindfuleatingRD with us tonight for #DiabetesChat #mindfuleating |
| cdiabetesinfo | #win 1 of (5) signed copies of Eat What You Love, Love What You Eat with Diabetes #diabeteschat 4-8 8pmET#mindfuleating @mindfuleatingRD |
| cdiabetesinfo | Save on diabetes supplies! Bayer test strips available on Costco CMPP program.  #diabeteschat http://t.co/m9TNtnhQJH http://t.co/gqeaSwe71Y |
| diabetesincntrl | @MindfulEatingRD How does music or lighting influence how much and how fast we eat? #diabeteschat |
| amypcampbell | Hi everyone! People with diabetes r often given so many food "rules." Mindful eating can really be helpful! #diabeteschat |
| laurenpincusrd | Hey all, I'm Lauren a dietitian from NJ- http://t.co/h3M0CBmgZq @CDiabetesInfo #diabeteschat #mindfuleating |
| primetimeparent | .@mindfuleatingRD Megrette Fletcher M.Ed., RD. CDE, is a Writer, Speaker, Dietitian, and Diabetes Educator #diabeteschat #mindfuleating |
| mindfuleatingrd | #diabeteschat, #mindfuleating, #diabetes @amihungry Savor every aspect of eating – yes, even with diabetes http://t.co/IZEbx3J2z8 |
| primetimeparent | Welcome to #DiabetesChat! What questions do you have for Megrette Fletcher RD @mindfuleatingRD tonight! #mindfuleating |
| doctorsoption | FREE enewsletter for diabetes health educators at http://t.co/qM4OqhIQej #diabeteschat http://t.co/0Cc323s6tq |
| dietexpertnj | Hi Im Erin a dietitian and diabetes educator based in NJ http://t.co/7hgymia6SU #diabeteschat |
| sarahjeanrd | New and updated edition of Legal Rights of Students with Diabetes http://t.co/WU0g5LCDpk Very comprehensive! #diabetes #diabeteschat |
| eatwhatyoulove | Without #mindfuleating having #diabetes can feel like one excruciating long #diet! #diabeteschat |
| diabetesincntrl | @DoctorsOption Avocados are a good fat! They reduce bad cholesterol and lowers your risk of heart disease #diabeteschat |
| kjh63 | @primetimeparent @MindfulEatingRD I just had a stroke 3 weeks ago what can I do to prevent it happening again? #diabeteschat #mindfuleating |
| dietexpertnj | #Mindfuleating is key to making dietary changes a lifestyle & not a "diet" #diabeteschat |
| dearjanis | Mindful is also the key to effective listening. #diabeteschat |
| mindfuleatingrd | Eat what you love without guilt or fear of losing control #diabeteschat, #diabetes, #mindfuleating http://t.co/ahsb0jycEk |
| diabetesincntrl | @kjh63 Kelly, having high blood pressure increases the risk for another. Controlling blood sugar & blood pressure is key #diabeteschat |
| cdiabetesinfo | #diabeteschat You can also follow and tweet to us on Tweetchat. Link below: http://t.co/xi7yF4FDmO |
| cdiabetesinfo | Q1: Is it possible to savor every aspect of eating, even living with prediabetes or diabetes? #diabeteschat |
| dietexpertnj | I find clients who master #mindfuleating are the most successful at managing blood glucose and weight #diabeteschat |
| diabetesincntrl | @StrongerThanT1D Welcome Cayla! Do you have any advice for those who recently found they have diabetes? #diabeteschat |
| amypcampbell | @mindfuleatingRD: What's a good way to get started with mindful eating? #diabeteschat |
| kjh63 | @DiabetesInCntrl My Bp was high I am fine now but BP is under control #diabeteschat |
| doctorsoption | @DiabetesInCntrl @kjh63 A1C Testing will help you control blood sugar. #diabeteschat |
| dietexpertnj | A1: Absolutely! Having diabetes does not mean you cant enjoy your food and eat delicious food! #Diabeteschat |
| diabetesincntrl | @CDiabetesInfo Completely! Grab a smaller plate! It takes less to fill it up and you'll savor the food more #diabeteschat |
| cdiabetesinfo | Costco KIRKLAND SIGNATURE OPTIFIBER dissolves fast in soft foods/hot&cold drinks http://t.co/JiWi9Ry90i #diabeteschat http://t.co/IiQudYI6Cv |
| laurenpincusrd | Absolutely. Healthy food can be delicious,& even more enjoyable when it makes you feel better! RT @CDiabetesInfo: Q1: #diabeteschat |
| primetimeparent | @kjh63 #diabeteschat what do you do to keep your BP under control? #diabeteschat |
| mindfuleatingrd | Explore whether certain emotions trigger you to eat. – #diabetes #diabeteschat #mindfuleating |
| cdiabetesinfo | Q2 How can foods that are incredibly sweet be eaten without guilt or fear of losing control? #diabeteschat |
| primetimeparent | Picking the (2) winners of signed copies of Megrette Fletcher's book #mindfuleating #diabeteschat |
| mindfuleatingrd | #diabeteschat #mindfuleating #diabetes. Discover powerful ways of knowing when, what, to eat w/no restrictive rules http://t.co/xOBAtBlcdp |
| doctorsoption | #diabeteschat smaller plate bigger appetite! https://t.co/LDg1cPLrBG |
| mandi_smith0319 | @primetimeparent @DietExpertNJ @LaurenPincusRD @amypcampbell @dearjanis @DiabetesINFL nice to see everyone #DiabetesChat |
| dearjanis | A1: Takes more effort to overcome the guilt. Import to invite yr diabetes/prediabetes to enjoy the food w/you #diabeteschat |
| kjh63 | @primetimeparent I had a bleed on the brain, I am on meds #diabeteschat |
| amypcampbell | Dinner plates these days can be 12 inches in diameter – up 3 inches from the plates from the 1960's! #diabeteschat |
| laurenpincusrd | Very small portion, savor each morsel. RT @CDiabetesInfo: Q2 How can foods that are incredibly sweet be eaten without guilt? #diabeteschat |
| weightlossextr | I find clients who master #mindfuleating are the most successful at managing blood glucose and weight #diabeteschat |
| diabetesincntrl | @CDiabetesInfo Reach for fruit! A deal so sweet you just can't pass up! #diabeteschat #mindfuleating |
| dietexpertnj | A2: Sweet foods are not off limits with #diabetes – total carbs r key. Portion control is essential #diabeteschat |
| cdiabetesinfo | Grt prices on brand name vitamins at Costco for people w/diabetes & prediabetes http://t.co/GiStdqGa4g #diabeteschat http://t.co/kz2DhYstEn |
| missstephanieb | @amypcampbell everything is so super sized! Gah! I miss mini coffees and real "snacks" #diabeteschat #mindfuleating |
| primetimeparent | @kjh63 So grateful you got the help you needed and things are in control #DiabetesChat |
| laurenpincusrd | I know. Clients laugh when I show them a 9″ plate. RT @amypcampbell: Dinner plates can be 12 inches in diameter #diabeteschat |
| cdiabetesinfo | Save Money on Medicine with the Costco Member Prescription Program http://t.co/ol9xLNzerI #diabeteschat |
| kjh63 | @primetimeparent Did you know if you catch a stroke in 3 hours, they can reverse it? #diabeteschat |
| primetimeparent | I am also choosing winners by your RTs tonight during #diabetesChat #tweet2win |
| mindfuleatingrd | #diabetes #mindfuleating #diabeteschat – Fear can't motivate you for long. Enjoyment of food and eating can. http://t.co/d5GFLJNsVv |
| diabetesincntrl | You're prone to eat more when you're dining with friends. Be mindful when dining out #diabeteschat #mindfuleating |
| cdiabetesinfo | Q3 What are some ways to know when it is time to stop eating, without restrictive rules? #Diabeteschat |
| laurenpincusrd | Follow the hunger scale- pay attention. RT @CDiabetesInfo: Q3 What are some ways to know when it is time to stop eating #Diabeteschat |
| doctorsoption | RT @DiabetesInCntrl: You're prone to eat more when you're dining with friends. Be mindful when dining out #diabeteschat #mindfuleating |
| dietexpertnj | A3: Eat slowly! It takes almost 20 minutes for the stomach to get the message too ur brain that u are full #mindfuleating #diabeteschat |
| strongerthant1d | @DiabetesInCntrl Just that D is not the end of the world by any means and that it really does get better with tiime. #diabeteschat |
| kjh63 | @primetimeparent I am so glad we are talking about this, since I had my stroke #diabeteschat |
| dearjanis | A2: overcome guilt with reliable info #diabeteschat |
| beyond32teeth | @LaurenPincusRD @CDiabetesInfo #diabeteschat If food is very nutrient dense, so much easier to not go overboard on sweets. |
| mindfuleatingrd | @citymomsecrets #mindfuleating #diabeteschat – OMG! So correct. We fool ourselves into thinking a small is a small. Check in with hunger 1stWed Apr 8 17:20:41 PDT 2015   ReplyRetweetFavorite |
| laurenpincusrd | A3: Eating til full is too much. I tell people, no longer hungry. Need to eat without distraction to notice. #diabeteschat |
| kjh63 | @primetimeparent whats the likely hood if your parent has diabetes, you will as well ? #diabeteschat |
| cdiabetesinfo | Q4 What is the connection between eating and physical activity and how they both affect blood sugar? #DiabetesChat |
| amypcampbell | A3: Do nothing else while eating – no TV, iPad, laptop, iPhone…focus on what and how much you're eating! #diabeteschat |
| mandi_smith0319 | A1 for sure having diabetes doesn't have to damper you enjoying your food #Diabeteschat |
| laurenpincusrd | I actually have clients sign a contract to stop distracted eating 🙂 RT @amypcampbell: A3: Do nothing else while eating #diabeteschat |
| dietexpertnj | A4: Exercise reduces blood glucose levels & decreases insulin resistance #DiabetesChat |
| mindfuleatingrd | There are great resources on #mindfuleating at http://t.co/OxeiCfnBXZ and http://t.co/aOTrUzHy8G! #diabeteschat |
| cdiabetesinfo | CinSulin® patented water extract of cinnamon supports healthy blood sugar levels #diabeteschat http://t.co/lCpTHY59SD http://t.co/7zn7acGNfj |
| amypcampbell | @LaurenPincusRD: Great idea and really drives home importance of focusing on eating! #diabeteschat |
| strongerthant1d | A1 Of course. You just need to be sure to count your carbs and be control in what you are eating. Portion size is important. #diabeteschat |
| diabetesincntrl | @MindfulEatingRD a smart decision in the moment is a smart decision for life! #diabeteschat |
| primetimeparent | Congrats! @mandi_smith0319 @BeatrizVarreila you won the first (2) copies of Eat What You Love, Love What You Eat with Diabetes #DiabetesChat |
| mindfuleatingrd | @CDiabetesInfo @DiabetesINFL #DiabetesChat Great resources and ideas on #mindfuleating and #diabetes. http://t.co/GJWIqTLE7p |
| diabetesincntrl | Check out Dr. Bernstein's Diabetes University http://t.co/VbZJkZj9o4 #diabeteschat |
| dietexpertnj | Regular exercise also helps to shed #bellyfat, a risk factor for #diabetes #DiabetesChat tips for burning #bellyfat: http://t.co/ujSuP2zkt1 |
| mandi_smith0319 | @LaurenPincusRD A3 that is completely true Eat only until satisfied overeating is such a huge problem in society #diabeteschat |
| cdiabetesinfo | Q5 Do you find it difficult to monitor blood-sugar when out with friends or in social settings? #Diabeteschat |
| mindfuleatingrd | Understand how eating and physical activity affect your blood sugar #mindfuleating #diabetes #diabeteschat |
| diabetesincntrl | Just for #diabeteschat A1CNow 10 Pack and FREE pedometer while supplies last. http://t.co/tZpWCEVg8L |
| primetimeparent | @DietExpertNJ Can sit-ups help with #bellyflat #DiabetesChat |
| kjh63 | @MindfulEatingRD @primetimeparent @citymomsecrets I am so bad about eating at night too #diabeteschat |
| mandi_smith0319 | @CDiabetesInfo sometimes yes but you just have to be aware of what you are doing #Diabeteschat |
| kjh63 | @DietExpertNJ @primetimeparent agrees #diabeteschat |
| amypcampbell | A4: Food nourishes the body but can raise BG; physical activity lowers BG while boosting health and strength! #diabeteschat |
| dietexpertnj | @primetimeparent They tone the core, but they dont shed #visceralfat – diet & a combo of resistance & cardio exercise will #diabeteschat |
| primetimeparent | I get so jealous of all the people I see jogging! I really want to start! #DiabetesChat #getfit |
| dietexpertnj | @primetimeparent U can do it- start w small intervals. Walk for 5 minutes, jog for 30 seconds, then repeat & build up #diabeteschat |
| diabetesincntrl | @primetimeparent @DietExpertNJ Oh yeah! That is a great exercise! Try 'Russian Twists' as well! #diabeteschat #fitness #exercise |
| strongerthant1d | A2 Just remember that it is okay to treat yourself sometimes and this is not something you should feel bad or guilty about. #diabeteschat |
| bethrosen | My Dr just told me get heart rate up even 20 min per day @DoctorsOption to save mind and body #diabeteschat |
| cdiabetesinfo | Great prices on Weider® Red Yeast Rice Plus Proven to help lower cholesterol: http://t.co/R5KN0FOEeq #diabeteschat http://t.co/A1eLOrLvjG |
| diabetesinfl | .@BethRosen What exercise did your doc suggest to do that? #DiabetesChat |
| diabetesincntrl | @kjh63 May sound silly, but set a timer at night! Snacking not allowed after a certain time.. the old school way to train! #diabeteschat |
| doctorsoption | @DiabetesInCntrl @primetimeparent @DietExpertNJ Ok, I'll ask, what are Russian Twists? #diabeteschat |
| mindfuleatingrd | @amypcampbell #diabeteschat so right. The eyes are always bigger than the stomach! #mindfuleating |
| mindfuleatingrd | #diabetes #mindfuleating #diabeteschat Learn the basics of nutrition in clear, practical terms http://t.co/MxwyPhRuNJ |
| beyond32teeth | @CDiabetesInfo #diabeteschat So many of my pts. don't realize carbs turn to #sugars. #cavities often heighten me to thoughts of pre-diabetes |
| doctorsoption | #diabeteschat Check out http://t.co/VEumkRO7Qa for loads of FREE information on managing diabetes #lowcarb http://t.co/6BwcGpSwhM |
| primetimeparent | @DiabetesInCntrl @DietExpertNJ Nothing like a visit to a pool to get a reality check on #bellyfat #diabeteschat |
| cdiabetesinfo | Q6. Feeling anxious about diabetes self-management? How to stop the anxiety? #diabeteschat |
| kjh63 | @MindfulEatingRD @primetimeparent @citymomsecrets I have tried to do this, not hungry mindless snacking #diabeteschat |
| strongerthant1d | A4 I find when I watch what I eat and eat lower carb and exercise more my bgs tend to be better then when I don't. #diabeteschat |
| dietexpertnj | @DoctorsOption @DiabetesInCntrl @primetimeparent They r a great core exercise: https://t.co/H5SPHuh3jT #diabeteschat |
| bethrosen | Love you tips on carbs it's so confusing thank you @MindfulEatingRD #diabeteschat |
| diabetesinfl | @CDiabetesInfo: #diabeteschat You can also follow and tweet to us on Tweetchat. Link below: http://t.co/9vSpvEcWzk |
| primetimeparent | @Beyond32Teeth Holidays can really bring on the carbs if not mindful of healthier alternatives, especially during #passer #diabeteschat |
| missstephanieb | @MindfulEatingRD @kjh63 @primetimeparent I think it's purely stress eating! #diabeteschat #mindfuleating |
| kjh63 | @primetimeparent I think the other thing people don't realize is sleep affects your overall health too #diabeteschat |
| doctorsoption | So True! #diabeteschat https://t.co/WaFHm2vaLy |
| strongerthant1d | A5 I do not struggle with this issue. Diabetes is just my normal, and I manage it just like I normally would when w/ other ppl #diabeteschat |
| missstephanieb | @kjh63 @MindfulEatingRD @primetimeparent agree! I'm hungry right now! Lol #diabeteschat #mindfuleating |
| mindfuleatingrd | @amypcampbell #mindfuleating #diabeteschat. Thanks Amy! Rules are the harsh voices that can zap motivation and desire to change! |
| diabetesincntrl | @primetimeparent @DietExpertNJ Trying on swimsuits in stores is the earliest reality check! #diabeteschat #healthylifestyle |
| amypcampbell | A6: Remind yourself of what's going "well," then focus on 1-2 areas to work on. Don't try to do everything at one! #diabeteschat |
| dietexpertnj | @primetimeparent @DiabetesInCntrl Its not 2 late to lose #bellyfat b4 #swimsuitseason Use my fav tips: http://t.co/oqds60MmbC #diabeteschat |
| dearjanis | A6: Anxiety is normal. Accept it, give it time to wane, then get back to caring for your needs. #diabeteschat |
| lml1lfc | "@DiabetesINFL: .@BethRosen What exercise did your doc suggest to do that? #DiabetesChat" – Holiday in Syria. |
| kjh63 | @citymomsecrets @MindfulEatingRD @primetimeparent I think so as well #diabeteschat |
| primetimeparent | @amypcampbell It is so important to know how to be mindful #mindfuleating @mindfuleatingRD #diabeteschat |
| diabetesincntrl | It's a marathon, not a sprint! Long-term follow up key to keeping yourself on track. #diabeteschat #fitness #healthylifestyle |
| missstephanieb | @MindfulEatingRD so true. Ill just eat to finish the plate so try 4 smaller plates. I can eat a lot – |
| kjh63 | @MindfulEatingRD @citymomsecrets @primetimeparent I totally agree #MindfulEating #diabeteschat |
| mindfuleatingrd | #mindfuleating #diabetes #diabeteschat Embrace blood-sugar monitoring with an attitude of curiosity instead of fear |
| bethrosen | Are olives also a good source @primetimeparent &DiabetesInCntrl @DietExpertNJ #diabeteschat |
| diabetesincntrl | Diabetes care products – scales, insulin wallets, pedometer & more ON SALE #diabeteschat http://t.co/04p58BoQsP |
| mandi_smith0319 | @primetimeparent me too I have since lost 70lbs in the last 4 months out of fear for my health but not running yet #DiabetesChat #getfit |
| mindfuleatingrd | @citymomsecrets @kjh63 @primetimeparent #mindfuleating #diabeteschat when 3y/o daughter put me in a time out :>) That worked! Not food |
| cdiabetesinfo | Q7 There are never enough hours in the day, but how to find time for exercise? #diabeteschat |
| missstephanieb | @MindfulEatingRD @kjh63 @primetimeparent lol no. #mindoverfood #imhungry #diabeteschat |
| strongerthant1d | A6 Just know that all you can do is your best! Also, another huge thing STAY POSITIVE! Attitudes everything with D! #diabeteschat |
| dietexpertnj | A7: Its all about priorities- schedule time to exercise just like any appointment. Break it into intervals throughout the day #DiabetesChat |
| laurenpincusrd | Make an appointment with yourself! RT @CDiabetesInfo: Q7 There are never enough hours in the day, how to find time toexercise? #diabeteschat |
| cdiabetesinfo | Find more information about exercise & #glucose management on the @Cdiabetesinfo website http://t.co/4VFJpEzSbh #DiabetesChat |
| dearjanis | A7: Make a daily exercise appt with yourself. You are the most important client! #diabeteschat |
| primetimeparent | @DiabetesInCntrl @Dietexpertnj I am so impressed w/the amount of people I see that are fit as well, even moms' w/babies in tow #diabeteschat |
| missstephanieb | @MindfulEatingRD @kjh63 @primetimeparent i did just get a @fitbit today though! |
| cdiabetesinfo | Q8. Does the term "medication" make you worry about your diabetes care? Why? #DiabetesChat |
| amypcampbell | Mindful eating shown to be just as effective as traditional nutrition approaches in lowering blood sugars and weight! #diabeteschat |
| mindfuleatingrd | #mindfuleiating #diabeteschat Food can only fix hunger. It can't pay the bills or fill us with a sense of love – no matte how much we eat! |
| dietexpertnj | @primetimeparent @DiabetesInCntrl Its all a balance- fit in exercise anywhere- ur baby can be ur workout buddy! #diabeteschat |
| kjh63 | @citymomsecrets @MindfulEatingRD @primetimeparent @fitbit So great, I have been walking alot to my fav places #diabeteschat #Mindfuleating |
| primetimeparent | @mandi_smith0319 congrats on the weight loss!! #DiabetesChat #mindfuleating |
| strongerthant1d | Q7 that's where time management skills come into place. Put it on your high priorities must each day and ensure it gets done. #diabeteschat |
| diabetesincntrl | @DietExpertNJ Once you schedule time daily to exercise, your body will get used to it and will want that exercise! #diabeteschat #fitnessWed Apr 8 17:39:10 PDT 2015   ReplyRetweetFavorite |
| mindfuleatingrd | @citymomsecrets @kjh63 @primetimeparent @fitbit #diabeteschat let me know how it works for you. Gadgets don't motivate me like curiosity! |
| dietexpertnj | @primetimeparent @DiabetesInCntrl I use my baby as my weight & exercise w him exercises #ontheblog http://t.co/PaDB2tsJFQ #diabeteschat |
| doctorsoption | @citymomsecrets @MindfulEatingRD @kjh63 @primetimeparent @fitbit Does the @fitbit help you to keep your diet on track? #diabeteschat |
| mandi_smith0319 | @MindfulEatingRD @primetimeparent very very very true! #diabeteschat |
| mindfuleatingrd | #diabetes #diabeteschat #mindfuleating Decrease your anxiety about diabetes self-management http://t.co/qVxbXHGydD |
| doctorsoption | Get a Free Prediabetes Info Kit sponsored by @DiabetesInCntrl on Doctor's Option #diabeteschat http://t.co/RvfxluM1zJ |
| dietexpertnj | Exactly! #DiabetesChat #getmoving https://t.co/TZcb4b2EGe |
| diabetesincntrl | Higher #fitness may be linked to a lower risk of incident diabetes #thefacts #diabeteschat |
| primetimeparent | @MindfulEatingRD So important when traveling, can totally bring on the "I am on vacation so I can eat more" mentality #guilty #DiabetesChat |
| doctorsoption | @mandi_smith0319 @primetimeparent Wow, what were some of your techniques? #diabeteschat |
| mindfuleatingrd | @CureT1Diabetes @EatWhatYouLove #diabeteschat – ADA position paper! |
| missstephanieb | @kjh63 @MindfulEatingRD @primetimeparent @fitbit I try to walk a lot too – much easier with nicer weather! #diabeteschat #mindfuleating |
| cdiabetesinfo | Free shipping on Costco KS Quit2 Gum! & quitting tips from a Costco pharmacist: #DiabetesChat http://t.co/2RCmKH6VBP http://t.co/8pr48ryGc2 |
| missstephanieb | @MindfulEatingRD @kjh63 @primetimeparent @fitbit haha it's purely curiosity to see how active I am everyday! #diabeteschat |
| mindfuleatingrd | @primetimeparent #mindfuleating #diabeteschat So TRUE! We forget the adventure of traveling is the reward – discover something new! |
| kjh63 | @DoctorsOption @citymomsecrets @MindfulEatingRD @primetimeparent @fitbit it keeps me accountable #diabeteschat |
| cdiabetesinfo | Q9 Why is it important to take charge in preventing the complications associated with uncontrolled diabetes? #diabeteschat |
| missstephanieb | @DoctorsOption @MindfulEatingRD @kjh63 @primetimeparent @fitbit it does have that option! #DiabetesChat |
| strongerthant1d | @primetimeparent @MindfulEatingRD imo during things such as vacation it is okay to not be so strict and treat yourself. #diabeteschat |
| dearjanis | A6: Tools for dealing with anxious patients in my new book. http://t.co/nxJ4HArqAf #diabeteschat |
| mindfuleatingrd | @citymomsecrets @kjh63 @primetimeparent @fitbit #diabeteschat FAV!!! It was snowing on my way home! Looking forward to spring! |
| mandi_smith0319 | @CDiabetesInfo my biggest anxiety reliever is walking and I find it really helps in managing blood sugar levels as well #diabeteschat |
| kjh63 | @citymomsecrets @MindfulEatingRD @primetimeparent @fitbit I love the accountablity factor #diabeteschat |
| pinkhippo13 | @CDiabetesInfo A9 because it's easier to prevent than it is to treat! #diabeteschat |
| primetimeparent | Congrats to @citymomsecrets and @kjh63 you won the next (2) copies of Megrette's book #diabeteschat #mindfuleating |
| kjh63 | @MindfulEatingRD @citymomsecrets @primetimeparent @fitbit where is home? My friend just said it was snowing in NH #diabeteschat |
| pinkhippo13 | @CDiabetesInfo A8 of course, i worry if it's a lifelong med #diabeteschat |
| amypcampbell | A9: Diabetes complications can be prevented! Know your "numbers" and steps to take to improve them, if needed. #diabeteschat |
| cdiabetesinfo | FREE OneTouch Ultra®2 or UltraMini® Meter from Costco Pharmacy! #diabeteschat http://t.co/vndJ5MWSnv http://t.co/qxRUq4mK2H |
| kjh63 | @MindfulEatingRD @citymomsecrets @primetimeparent @fitbit exactly I could not agree more #diabeteschat |
| pinkhippo13 | @CDiabetesInfo A4 what you eat affects ur blood sugar #diabeteschat |
| mindfuleatingrd | #diabetes #diabeteschat #mindfuleating Make exercise a "get to" instead of a "have to" http://t.co/naVQQ553cx |
| diabetesincntrl | @citymomsecrets #DidYouKnow #Fitbit has a glucose logging feature which is great! #diabeteschat |
| diabetesincntrl | At home, certified lab testing for diabetes, cardio, thyroid, low-t & more from DiabetesInControl #diabeteschat http://t.co/TrVysNuCxI |
| kjh63 | @primetimeparent @citymomsecrets WOW thanks so much #diabeteschat |
| mindfuleatingrd | @StrongerThanT1D @primetimeparent #mindfuleating #diabeteschat it is ALWAYS okay to be kind and TREAT yourself w/kindness. Not just on vac. |
| amypcampbell | @MindfulEatingRD – I need to work on that – not always easy to do, though! #diabeteschat |
| cdiabetesinfo | Q10 What are the most important things to remember when wanting to live the most vibrant life with prediabetes or diabetes? #diabetesChat |
| pinkhippo13 | @CDiabetesInfo q7 normally when cooking, or cleaning. Doing squats, or even wall push ups #diabeteschat |
| mindfuleatingrd | @kjh63 @citymomsecrets @primetimeparent @fitbit Are you out in the woods, with a dog, friends? What works for you? #diabeteschat |
| mandi_smith0319 | @primetimeparent @citymomsecrets @kjh63 congrats! #diabeteschat #mindfuleating |
| primetimeparent | @MindfulEatingRD Your tips are so important for those going on a cruise where it is an eating fest every day! #diabeteschat #mindfuleating |
| strongerthant1d | A8 No because without things such as insulin I would be dead. Insulin is a wonderful thing. #diabeteschat |
| pinkhippo13 | @CDiabetesInfo A10 take care of yourself daily, and less to destress #diabeteschat |
| dietexpertnj | A10: Diabetes doesn't define you! A healthy diet & regular exercise is something we should all do regardless of #diabetes #diabeteschat |
| mindfuleatingrd | @primetimeparent #diabeteschat! Wonderful! So happy for you! |
| cdiabetesinfo | FREE TRUEresult blood glucose monitoring system from Costco pharmacy today! http://t.co/OwrvaNMD3P http://t.co/tirHo8ABsn #diabeteschat |
| dearjanis | A10: Diabetes/prediabetes is your partner, not your enemy. Care for yourself and yr health, and enjoy a better life! #diabeteschat |
| cdiabetesinfo | Share your #mindfuleating tips with us on Facebook and Pinterest #diabeteschat |
| doctorsoption | @MindfulEatingRD @citymomsecrets @kjh63 @primetimeparent Walking the dog is always a good choice, especially a big dog! #diabeteschat |
| laurenpincusrd | Find "me" time and make sure your physical and emotional needs are met. RT @CDiabetesInfo: Q10 #diabetesChat |
| mindfuleatingrd | @amypcampbell #diabeteschat – A GREAT POINT! This isn't just a good idea. It is based in emerging research! |
| diabetesincntrl | @MindfulEatingRD @kjh63 @citymomsecrets @primetimeparent Now that spring is near, hiking will be a breeze and a joy! #diabeteschat |
| cdiabetesinfo | Grab our FREE e-book w;over 50 great diabetes-friendly recipes today at http://t.co/pF2srffzKC, compliments of Costco Pharmacy #diabeteschat |
| mandi_smith0319 | @CDiabetesInfo @primetimeparent to stay positive and pay attention #diabeteschat |
| strongerthant1d | Q9 Do your best as that's all you can do. Do not worry about what could possibly happen. That's not healthy mindset. #diabeteschat |
| cdiabetesinfo | Thank you @mindfuleatingRD for being with us today. Any parting words? #diabeteschat |
| mindfuleatingrd | #diabeteschat #diabetes #mindfuleating Understand why medications may be an important part of your diabetes care http://t.co/SDCnzJW3Kk |
| primetimeparent | Time for another winner of Eat What You Love, Love What You Eat with Diabetes, co-authored by Megrette Fletcher M.Ed., RD. CDE #diabeteschat |
| mindfuleatingrd | @primetimeparent #LOL! Cruises are floating buffets! #Mindfuleating makes it enjoyable vs guilt provoking! #diabeteschat |
| doctorsoption | FREE Pedometer with purchse of A1c 10 pack just for #diabeteschat while supplies last http://t.co/jO1YiWze7Z |
| pinkhippo13 | @CDiabetesInfo @mindfuleatingRD Thanks for chatting with us #diabeteschat |
| diabetesincntrl | #diabeteschat FREE enewsletter for diabetes health educators at http://t.co/jTxKZ7iXaW http://t.co/7mOOZuR3cy |
| cdiabetesinfo | Costco savings! 24-bottle case of Glucerna Shakes. Minimize blood sugar spikes. http://t.co/WRQ9Mogwpg http://t.co/3lGCksWYkc #diabeteschat |
| primetimeparent | @MindfulEatingRD this #diabeteschat about #mindfuleating is so informative! @diabetesinfl #nutrition |
| twicediabetes | @CDiabetesInfo A8 NO! If u r t1 lack of the specific "medication' called insulin=>death. Insulin is vital all else optional #diabeteschat |
| strongerthant1d | Q10 Take things one day and one blood sugar at a time. Do not focus on the long term, focus on what is happening right now. #diabeteschat |
| cdiabetesinfo | Continue the conversation and "like" @Cdiabetesinfo on Facebook #Diabeteschat http://t.co/C9EIxZ9SPh |
| mindfuleatingrd | @DiabetesInCntrl @kjh63 @citymomsecrets @primetimeparent #diabeteschat I want to come too! I bet there are loads of friends to join you! |
| dearjanis | Mindfulness and diabetes! RT @StrongerThanT1D Q10 Take things one day and one blood sugar at a time. #diabeteschat |
| cdiabetesinfo | Follow & pin us over on Pinterest #DiabetesChat — http://t.co/q2BJnXZ64p |
| diabetesincntrl | @MindfulEatingRD Hiking with a group is so much fun! Who knew exercising could be so adventurous? #diabeteschat |
| cdiabetesinfo | Please follow us on instagram #DiabetesChat #dailyinspiration http://t.co/WKz3YuZ0D2 |
| missstephanieb | @MindfulEatingRD @kjh63 @primetimeparent @fitbit whaaaaa! I can't take anymore snow! Finally nice in NYC #DiabetesChat |
| mindfuleatingrd | #diabeteschat A new option for pts: Online #MindfulEating for #Diabetes Program http://t.co/eHkZzohOxM |
| cdiabetesinfo | PWD are 2X more likely to develop gum disease. Colgate Total® toothpaste, at Costco, can help. http://t.co/esAwUMy7hQ #diabeteschat |
| kjh63 | @citymomsecrets @MindfulEatingRD @primetimeparent @fitbit LOL moved from NY to WI NO SNOW #diabeteschat |
| cdiabetesinfo | & keep following us on Twitter. Let us know about your #diabetes needs #DiabetesChat http://t.co/kS4ULWbapJ |
| missstephanieb | @primetimeparent @kjh63 what?! Yay!!! |
| strongerthant1d | @PinkHippo13 @CDiabetesInfo medication is there to help you. It is not a punishment. 🙂 #diabeteschat |
| mindfuleatingrd | @DietExpertNJ Super quote! #diabeteschat #mindfuleating http://t.co/1O6VghvHdB |
| missstephanieb | @kjh63 @MindfulEatingRD @primetimeparent @fitbit yes! Reminders to be active (and bikini season) help! #diabeteschat #Mindfuleating |
| doctorsoption | Follow @DoctorsOption on Facebook https://t.co/QIOmCjQH4t #diabeteschat |
| mindfuleatingrd | No shame – Be proactive at prevent problems w/uncontrolled diabetes #mindfuleating #diabetes #diabeteschat http://t.co/5sPlVefS78 |
| cdiabetesinfo | For more great ideas check out @Cdiabetesinfo's website http://t.co/4VFJpEzSbh past #DiabetesChat topics |
| missstephanieb | @DiabetesInCntrl no! Just figuring it out now – I'll look for it! Thanks! #diabeteschat #Mindfuleating |
| missstephanieb | @MindfulEatingRD @kjh63 @primetimeparent @fitbit lots of city walking and people watching! NYC is great! #diabeteschat #Mindfuleating |
| diabetesincntrl | If anybody has any questions outside of the times of these #diabeteschat sessions, msg me and I'll be sure to answer! |
| amypcampbell | @BrillanteMedia @primetimeparent @Beyond32Teeth You're right – along with leftover Easter candy! #diabeteschat |
| missstephanieb | @mandi_smith0319 @primetimeparent @kjh63 thank you 🙂 so excited! #diabeteschat |
| cdiabetesinfo | Thank you everyone for joining us today #Diabeteschat #mindfuleating |
| diabetesincntrl | @citymomsecrets Not a problem! The Fitbit has so many helpful features #diabeteschat |
| cdiabetesinfo | Hope you'll join us for the next #diabetes chat April 22, 8-9pm EST w/@drlorishemek #diabeteschat |
| strongerthant1d | There is another diabetes chat with @DiabetesSocMed right now if anyone is interested. #dsma #diabeteschat |
| diabetesincntrl | @MindfulEatingRD Tonight's chat has been wonderful and so informative, thank you! #diabeteschat |
| pinkhippo13 | @StrongerThanT1D @CDiabetesInfo I do agree, but everything has side effects. #diabeteschat |
| healthnut_pa | @DiabetesInCntrl: You're prone to eat more when you're dining with friends. Be mindful when dining out #diabeteschat #mindfuleating |