Diabetes Friendly Costco Tour
By Jessica Cook MS, RD, LD/N, CDE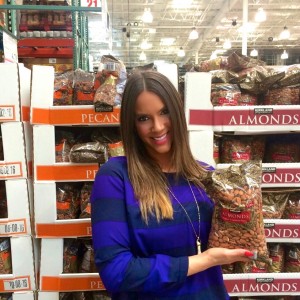 I recently shopped at Costco in Boynton Beach, Florida, and I was amazed by the selection! Costco is a great place to get the most value for your money, shop for your family, and choose healthy foods to manage your diabetes.
Caring for your diabetes can be expensive. Diabetes medications and supplies and healthcare costs can add up. Healthy foods can also be expensive, but at Costco, you can get your healthy foods for much less.
Costco offers many name brands of favorite healthy foods, like Snapea Crisps, Yasso Greek Yogurt pops, Kashi Granola bars, and Truvia Natural Sweetener, but what I really enjoy are Costco's own Kirkland Signature products. Kirkland Signature products, like organic chicken breasts, fresh fruit and vegetables, unsalted nuts, and whole grains, are a great value, which makes it easier to use these foods in your meal planning. When shopping and preparing meals for diabetes, using whole foods is a great way to manage blood glucose levels while reducing sodium and sugar intake. Plus using whole foods helps minimize additives or preservative that could have a bad reaction with your blood glucose, blood pressure, or other medications.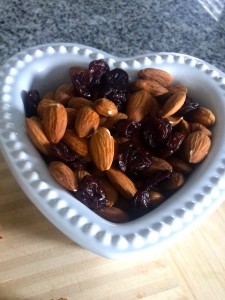 I bought Kirkland Signature fresh brussel sprouts, unsalted almonds and dried cherries. Almonds are high fiber, low carb, have a low glycemic index and are a great snack for people with diabetes. They can be added to homemade snack mixes, salads, cookies or granola bars.  Cherries have been shown to help reduce inflammation, are high in fiber and potassium, and add a nice sweetness to your favorite dishes without adding sugar.
Brussel sprouts are low carb, high in fiber, and have cancer fighting agents. Many recipes call for brussel sprouts or brussel sprouts to be roasted or sautéed with olive oil, but I prefer my brussel sprouts raw! So I created the ultimate super food salad using ingredients found at Costco. This salad is super filling and is rich in fiber, anti-oxidants, potassium, vitamin K and vitamin C. Not to mention it is sweet, salty, crunchy and has a delicious lemon flavor!
Super Food Salad:
Makes 4 servings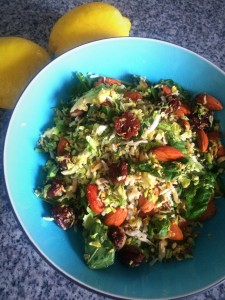 Ingredients:
2 cups shredded brussel sprouts
2 cups shredded kale
1 cup raw, unsalted almonds
1 cup dried cherries
½ cup shredded parmesan cheese
Dressing:
Juice from 2 lemons
¼ cup lemon olive oil
¼ cup champagne vinegar
1 tsp chia seeds
½ tsp pink Himalayan salt
1 tsp black pepper
Directions
For the dressing: combine lemon juice, champagne vinegar, chia seeds and olive oil; shake or whisk well; add salt and pepper to taste; set aside.
In a food processor, shred about 12 brussel sprouts, or enough to get 2 cups. Place in a serving bowl.
Add shredded kale to brussel sprouts.
Toss in cherries, parmesan cheese and almonds.
Toss with salad dressing and serve immediately.
Visit cdiabetes.com/guide to get a free "Costco Diabetes and Heart-Healthy Shopping Guide" eBook.