Costco Top 7 Healthy Ingredients for Diabetic Cooking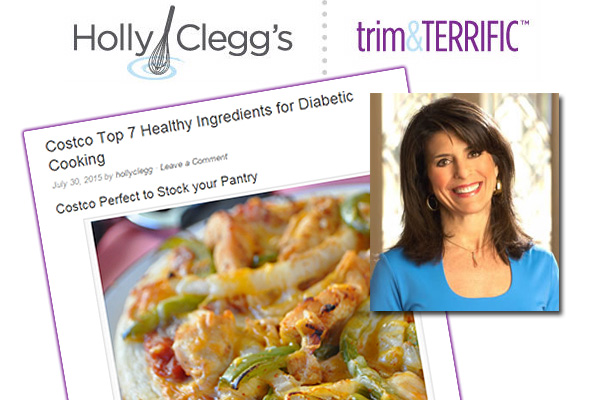 Holly Clegg, author of the best-selling trim&TERRIFIC® cookbook series, including trim&TERRIFIC® Diabetic Cooking with the American Diabetes Association, and her specialized cookbooks, Eating Well Through Cancer and Eating Well to Fight Arthritis has sold over 1 million copies.
She is nationally recognized for creating recipes with "real food, real easy… and for real people" and has promoted her easy, healthy recipes on national shows including Fox & Friends, NBC Weekend Today, QVC, dLife (CNBC) and The 700 Club.
Holly recently wrote about her experience stocking up her pantry with ingredients for Diabetes-friendly recipes. She writes:
Recently I had the opportunity to shop at Costco to find some of their diabetic-friendly ingredient options. My dietitian has been singing Costco's praises for a while now, so I was excited to check it out! I think there is a common misconception that shopping at big box stores means you have to feed a lot of people. Although many shopping options are in bulk, I love shopping this way, even with my children grown and out of the house. Though I mostly cook for just my husband and I, Costco gives me the perfect opportunity to stock my pantry.
To read the full article, you can visit her Trim&Terrific blog site.
Visit cdiabetes.com/guide to get a free "Costco Diabetes and Heart-Healthy Shopping Guide" eBook.
---
Holly Clegg is a Diabetes Influencer. Visit her profile at DiabetesInfluencers.com.