Staying on Track over the Holidays with Diabetes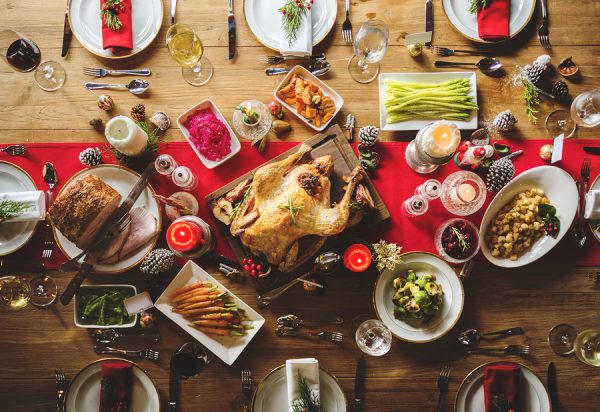 Family dinners. Office parties. Cookie swaps. Homemade pies and cakes. How is it possible to survive the holidays? Managing your blood sugars and your weight between Thanksgiving and New Year's can seem like an overwhelming challenge –you might feel like throwing up your hands and pouring another glass of eggnog! But before you reach for another holiday cookie, know that with a few tweaks to your diabetes plan, you can stay on track and enjoy this holiday season.
Shift your food focus
Allow yourself a treat here and there, but decide what you really want: a slice of homemade pumpkin pie? A dish of plum pudding? Don't waste calories and carbs on foods that you don't really love.
Survey the buffet. Before you grab a plate and start serving yourself, take a look at what's on the table. First fill half of your plate with vegetables or salad. Round out your plate with foods that you like best. And if one is available, use a smaller salad or dessert plate instead of a full-size dinner plate.
Eat before you go. Whether it's a party or a sit-down dinner, eat a small, protein-rich snack before you leave to take the edge off your appetite and keep your blood sugars from dipping too low. Good snack choices include apple slices with peanut butter, cottage cheese with whole grain crackers, or plain Greek yogurt with berries and a few almonds mixed in.
Stay hydrated. A great way to help you feel full is to drink 16 ounces of water before each of your meals. And go easy on alcoholic drinks – they can be high in calories and cause blood sugar levels to drop too low if you drink on an empty stomach.
If you're invited to a holiday party or dinner, bring a healthy dish that you – and others – can enjoy.
Stick with your diabetes plan
The hustle and bustle of the season can easily steer you off track. Do your best to stick with your usual routine:
Check your blood sugars regularly or maybe even more often.
Try to eat your meals as close to their usual time as possible. If a meal is going to be much later, eat a small snack at your usual mealtime.
Be aware of your carb intake. If you indulge with a sweet treat, cut back on other carbs, such as potato, pasta or rice.
If you take mealtime insulin, talk with your healthcare provider or diabetes educator about how to adjust your dose for a higher carbohydrate intake.
Make time to be active. It's easy to miss your daily walk, swim or trip to the gym. But staying active is one of the best things you can do for yourself during the holidays. Having trouble finding the time?
Climb a few flights of stairs every day.
Take extra laps around the mall.
Encourage your family or guests to go for a walk after dinner and look at holiday lights.
March in place or grab your hand weights while you're watching your favorite holiday movie.
Settle down for a long winter's nap
Well, maybe not too long, but make sure you get enough sleep. As tempting as it is to burn the midnight oil while you wrap gifts or write out holiday cards, the reality is that not getting enough sleep can weaken your immune system, making you more prone to getting sick. In addition, a lack of sleep can affect your blood sugars.
Aim to get between 7 and 8 hours of sleep each night.
If you can, fit in a short nap (between 20 and 30 minutes) to help you feel more alert. Any longer than that and you'll wake up feeling groggy.
If you have trouble sleeping, plan your bedtime ritual: take a warm bath or shower, read a good book, and turn down the thermostat. Try to stop using electronics (television, laptop, smartphone) at least an hour before bedtime, as they can interfere with sleep.
Remember that the holidays don't last forever – with the new year comes a new opportunity to create and stick with healthy habits!