#DiabetesChat: Prevention & Treatment of T2 Diabetes in Children & Adolescents (August 5, 2015)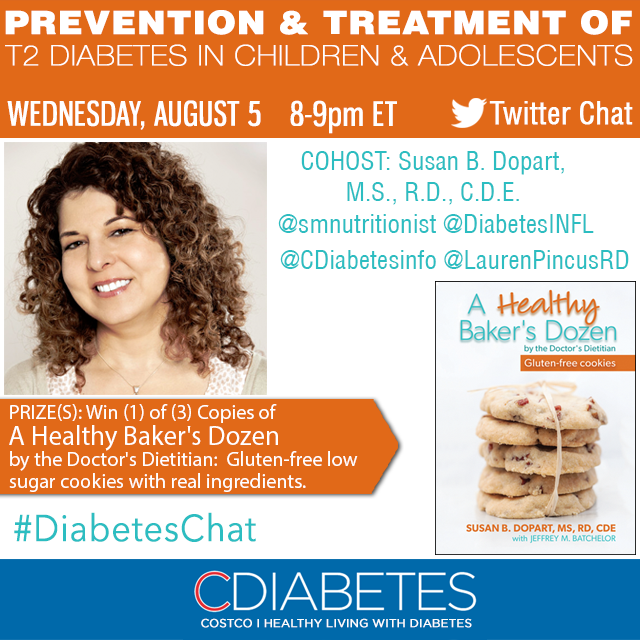 Susan B. Dopart, M.S., R.D., C.D.E., @smnutritionist joined us for a #DiabetesChat Twitter Chat on August 5, 2015 from 8pm to 9pm ET. We had an extremely informative and fun time discussing the prevention & treatment of T2 Diabetes in children and adolescents. During the chat, 3 lucky participants won one of three  copies of her cook book, "A Healthy Baker's Dozen: Gluten-Free Cookies". Below is the chat's transcript.
Click here to view the analytics of this Twitter chat event.
Chat Transcript
---
| | |
| --- | --- |
| cdiabetesinfo | Good Evening who's ready for tonight's #DiabetesChat w/@CDiabetesinfo Susan B. Dopart, M.S., R.D., C.D.E., @smnutritionist #Type2 #JD |
| smnutritionist | I welcome all your comments & feedback on a topic near 2 my heart – prevention & treatment of type II #diabetes in children #DiabetesChat |
| cdiabetesinfo | We are so fortunate to have Susan B. Dopart, M.S., R.D., C.D.E., @smnutritionist with us tonight for #DiabetesChat #mindfuleating |
| smnutritionist | @CDiabetesInfo Thank you so much! Let's get started with our questions #DiabetesChat |
| primetimeparent | LIVE on #Periscope: #diabeteschat with disbetesinfluencers https://t.co/HjPoNfWYne |
| cdiabetesinfo | FREE e-book w/over 50 great diabetes-friendly recipes! Download now http://t.co/2oNMzAUuin, compliments of Costco Pharmacy #DiabetesChat |
| cdiabetesinfo | Q1 –How does increased availability of starchy processed carbs & snacks affect & drive #type2diabetes in children? #DiabetesChat |
| cdiabetesinfo | #S4L Dietary Counseling May Prevent Metabolic Syndrome In Teens http://t.co/0Wr4ZbCUAw… #DiabetesChat |
| laurenpincusrd | A1:Type 2 DM in kids is most often weight related.Processed carbs are easy to overeat & lack protein & fiber to satisfy hunger #diabeteschat |
| maureensrn | Be sure and check out my website and diabetes related blogs. Appreciate YOUR input. http://t.co/dnEywDS9jw #diabeteschat |
| pinkhippo13 | @CDiabetesInfo A1 They over eat it, that's for sure. It's normally high calories, lead to weight gain #DiabetesChat |
| smnutritionist | A1: Reasons 4 #TypeIIDiabetes in #children – #DiabetesChat http://t.co/h64WQv3SLo |
| amypcampbell | A1: Advanced glycation end products in processed foods increase insulin resistance #Diabeteschat |
| smnutritionist | Causes of #insulinresistance in #children http://t.co/tZJmeaq3kl #DiabetesChat |
| maureensrn | A1 Processed carbs + snacks + inactivity= risk for diabetes, HTN, heart disease #diabeteschat |
| maureensrn | A1 Processed carbs and snacks have little nutritional value; hunger persists. Insulin resistance risk. #diabeteschat |
| smnutritionist | @CDiabetesInfo Causes of #insulinresistance in #children http://t.co/tZJmeaq3kl #DiabetesChat |
| cdiabetesinfo | Save on diabetes supplies! Bayer Contour test strips @ discount on Costco CMPP. http://t.co/thzQvQgFzH #DiabetesChat http://t.co/b8aIEcTFnh |
| smnutritionist | @CDiabetesInfo Multiple Reasons 4 #TypeIIDiabetes in #children – #DiabetesChat http://t.co/h64WQv3SLo – the #foodsupply main one |
| amypcampbell | A1: And processed foods tend to be cheaper than healthier foods. #diabeteschat |
| maureensrn | A1 Higher risk of insulin resistance; increased risk of prediabetes/diabetes #diabeteschat |
| pinkhippo13 | @CDiabetesInfo @smnutritionist A1 High in calories. Helps to raise blood sugar, and weight #DiabetesChat |
| vlovesfree | @CDiabetesInfo Q1 ohhh those foods aenogood for anyone! full of sugar! #diabeteschat |
| cdiabetesinfo | Q2 – How does a modern family get their #children to unplug from #socialmedia & videos 2 move & #exercise? #DiabetesChat |
| vlovesfree | @CDiabetesInfo Q2 we walk ourdogs together! #diabeteschat |
| laurenpincusrd | A2: 2 ways- make screen time active with dance or sport video games, and pack exercise into family time #diabeteschat @CDiabetesinfo |
| cdiabetesinfo | Good point @PinkHippo13 @smnutritionist. #diabetesChat |
| maureensrn | A2Engage children in house work, yard work, exercise (biking, hiking) #diabeteschat |
| pinkhippo13 | @CDiabetesInfo @smnutritionist A2 You have to lead by examples. Make exercise a priority for the whole family. #DiabetesChat |
| vlovesfree | @CDiabetesInfo @BMarketingMaven Oooo did I hear pes hehe #diabeteschat |
| maureensrn | A2 Limit social media time; phone free zones (at dinner table) #diabeteschat |
| maureensrn | A2 Exercise videos are option; have alternate activity options for change in weather #diabeteschat |
| laurenpincusrd | Yes! When kids see you exercise they view it as an activity to emulate. #diabeteschat https://t.co/LepmQPwW5F |
| cdiabetesinfo | Save on a case of Glucerna® Shakes @ Costco! Helps minimize blood sugar spikes. http://t.co/XmnBOqu8LB #DiabetesChat http://t.co/Bg0CRfbsLH |
| amypcampbell | A2: Insist on a "no phone zone" at the dinner table – talk instead! #diabeteschat |
| laurenpincusrd | Important to take change of seasons into account when planning physical activity! #diabeteschat https://t.co/1OXmYHs84z |
| smnutritionist | @CDiabetesInfo The #dietbalance is more important than calories but may need addressing-higher protein due to #carbintolerance #DiabetesChat |
| bmarketingmaven | I agree I try to eat healthy but on a budget processed foods are sometimes much cheaper #diabeteschat |
| cdiabetesinfo | #S4L Diabetes and Eating Behaviors: It's not just what you eat, but how you eat that matters http://t.co/t50rer4XIi #DiabetesChat |
| smnutritionist | @CDiabetesInfo Encourage #familymeals & occasions 2 increase family #activity & #exercise #DiabetesChat |
| smnutritionist | @CDiabetesInfo Make Monday nights #mediafree 2 lower #screentime in children #DiabetesChat |
| amypcampbell | A2: Also, set a limit on time spent playing video game. #diabeteschat |
| smnutritionist | @CDiabetesInfo 7 ways to help kids unplug from #technology http://t.co/PXioX9bK5O #DiabetesChat |
| bmarketingmaven | I love to walk but in hot summers and cold winters that can be a tough way to exercise #diabeteschat |
| smnutritionist | @CDiabetesInfo #FamilyMeals lower #childhoodobesity #DiabetesChat http://t.co/IEKjQ6Prfp |
| cdiabetesinfo | Q3 – How do we help change the family dynamics towards #healthyeating? #DiabetesChat |
| vlovesfree | @CDiabetesInfo A3 clean eating! lots of fruits and veggies if we eat the skin or as a whole must be organic! #diabeteschAT |
| laurenpincusrd | A3: Include everyone in the family plan-no singling out one person. Ditch household junk for all. #diabeteschat @CDiabetesInfo |
| smnutritionist | @CDiabetesInfo Take children #groceryshopping & have them pick out 2 fruits & 2 veggies they will eat each week #DiabetesChat |
| maureensrn | A3 Involve family in cooking/preparing meals #diabeteschat |
| laurenpincusrd | Great idea! #diabeteschat https://t.co/eSNMkT7eYg |
| amypcampbell | A3: Get the whole family involved in the meal prep – give everyone a job to do. #diabeteschat |
| pinkhippo13 | @CDiabetesInfo @smnutritionist Get them involved with the cooking. Try to get rid of things like soda, and junk food #DiabetesChat |
| maureensrn | A3 Teach children basic label reading[ Let children plan meals and fix school lunch bag contents #diabeteschat |
| primetimeparent | .@smnutritionist @cdiabetesinfo we unplug every Friday night until Saturday #Shabbos #digitalsabbath #notech #diabeteschat |
| koshereye | Do you find that home gardens help encourage kids to eat healthier & be adventurous? @cdiabetesinfo #diabeteschat |
| maureensrn | A3 Positive reinforcement in good food choices…. Limits of fast foods and snacks; substitute fruits/veggies #diabeteschat |
| amypcampbell | A3: And consider taking some fun cooking lessons – as a family! #diabeteschat |
| laurenpincusrd | A3: I had one patient who kept 6 boxes of cookies on the counter and wondered why her kids would overeat cookies. Really? #diabeteschat |
| cdiabetesinfo | Costco KS OPTIFIBER Quickly dissolves in hot or cold beverages & soft food http://t.co/ClbCFYfn3m #DiabetesChat http://t.co/35zLATnBiG |
| cdiabetesinfo | Good question @koshereye #diabetesChat |
| koshereye | What typical healthy dishes do you recommend for pre-schoolers? @cdiabetesinfo @maureensrn #diabeteschat |
| primetimeparent | .@MaureenSRN @PinkHippo13 My DD8 helped me prepare a meal last night, she especially loved the eggs!! #DiabetesChat |
| vlovesfree | @CDiabetesInfo Q3 its a lifestyle change fo the whole family #diabeteschat |
| pinkhippo13 | @primetimeparent @MaureenSRN Aw 🙂 I love when families cook together. Great way to try new recipes #DiabetesChat |
| amypcampbell | @primetimeparent @MaureenSRN @PinkHippo13 Eggs are a great food for kids – of all ages! #diabeteschat |
| maureensrn | A3 Positive reinforcement in good food choices goes a long way in educating children. #diabeteschat |
| cdiabetesinfo | Q4 – How do we help with setting up a clean #eatingenvironment for families? #DiabetesChat |
| laurenpincusrd | A4: Do a pantry cleanout and start fresh. Fill with mostly whole foods, oats, beans, whole grains and occasional treats. #diabeteschat |
| smnutritionist | @CDiabetesInfo A4: Keep #processedfoods to a minimum & have enough available healthy produce and snacks without a label #DiabetesChat |
| pinkhippo13 | @CDiabetesInfo @smnutritionist A4 Get rid of the junk. Can't eat it, if it's not there. Keep fruits in areas they can see #DiabetesChat |
| koshereye | Any recommendations for pre-school bedtime snacks? Or should they have no snacks after dinner. @Maureensrn #diabeteschat |
| vlovesfree | @CDiabetesInfo Q4 organic and non gmo!! #diabeteschat |
| primetimeparent | .@PinkHippo13 I see how much she loved it, I just get nervous with the hot stove around!! #DiabetesChat #helicoptermominthekitchen |
| smnutritionist | A4: Have snacks & desserts but limit amounts & have protein at meals/snacks 2 assist w #carbcravings #DiabetesChat http://t.co/lju6dQIvni |
| cdiabetesinfo | Great prices on NatureMade vitamins @Costco For people w/diabetes & prediabetes http://t.co/eCkjgTUS2N #DiabetesChat http://t.co/XLLVoes6Fs |
| cdiabetesinfo | Yes. Looking up recipes on @Pinterest is always fun, @PinkHippo13 @primetimeparent @MaureenSRN. #diabetesChat |
| maureensrn | A4 "Cant eat it if you don't buy it". Set limits on # of snacks in household #diabeteschat |
| maureensrn | A4 Limit sodas and fruit juices; try flavored water and tea #diabeteschat |
| amypcampbell | @koshereye @cdiabetesinfo @maureensrn How about mac & cheese with whole wheat pasta – add veggies to boost nutrition! #diabeteschat |
| laurenpincusrd | A4: Avoid the urge to stock up on sale items that are not good for you. Coupons are not your friend if buying junkfood. #diabeteschat |
| maureensrn | A4 Home cooked meals & family dinners when possible #diabeteschat |
| primetimeparent | I was so disappointed to see food dyes in macaroni and cheese #fail #notwelcomeinouhome #DiabetesChat |
| pinkhippo13 | @primetimeparent I would too! I always turn on the back burners, so they can't reach it/touch it #DiabetesChat |
| amypcampbell | @primetimeparent But easy enough to make your own healthy version! #diabeteschat |
| smnutritionist | #GlutenFree #LowCarb #HealthyCookies that won't break your #health bank – g8 4 those w #diabetes #DiabetesChat http://t.co/AlIM0U8UKl |
| cdiabetesinfo | Q5 – What are ways to help #teens #exercise & move more? #DiabetesChat |
| vlovesfree | @CDiabetesInfo Q5 love wokouts that dont feel like them dancing and some gaming that make you move to win #diabeteschat |
| pinkhippo13 | @CDiabetesInfo @smnutritionist A5 Find them a sport, like tennis, or even a class like zumba, or an other kind of dance. #DiabetesChat |
| laurenpincusrd | @CDiabetesInfo A5: Seek out after school and community activities that encourage exercise, Make it fun with peers. #diabeteschat |
| smnutritionist | @CDiabetesInfo Encourage #dailyexercise & less #screentime #DiabetesChat |
| smnutritionist | @CDiabetesInfo A5: Make sure your child is in some kind of #sport or #activity they enjoy #DiabetesChat |
| amypcampbell | A4: Keep only fresh fruits/veggies on the counter – no chips, cookies, etc. #diabeteschat |
| iangertler | @MaureenSRN Ironic, since a proper diabetes regimen (nutrition, moderation, exercise) is often appropriate for most people. #diabeteschat |
| cdiabetesinfo | Save Money on Medicines with the Costco Member Prescription Program http://t.co/NonyP2seZB #DiabetesChat |
| maureensrn | A5 Family focused activities; join to train for a 5K as a family #diabeteschat |
| primetimeparent | .@LaurenPincusRD I took the kids to the park after camp! They ran around and saw friends #winwin #DiabetesChat |
| maureensrn | A5 Limit car usage so as to encourage walking/biking #diabeteschat |
| maureensrn | A5 Encourage after school sports! #diabeteschat |
| amypcampbell | A5: Wii Fit is always an option, especially for cold or rainy days! #diabeteschat |
| laurenpincusrd | Total #winwin. We live 1/2 mile from a frozen yogurt place, we only get to go if we walk there. #diabeteschat https://t.co/slsMoEGGvI |
| cdiabetesinfo | Hello @IanGertler and thank you for participating tonight at #diabetesChat |
| primetimeparent | .@PinkHippo13 kids love #zumba and to get up and move!! Love when we can do a #motherdaughter class together #DiabetesChat |
| cdiabetesinfo | CinSulin® water extract of cinnamon @Costco supports healthy blood sugar levels http://t.co/nWN2NG4Jxa #DiabetesChat http://t.co/kNvTe5z8zh |
| pinkhippo13 | @primetimeparent I really want to try a class with the fam #DiabetesChat |
| amypcampbell | As a parent, set good examples – eat healthfully, be active – kids learn from you! #diabeteschat |
| pinkhippo13 | @CDiabetesInfo @smnutritionist A5 snacking out of boredom #DiabetesChat |
| cdiabetesinfo | Q6 – What #foodcues should we be aware with children & teens? #DiabetesChat |
| pinkhippo13 | @MaureenSRN That's fantastic! I do half marathons. But no one else the family wants to run, haha #DiabetesChat |
| smnutritionist | @CDiabetesInfo A6: Have #healthsnacks around the house & minimize #processedfoods & #candy #DiabetesChat |
| cdiabetesinfo | Great prices on Weider® Red Yeast Rice Plus @Costco! Helps lower cholesterol: http://t.co/p0G6K5PL3n #DiabetesChat http://t.co/zgvfy4Ra6M |
| maureensrn | A6 Peer pressure often affects a childs food choices- be aware of this "food cue". #diabeteschat |
| laurenpincusrd | A6: Hubby to my daughter "RU hungry or snackful?", meaning are U REALLY hungry or in the mood to eat? #diabeteschat https://t.co/6cCSBnuxex |
| maureensrn | A6 Cost conscious people may veer towards " all you can eat/ BOGO offers". Cheap doesn't = healthy. #diabeteschat |
| cdiabetesinfo | Half marathons, that's impressive 🙂 @PinkHippo13 @MaureenSRN #diabetesChat |
| amypcampbell | @PinkHippo13 @CDiabetesInfo @smnutritionist And limit snacking and the types of snacks eaten when watching TV #diabeteschat |
| pinkhippo13 | @amypcampbell @CDiabetesInfo @smnutritionist Yes, great point about snacking while watching TV #diabetesChat |
| maureensrn | A6 Most foods can be prepared in a healthier version ( veggie pizza for example)!! #diabeteschat |
| vlovesfree | @CDiabetesInfo Q6 those sugars! #diabeteschat |
| pinkhippo13 | @CDiabetesInfo @MaureenSRN That's it helped me lose 50 lbs, and lower my BP #diabetesChat |
| maureensrn | A6 my personal issue ( downfall) -> Avoid extreme hunger to lower the risk of poor judgment in quick food choices #diabeteschat |
| christyschomp | @LaurenPincusRD @CDiabetesInfo Or "are you hungry or bored?" Another important food cue/question! #DiabetesChat |
| amypcampbell | A6: Be aware of negative body image, especially in kids/teens who are overweight #diabeteschat |
| cdiabetesinfo | Q7 – On the road and on the go, what are #healthyfoodtips for kids? #DiabetesChat |
| managediabetes | Helping your child manage diabetes? Get our top 10 tips for better blood sugar: http://t.co/MFKjlI59Fd #diabeteschat http://t.co/HEMYTshsb1 |
| laurenpincusrd | @CDiabetesInfo @CDiabetesInfo A7: Look for 2P's- protein and produce. Nutritious, satisfying and blood sugar stabilizing. #diabeteschat |
| smnutritionist | @CDiabetesInfo Being aware that those w #insulinresistance are always craving carbs-having #proteinoptions around is essential #DiabetesChat |
| amypcampbell | A7: Hummus and homemade pita chips or cut-up veggies! #diabeteschat |
| cdiabetesinfo | Get a FREE TRUEresult blood glucose monitoring system @ Costco pharmacy today! http://t.co/9PHbUoXnRT #DiabetesChat http://t.co/5C7iQ7k8Le |
| smnutritionist | @CDiabetesInfo A7: Bring bags of #nuts & #stringcheese in the car & on trips 4 #roadsnacks #DiabetesChat |
| bmarketingmaven | How can you tell the difference between hungry or bored #diabeteschat |
| laurenpincusrd | Totally! I have one of those kids who wants to eat out of boredom. Questioning redirects her. #diabeteschat https://t.co/O3N2eiG2kG |
| maureensrn | A7 Preplan meals, read menus on line; pack snacks for road trips; Plan stops and get out and move!! #diabeteschat |
| pinkhippo13 | @CDiabetesInfo @smnutritionist A7 Trail mix, cut carrots & celery. Turkey wraps #DiabetesChat |
| vlovesfree | @CDiabetesInfo A7 fuits and vggies with dips! #diabeteschat |
| maureensrn | A7 Easy, portable "car-ride foods" and cooler for iced water and sugar free drinks #diabeteschat |
| cdiabetesinfo | #S4L Travel and Diabetes: Tips for a Safe Trip http://t.co/sF5QAZekOP #DiabetesChat |
| maureensrn | A7 Avoid the drive through window temptation; bad choices often made in the interest of time saving. #diabeteschat |
| primetimeparent | .@smnutritionist We always travel with snacks in tow #familytravel #DiabetesChat |
| laurenpincusrd | A7: You get 30 pistachios for about 100 calories. They take a while to eat and are very satisfying. #diabeteschat |
| christyschomp | A7: Grapes, apples, diced melon, plain nuts/seeds, water, even peanut butter sandwiches on whole grain bread! #DiabetesChat |
| cdiabetesinfo | Good suggestions @PinkHippo13 @smnutritionist. #diabetesChat |
| christyschomp | Yum! #DiabetesChat https://t.co/29mBQ7BLl4 |
| amypcampbell | A7: I'll put a plug in for hardboiled eggs and reduced-fat cheese sticks! #diabeteschat |
| laurenpincusrd | 2 of my faves! RT @amypcampbell A7: I'll put a plug in for hardboiled eggs and reduced-fat cheese sticks! #diabeteschat |
| cdiabetesinfo | Q8 – How can I help my teen with eating at parties & social engagements? #DiabetesChat |
| laurenpincusrd | @CDiabetesInfo A8: Plan together. Discuss options, don't arrive starving, have protein rich snack before leaving home. #diabeteschat |
| smnutritionist | @CDiabetesInfo A8: Never go to a party hungry: have a snack high in #protein prior to leaving #DiabetesChat |
| pinkhippo13 | @CDiabetesInfo @smnutritionist A8 Hmm, not sure. Talk about the importance of 80/20 rule maybe #DiabetesChat |
| smnutritionist | @CDiabetesInfo A8: Educate yr children – although chips/candy taste good they lead down unfavorable #health road if excessive #DiabetesChat |
| vlovesfree | @CDiabetesInfo A8 ohhh this is a good one. sme things can be so tempting! #diabeteschat |
| lyfebulb | . @CDiabetesInfo great question! It can be so hard for teenagers and managing social life #diabeteschat |
| cdiabetesinfo | Free shipping on Costco KS Quit2 Gum! +tips to quit from a Costco pharmacist: http://t.co/vVz55UDejU #DiabetesChat http://t.co/PpRCUi29cv |
| maureensrn | A8 Offer to fix healthy snacks/entrees to bring to party #diabeteschat |
| amypcampbell | A8: Sip on flavored seltzer water or water infused with lemon, cuke slices, berries…#diabeteschat |
| maureensrn | A8 Have low cal/healthy food options available; Don't arrive to a party " starving"; risk to overeat very high #diabeteschat |
| amypcampbell | @MaureenSRN Great tips for all of us to follow, too! #diabeteschat |
| christyschomp | A8: Suggest they take a birds eye view of options before making food choices and don't arrive to the party hungry! #DiabetesChat |
| maureensrn | A8 Create venues that aren't focused on food. Get kids involved in nonfood gatherings! We are very food-focused! #diabeteschat |
| cdiabetesinfo | Q9 How do we help prevent #type2diabetes in children & teens? #DiabetesChat |
| pinkhippo13 | @CDiabetesInfo @smnutritionist A9 Teach the importance of healthy eating, and moving your body #DiabetesChat |
| smnutritionist | @CDiabetesInfo A9: #Balancedmeals w enough protein & moderate carbs http://t.co/3W8oisYAW8 #DiabetesChat |
| vlovesfree | @CDiabetesInfo A9 eat healthier together as a family #diabeteschat |
| primetimeparent | .@LaurenPincusRD Totally ready to give more #periscope shout outs! #DiabetesChat #likemindedchatters |
| laurenpincusrd | Yes! I'm THAT mom. I'm also the one bringing the fruit/veggie platter so I know I'll eat something. #diabeteschat https://t.co/zP5L3XsRyr |
| maureensrn | A9 Educate!! Children can learn healthy food options and the basics of label reading. Let children plan healthy meals #diabeteschat |
| smnutritionist | @CDiabetesInfo A9: Help children understand how what they eat affect their #bloodsugars #cravings #health #DiabetesChat |
| maureensrn | A9 Take children to grocery store with you; let them make wise choices. Teach children healthy cooking #diabeteschat |
| vlovesfree | @CDiabetesInfo Waving! #diabeteschat |
| maureensrn | A9 Know risk factors; get kids tested. Open dialogue with your doctor. Knowledge is power. #diabeteschat |
| laurenpincusrd | A9: Prevent weight gain in the first place-especially with a family history of diabetes. Prioritize physical activity #diabeteschat |
| christyschomp | A9: As parents, be healthy role models. Give kids the option to eat well by stocking the fridge and pantry w/ healthy foods. #DiabetesChat |
| primetimeparent | LIVE on #Periscope: #diabeteschat #diabetes influencers https://t.co/UDbJVqLXF9 |
| cdiabetesinfo | People w/diabetes 2X more likely to develop gum disease. Colgate Total can help http://t.co/G5eybuuFnz #DiabetesChat http://t.co/5RKxHHmy0D |
| amypcampbell | A9: Encourage physical activity – and be active as a family. Go biking, skating, hiking together. #diabeteschat |
| laurenpincusrd | @MaureenSRN I see so many doctors who don't want to "scare" the patient so they don't talk about weight and diabetes. Shame #diabeteschat |
| christyschomp | A9: Be active w/ your kids/grandkids. Make healthy eating a family priority to lower their risk (and yours) of T2 Diabetes. #DiabetesChat |
| amypcampbell | A9: And know the risk factors for type 2 (overweight, family history, ethnicity, etc.) #diabeteschat |
| cdiabetesinfo | Q10 – How does our food supply affect the incidence of #type2diabetes in children? #DiabetesChat |
| cdiabetesinfo | FREE OneTouch Ultra®2 or UltraMini® Meter from Costco Pharmacy http://t.co/xzA5sTEW3s #DiabetesChat http://t.co/bPWQzoQNOS |
| maureensrn | A10 Fast food nation is our downfall; inactivity, and numerous food options. #diabeteschat |
| smnutritionist | @CDiabetesInfo A10: Their small bodies cannot metabolize as much carbohydrate as they are taking in #insulinresistance #DiabetesChat |
| vlovesfree | @CDiabetesInfo A10 you are what you eat! #diabeteschat |
| maureensrn | A10 Foods often highly processed; portion distortion; financial concerns affect food choices. #diabeteschat |
| bmarketingmaven | OK all this healthy food talk is making me hungry which is great if I eat healthy #DiabetesChat |
| smnutritionist | @CDiabetesInfo A10: #ProcessedCarbohydrates are inexpensive & readily available whereas #healthyfood is not #DiabetesChat |
| amypcampbell | A10: Read that added sugar is in about 80% of foods at grocery store! #diabeteschat |
| pinkhippo13 | @CDiabetesInfo @smnutritionist A10 Hmm, besides eating too much calorie/carb dense food. I'm not sure #DiabetesChat |
| cdiabetesinfo | @VLovesFree – That's it in a nutshell! #diabetesChat |
| cdiabetesinfo | Continue the conversation about #CHATHASHTAG "like" @CDiabetesinfo on Facebook #DiabetesChat http://t.co/afjV0972IY |
| smnutritionist | @CDiabetesInfo A10: the way our animals are fed, the plethora of highly #processedfoods & #inactivity all add up! #DiabetesChat |
| cdiabetesinfo | Now that's a scary statistic @amypcampbell #diabetesChat |
| cdiabetesinfo | Share your tips with us on Facebook and Pinterest #DiabetesChat |
| pinkhippo13 | @MaureenSRN Yes, that is the scary part. #DiabetesChat |
| maureensrn | Some additional websites for reference: http://t.co/fjbbjA5zeh & http://t.co/Wp3KADEqNu #diabeteschat |
| amypcampbell | A10: All kids need access to healthy foods – food deserts can be a barrier to diabetes prevention. #diabeteschat |
| cdiabetesinfo | Follow and pin us over on Pinterest #DiabetesChat —http://t.co/tV4d2wPOqV |
| maureensrn | Some additional websites for reference: http://t.co/R3FIwEV1W0 & http://t.co/FVMV4rfn66 #diabeteschat |
| christyschomp | A10: By unit price, seasonal produce is budget friendly, but cheap processed foods often tend to be chosen instead. #DiabetesChat |
| cdiabetesinfo | Follow us on instagram #DiabetesChat #dailyinspiration http://t.co/JAiB6gYOIF |
| amypcampbell | @ChristysChomp Let's put in a plug for local farmers' markets! #diabeteschat |
| vlovesfree | @CDiabetesInfo Thx for the #diabeteschat |
| maureensrn | Some additional websites for reference: http://t.co/iBYtqkJ8rr http://diabetesfoundation.org http://t.co/g6l17BCC1U #diabeteschat |
| smnutritionist | One way I use my client 2 get on board is to ask them how #processedfoods make them feel w #motivationalinterviewing #DiabetesChat |
| pinkhippo13 | @primetimeparent @vlovesfree @smnutritionist Thank you. I look forward to reading it #DiabetesChat |
| maureensrn | http://t.co/amhlxPwMpG International Diabetes Federation. #diabeteschat |
| vlovesfree | @primetimeparent @PinkHippo13 @smnutritionist Thx!!! #diabeteschat |
| cdiabetesinfo | Keep following us on Twitter and let us know about your #diabetes needs #DiabetesChat http://t.co/gOAZwqbALb |
| primetimeparent | .@catmackinnon That sounds so delicious! Sounds so easy and delish! #DiabetesChat #healthyoptions |
| smnutritionist | @amypcampbell My #healthycookie book has treats w less than 15 grams of carbs per cookie – less than a slice of bread #DiabetesChat |
| cdiabetesinfo | Check out @CDiabeteinfo's website http://t.co/vWqbh0UzZz for past #DiabetesChat topics |
| amypcampbell | @smnutritionist Excellent! What a great resource! #diabeteschat |
| cdiabetesinfo | yep! @ChristysChomp #diabetesChat |
| primetimeparent | .@PinkHippo13 We would love it if you would share the cookies you will be making #DiabetesChat #cravings |
| pinkhippo13 | @primetimeparent Sure! I would love too #DiabetesChat |
| smnutritionist | Thanks to everyone for participating tonight – wonderful ideas & collaboration! #DiabetesChat |
| cdiabetesinfo | #S4L Choco and Soy Yogurt Smoothie with Flaxseed http://t.co/KH3PAuIByr #DiabetesChat |
| bmarketingmaven | Thank you Maureen for the info on difference between bored or hungry #diabeteschat |
| cdiabetesinfo | Please join us on 8-19 8-9pmET w/Melissa Weintraub Pezza @DentistMel topic: Diabetes & Oral Health Care #DiabetesChat #dentistmel |
| diabetesinfl | .@smnutritionist Thanks so much for being a #cohost tonight! #DiabetesChat |
| smnutritionist | @DiabetesINFL You are so welcome! #diabeteschat |
| maureensrn | I patient taught me a new term today…"Hangry"……"are you hungry or angry"?!?! #Priceless. #diabeteschat |
| cdiabetesinfo | Find more information about taking care of your diabetes & great recipes on the @CDiabetesinfo website http://t.co/Z4vxIrQUlM #DiabetesChat |
| amypcampbell | @smnutritionist Thanks for sharing your wisdom with us tonight. It was a pleasure to meet you! #diabeteschat |
| iangertler | @CDiabetesInfo My pleasure; these chats benefit many as we learn about and reinforce the benefits of community-driven health. #diabeteschat |
| laurenpincusrd | There's lots of "hangry" in my house during the late afternoon hours. Need to nip it in the bud! #diabeteschat https://t.co/Z0Fgnu3lxx |
| maureensrn | Many thanks to everyone who attended tonight. We are all abit wiser in only an hour! Stay healthy! #diabeteschat |
| smnutritionist | @amypcampbell – you as well – thanks for your kind words #DiabetesChat |
| cdiabetesinfo | Thank you to Susan Dopart, M.S., R.D., C.D.E., Prevention & Treatment of T2 diabetes in Children &Adolescents @smnutritionist #DiabetesChat |
| cdiabetesinfo | G'night, day, or afternoon #DiabetesChat |
| maureensrn | Just completed a #diabeteschat Twitter party. Check out the final transcript for information on #T2DM and… http://t.co/tfGqeFsnam |
| cdiabetesinfo | Great prices on NatureMade vitamins @Costco For people w/diabetes & prediabetes http://t.co/ZhTNQKgXpe #DiabetesChat http://t.co/VJQNFuaNbr |
| cdiabetesinfo | Save on a case of Glucerna® Shakes @ Costco! Helps minimize blood sugar spikes. http://t.co/dspKT7Q53t #DiabetesChat http://t.co/IMzRxeXAv1 |
| cdiabetesinfo | Free shipping on Costco KS Quit2 Gum! +tips to quit from a Costco pharmacist: http://t.co/jcaTinpFlg #DiabetesChat http://t.co/UjpOZfY3lz |
| cdiabetesinfo | Get a FREE TRUEresult blood glucose monitoring system @ Costco pharmacy today! http://t.co/l4Y6JVJdWb #DiabetesChat http://t.co/Xqyms4XKz6 |
| primetimeparent | .@catmackinnon Take a picture and share it with me:) #DiabetesChat |
| cdiabetesinfo | FREE OneTouch Ultra®2 or UltraMini® Meter from Costco Pharmacy http://t.co/uehdQuj8u7 #DiabetesChat http://t.co/ce2iCPpqh1 |
| cdiabetesinfo | People w/diabetes 2X more likely to develop gum disease. Colgate Total can help http://t.co/cjZhmLhv8j #DiabetesChat http://t.co/2rUJfujgE5 |
| cdiabetesinfo | CinSulin® water extract of cinnamon @Costco supports healthy blood sugar levels http://t.co/QGXWf3rCQF #DiabetesChat http://t.co/LPHc4iprDt |
| cdiabetesinfo | Costco KS OPTIFIBER Quickly dissolves in hot or cold beverages & soft food http://t.co/487XLjflMu #DiabetesChat http://t.co/y4fzgVqAHB |
| cdiabetesinfo | Cosamin ® DS, 230 Capsules $42.99 After $11 OFF + Free Shipping http://t.co/1JOcBmdDvp #DiabetesChat http://t.co/ea3OdZgVnI |
| cdiabetesinfo | Great prices on Weider®Red Yeast Rice Plus @Costco! Helps lower cholesterol: http://t.co/R5KN0G6fD0 #DiabetesChat http://t.co/LnRDlOakno |