Low Income Linked to Worse Diabetes Control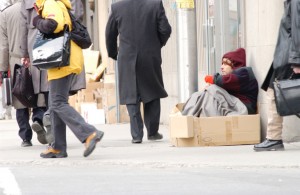 Diabetes poses many challenges. As soon as you are diagnosed–which may be in childhood–you will have to manage your blood glucose, blood pressure and cholesterol levels; see a few different healthcare providers regularly; exercise more; take medicines correctly; and follow a healthy meal plan. On top of that, it can be hard emotionally to deal with having a condition that can't be cured. Healthy foods, gym memberships, mental healthcare, hospitalizations, testing supplies and medicines can all be very expensive. This is why it is not surprising that a recent study found that people with lower incomes tend to have less control of their diabetes.
The study was done at Massachusetts General Hospital in Boston, and involved 411 people. Researchers followed the participants for one year to see if they:
Took their prescribed medicines, and if not, why
Were "food secure," or could afford enough to eat every day
Had well-controlled diabetes
The researchers found that if people with diabetes were not food secure, or could not afford to take their medicines, they had more problems with their condition. For example, they may have had worse blood glucose control, more diabetes complications, or trouble losing weight. While the scientists think that the Affordable Care Act can help people with low incomes get regular healthcare, a big problem is still that many cannot pay for their food and medicines.
Unfortunately, high quality healthcare can't make a big difference in these people's lives if they do not have money enough to eat regularly, or to take all of their prescribed medicines. Dr. Seth Berkowitz, the lead author of the study, wrote that it is important for governmental policies to change for these people to see the most benefit.
Source
http://www.reuters.com/article/2014/12/29/us-food-medication-diabetes-economics-idUSKBN0K71EC20141229