Watching TV May Raise High Blood Pressure Risk In Children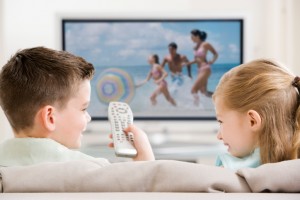 To keep your heart healthy, it is often suggested that you watch less TV and get more physical activity. A recent study published in the International Journal of Cardiology has confirmed the benefits of this suggestion. It showed that 2 hours or more of TV watching a day raises the risk of high blood pressure in children.
Researchers at the University of Zaragoza in Spain and the University of São Paulo in Brazil looked at over 5,000 European children as part of a two-year study called "Identification and Prevention of Dietary- and Lifestyle-induced Health Effects in Children and Infants." The study followed children between the ages of 2 and 10 for two years and looked at how active they were. They also measured their blood pressure. It was found that children who watched two or more hours of TV a day on average had a high blood pressure risk that was nearly one-third higher than those who watched less than two hours of TV. In addition, moving less than one hour a day increased children's risk of high blood pressure by one-half. Being active dilates (opens up) your blood vessels, which makes it easier for the heart to pump blood throughout your body. This is why blood pressure tends to go down when you get more exercise.
Researchers suggest that children should be encouraged to get at least 60 minutes of physical activity every day. This will help them lower their risk for high blood pressure when they are older and, in turn, lower their risk for heart disease.