Peanut Butter Cookie Baked Oatmeal for One
PEANUT BUTTER COOKIE BAKED OATMEAL FOR ONE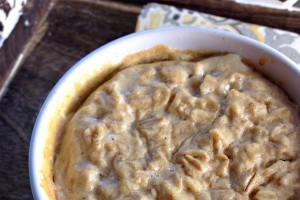 Soft baked oatmeal that mimics the taste of a peanut butter cookie straight out of the oven. The best part about it? Every bite is yours.
The secret to making it taste like a Reese's is to go one step further and either add chocolate chips or slather some Jif Whips chocolate peanut butter on top after it bakes. Oh my. Straight from the peanut butter Gods, I tell you. For another Reese's breakfast experience, check out my favorite protein pancake recipe of ALL time – Choco-Peanut Butter Protein Pancakes. <— these own my heart.

This breakfast is 100% conducive to a rushed morning. Just mix all ingredients, pour in a ramekin, place in the oven and carry on with morning to-dos while it bakes. Once your kitchen starts smelling like peanut butter cookies, that's when you know it's game time. After the oatmeal bakes, you can even pack it up and take it to-go once the ramekin cools.
Ingredients
½ cup old-fashioned or rolled oats — Use Bob's Red Mill rolled oats for gluten-free
¾ cup milk — I used unsweetened vanilla almond milk
1 large egg white
2 tbsp PB2 (powdered peanut butter) — found at Whole Foods
2 tbsp protein powder of choice — I used Select Protein in Snickerdoodle flavor — highly recommend!!
½ tsp vanilla extract
⅛ tsp baking powder
Sweetener of choice — 1 Stevia packet did the job for me
Instructions
Preheat oven to 350 degrees F
Mix all ingredients until well-combined. Pour in a greased ramekin.
Bake for ~27 minutes, or until all liquid is absorbed
Top with additional peanut butter. Dig in!
Nutrition Information
Calories:
263
Fat:
6gm.
Saturated fat:
1gm.
Carbohydrates:
33gm.
Sugar:
2gm.
Sodium:
377mg.
Fiber:
7gm.
Protein:
20gm.