Low Fat Chicken with Tortillas
This is a fast and simple recipe perfect for any night of the week.  It requires little prep time and just a little chopping which can be done early to conserve time.  It is a flavorful and colorful dish.

Low Fat Chicken with Tortillas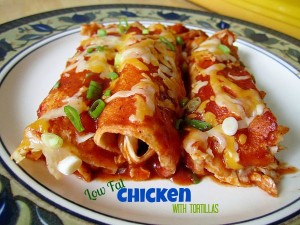 Ingredients
1 cup boneless chicken, half cooked
1 cup lettuce, sliced
2 tbs green bell pepper, chopped
2 tbs tomatoes, chopped
4 wheat flour tortilla, 6 inch dia
2 tbs fat free sour cream
1 tbs cheese, chopped
Instructions
Boil chicken for 10 minutes and cut chicken into your desired size.
Mix chicken, green bell, tomatoes, lettuce all together in a ball. Set aside the mixture.
Heat the tortilla with medium heat. Fry it both side until brown and then place in a plate. Put the chicken mixture over the tortilla and roll it.
Garnish with sour cream and cheese.
Nutrition Information
Calories:
137
Fat:
3.9 g
Saturated fat:
1.2 g
Trans fat:
0
Carbohydrates:
12.8 g
Sugar:
1.2 g
Sodium:
60 mg
Fiber:
1.2 g
Protein:
12.4 g
Cholesterol:
34 mg