Want to avoid all that time consuming stirring when you make a risotto? Well this recipe can help. Arborio rice should be used for risotto as it's the perfect, creamy texture for the dish. You can also liven it up by adding tomatoes, mozzarella or chicken.

Oven Baked Risotto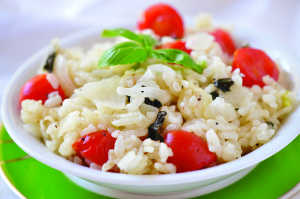 Ingredients
2 tablespoons butter, melted
2½ cups low-sodium fat-free chicken broth
1 cup Arborio rice
1 cup chopped onion
Salt and pepper to taste
Instructions
Preheat oven 400 F°
In 13x9x2-inch baking dish, mix together butter, broth, rice, onion and season to taste. Bake, covered, 35 minutes. Remove from oven and fluff rice with fork.
Nutrition Information
Serving size:
½ c.
Fat:
2g
Saturated fat:
1g
Carbohydrates:
16g
Sodium:
56mg
Fiber:
1g
Protein:
2g
Cholesterol:
6mg
Nutrition Nugget: Arborio rice is often used to make risotto as it undergoes less milling, keeping more of its starch content and making sure that it stays high in fiber.
Recipe from Holly Clegg's trim&TERRIFIC Eating Well to Fight Arthritis cookbook.