Cauliflower with Buffalo Fish
A great freshwater fish recipe with an Asian twist for those looking for a low-fat dish that's 100% on flavor. This isn't a buffalo-wing style meal folks, and just might bring on those nostalgic memories for those who grew up along the Mississippi river.
Cauliflower with Buffalo Fish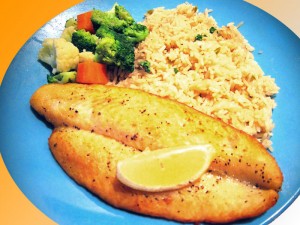 Ingredients
1 medium (500g size) cauliflower
2 potatoes
1 tomato
4 pcs (50g size each) Buffalo fish
1 onion, chopped
1 tsp turmeric powder
1 tsp chili powder
1 tsp garlic paste
½ tsp cumin powder
1 tsp salt
1 tbs olive oil
1 tsp sliced cilantro leaves
Instructions
Boil olive oil in a medium size cooking pan. Half Fry the buffalo fish with a pinch of turmeric powder and salt. Strain out the fish peaces and keep aside.
Put onion slices, chili powder, garlic paste, cumin powder, turmeric powder and salt in the remaining oil. Add one cup water and boil the mixture of spices.
Add potatoes and cook for 10 minutes covering with a lid. Addt half fried fish pcs, when the water in the pan is almost dry.
Add half cup of water and tomato. Cook for another 6-8 min. Add coriander leaves slices on top of the cooked vegetable one min before taking the pan off from the burner.
Serve the cauliflower with fish curry with white rice.
Nutrition Information
Calories:
197
Fat:
4.1g
Saturated fat:
0.6g
Trans fat:
0g
Carbohydrates:
27.5g
Sugar:
5.8g
Sodium:
683mg
Fiber:
6.8g
Protein:
15.1g
Cholesterol:
0mg