#DiabetesChat: Diabetes Weight Loss (April 29, 2015)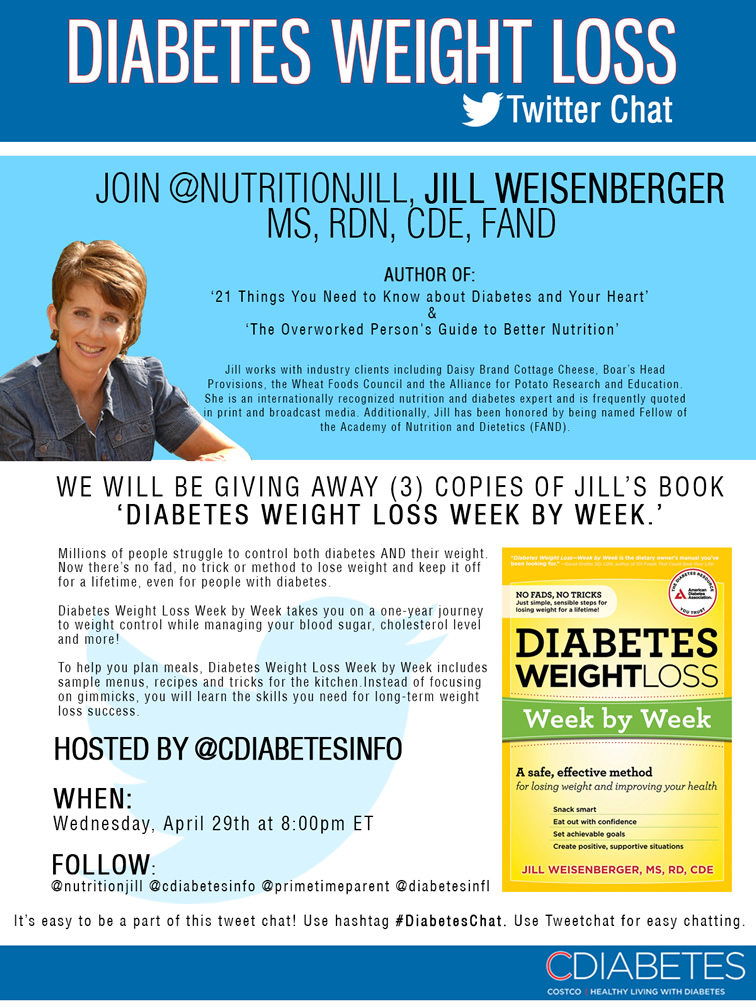 We had a wonderful time discussing the topic of Diabetes Weight Loss on #DiabetesChat with Jill Weisenberger MS, RDN, CDE, FAND (@nutritionjill).
For those who are not familiar with Jill and her books, Jill is the  author of 2 books entitled "21 Things You Need To Know About Diabetes And Your Heart" and "The Overworked Person's Guide to Nutrition". She works with industry clients including Daisy Brand Cottage Cheese, Boar's Head Provisions, the Wheat Foods Council and the Alliance for Potato Research and Education. She is an internationally-recognized nutrition and diabetes expert and is frequently quoted in print and broadcast media. Additionally, Jill has been honored by being named Fellow of the Academy of Nutrition and Dietetics (FAND).
Click here to view the analytics of this Tiwtter chat event.
Event Transcript
---
| | |
| --- | --- |
| cdiabetesinfo | Q1: Do you find it's harder for people with #diabetes to lose weight? #DiabetesChat |
| nutritionjill | A1: Extra challenges such as diabetes meds, risk of low blood glucose & just lots of time for diabetes self care. #diabeteschat |
| curet1diabetes | @CDiabetesInfo wouldn't it be better to consume fresh fruit, vegetables, legumes, beans etc. for real sources of fiber? #diabeteschat |
| jenniferneily | Neily here…let's get this party started! #diabeteschat |
| nutritionjill | A1: Sometimes complications of diabetes affect exercise options too. #diabeteschat |
| cdiabetesinfo | Save on @bayerdiabetes CONTOUR® NEXT strips http://t.co/m9TNtnhQJH at Costco: http://t.co/48IGRnLzqo #diabeteschat http://t.co/Dd737DWScN |
| laurenpincusrd | Fresh is always best, but some people need a little extra help, #diabeteschat https://t.co/5UmRN2ygfj |
| lotsofchoices | #diabeteschat A1 Not sure, sometime when people get the warnings about pre diabetes they are very motivated! |
| nutritionjill | definitely! RT @lotsofchoices: #diabeteschat A1 Not sure, sometime when people get the warnings about pre diabetes they are very motivated! |
| cdiabetesinfo | Q2: What can weight loss do for people with #diabetes? #DiabetesChat |
| dietexpertnj | A1: It can be with medications/insulin/managing low glucose levels, but it can be done with motivation & planning! #diabeteschat |
| nutritionjill | Total carb matters. Good to measure BG pre&post meal RT @cindyfromindy: @nutritionjill Also many who fear fruit for highs. #diabeteschat |
| lotsofchoices | #diabeteschat A2 It can help them feel good about themselves and be more motivated to take care of themselves |
| nutritionjill | A1: People w/diabetes can't skimp on one meal to make up for a big meal later. Each meal & snack affects blood sugar. #diabeteschat |
| dietexpertnj | A2: Wt loss decreases insulin resistance, lowers complication risk, and improve glucose management #diabeteschat |
| nutritionjill | A2: Sometimes even a little weight loss helps w/blood sugar management. #diabeteschat |
| cdiabetesinfo | Save on a 24 bottle case of Glucerna @ Costco-helps minimize blood sugar spikes #DiabetesChat http://t.co/lsmMlh6m3m http://t.co/CxvcXddQ9p |
| nutritionjill | Yes indeed! RT @DietExpertNJ: A2: Wt loss decreases insulin resistance, lowers complication risk, & improve glucose management #diabeteschat |
| primetimeparent | Please make sure to Reply to @cdiabetesinfo and @nutrtionjill to qualify for tonight's prizes #DiabetesChat |
| pinkhippo13 | @CDiabetesInfo @nutritionjill A1 I think because they eat bad foods when their sugar drops #diabeteschat |
| diabetesincntrl | Nutrinerve shows clinical improvement for Foot Neuropathy and other insensitivity to touch or pain #diabeteschat http://t.co/g2ADw4hQ9F |
| nutritionjill | glucose tabs r good choice RT @PinkHippo13: @CDiabetesInfo @nutritionjill A1 b/c they eat bad foods when their sugar drops #diabeteschat |
| nutritionjill | A2: In the Look AHEAD study, weight loss helped lower need for diabetes, cholesterol & blood pressure meds. #diabeteschat |
| cdiabetesinfo | Q3: Is there a best weight loss diet for people with diabetes? #DiabetesChat |
| nutritionjill | A2: Weight loss can improve sleep apnea, mobility, more. #diabeteschat |
| pinkhippo13 | @nutritionjill @CDiabetesInfo That's true! #diabeteschat |
| nutritionjill | A2: Weight loss sometimes boost confidence. Makes clothing shopping more fun!! #diabeteschat |
| nutritionjill | A3: There are many ways to a healthy plate and healthy #weightloss. #diabeteschat |
| pinkhippo13 | @CDiabetesInfo @nutritionjill A3 I think a diet filled with fiber, low GI fruit and veggie too. #diabeteschat |
| diabetesinfl | Please make sure to Reply to @CDiabetesInfo and @nutritionjill to qualify for tonight's prizes #DiabetesChat |
| nutritionjill | A3: I have clients lose weight & manage diabetes on vegan diets, Mediterranean-style, pescatarian, omnivore & more. #diabeteschat |
| pinkhippo13 | @DiabetesINFL @CDiabetesInfo @nutritionjill I think I'm doing it right. #diabeteschat |
| nutritionjill | A3: What types of diet plans have helped you manage both #diabetes & your weight? #diabeteschat |
| laurenpincusrd | A3: Focus on nutrient dense foods and high quality carbs, whole grains, fruits, veggies, beans, nuts, seeds lf dairy #diabeteschat |
| lotsofchoices | #diabeteschat A3 Best weight management diet is lots of fruits and vegetables. Lots of salads http://t.co/JOLMlVHPG8 http://t.co/PNtHuMnh17 |
| nutritionjill | A3: The best #diabetes #weightloss diet is one you like, reduces calories, controls carbs. #diabeteschat |
| cdiabetesinfo | TruNature CinSulin water extract of cinnamon, exclusively@Costco for healthy bg http://t.co/ShdYPbBbKC #DiabetesChat http://t.co/yWtD7Y4mnb |
| dietexpertnj | A3: Any diet that focused on whole foods, portion control, and slowly digested carbs can promote wt loss and glucose control #diabeteschat |
| laurimparker | A3: There are many ways to a healthy plate and healthy #weightloss. #diabeteschat http://t.co/ukpdUQktO2) #weightl… http://t.co/HgD3qTx0MM |
| nutritionjill | @lotsofchoices Pretty salad! #diabeteschat |
| laurenpincusrd | A3: Clients often mistake "sugar free" foods as ok for #diabetes but they are often junk food. #diabeteschat |
| nutritionjill | Big problem!RT @LaurenPincusRD: A3: Clients often mistake "sugar free" foods as ok for #diabetes but they are often junk food. #diabeteschat |
| cdiabetesinfo | Q4: Are there foods that are especially good for people w/ #diabetes when trying to lose weight? #DiabetesChat |
| pinkhippo13 | @CDiabetesInfo My mother takes it, she loves it #diabeteschat |
| dietexpertnj | So true! You have to focus on total carbs, not just sugars! #diabeteschat https://t.co/ujLSVjzZZg |
| primetimeparent | Who is ready to win a copy of @nutritionjill's bestselling book "Diabetes Weight Loss – Week by Week" #DiabetesChat #DiabetesWeightLoss |
| nutritionjill | A3: Research does NOT show that there is an ideal diabetes weight loss diet. #diabeteschat |
| curet1diabetes | @LaurenPincusRD and lots of sugar free foods cause gastrointestinal distress #diabeteschat |
| pinkhippo13 | @CDiabetesInfo @nutritionjill A4 Foods like Salmon, Avocados too. Healthy fats, and Omega 3's #diabeteschat |
| laurenpincusrd | Absolutely. Best diet is one you can stick with, not really diet but new lifestyle. #diabeteschat https://t.co/BcYMXVupKs |
| cdiabetesinfo | TRY THE BD AUTOSHIELD DUO™ PEN NEEDLE TODAY! Click here for Free Box Offer: http://t.co/Kt0utJ7pHY #DiabetesChat http://t.co/MvhsEOFoL1 |
| nutritionjill | Yes, they do! RT @CureT1Diabetes: @LaurenPincusRD and lots of sugar free foods cause gastrointestinal distress #diabeteschat |
| primetimeparent | A3 .@nutritionjill I so stay away from sugar free!!! #DiabetesChat #nothanks |
| nutritionjill | A4: Must choose heart healthy foods. Diabetes is about more than blood sugar. http://t.co/zURehPIGZI #diabeteschat |
| nutritionjill | A4: Must choose heart healthy foods. Diabetes is about more than blood sugar. http://t.co/fAOA6LSUmj #diabeteschat |
| nutritionjill | A4: People w/ diabetes need healthy carbs & healthy fats: http://t.co/To2moYopCO #diabeteschat |
| nutritionjill | A4: People w/ diabetes need healthy carbs & healthy fats: http://t.co/nqjwKKdzdb #diabeteschat |
| cdiabetesinfo | Q5: What are special precautions for dieters who have #diabetes? #DiabetesChat |
| lotsofchoices | #diabeteschat A4 Plant based protein is excellent, lots of fibre, very lean, low in calories, http://t.co/RFs4vGh19O http://t.co/UekQeHmTOo |
| nutritionjill | A4: Beans have resistant starch-good for blood sugar. http://t.co/0GzUxbLVIj #diabeteschat |
| nutritionjill | A4: Beans have resistant starch-good for blood sugar. http://t.co/yWmLIw5RFn #diabeteschat |
| dietexpertnj | A4: Focus on heart healthy foods- good fats such as #avocado and olive oil, whole grains, fresh produce & lean proteins #diabeteschat |
| nutritionjill | A4: Don't forget fruits. Yes, they have carbs, but also cancer & heart disease fighters. #diabeteschat |
| nutritionjill | @cindyfromindy A4: Don't forget fruits. Yes, they have carbs, but also cancer & heart disease fighters. #diabeteschat |
| managediabetes | If you're trying to drop a few pounds, a new study may offer encouragement. Find out its simple secret: http://t.co/srVBoSNDyj #diabeteschat |
| cdiabetesinfo | Great prices on @NatureMade vitamins @Costco for people w/diabetes & prediabetes http://t.co/G9QVQf3Q41 #DiabetesChat http://t.co/bwfoXFBVWz |
| nutritionjill | Get my FREE guide: 10 Healthy Habits that Take 10 Minutes or Less: http://t.co/oJj9jwGrAx #diabeteschat |
| nutritionjill | Get my FREE guide: 10 Healthy Habits that Take 10 Minutes or Less: http://t.co/ZnuUT1tZEQ #diabeteschat |
| nutritionjill | A5: When you change your diet, you may need a medication change or lower insulin dose. #diabeteschat |
| curet1diabetes | A5 The need to reduce or re-evaluate doses of medications. Less carbs, less glucose released from the liver,lower basal needs #diabeteschat |
| nutritionjill | A5: Losing weight may make you more insulin sensitive & put you at risk for low blood sugar. #diabeteschat |
| laurenpincusrd | So many of my clients afraid to eat fruit. Mix with protein and fat like nuts to decrease rise in blood sugar. #diabeteschat |
| nutritionjill | A5: Important to measure blood glucose often to see effects of food, exercise, weight loss. #diabeteschat |
| pinkhippo13 | @CDiabetesInfo @nutritionjill A5 Not to eat overly high GI veggies & fruits, no simple carbs #diabeteschat |
| cdiabetesinfo | @LaurenPincusRD it's great with Yogurt! #diabeteschat |
| cdiabetesinfo | Q6: What are some ways to make comfort food #diabetes smart? #DiabetesChat |
| doctorsoption | Check your A1C & get a FREE Pedometer with purchase of A1c 10 pack just for #diabeteschat while supplies last http://t.co/b68Z087j2u |
| nutritionjill | A4/5: Many ppl w/ diabetes find fruit is just fine w/ meal or snack. Find out by measuring BG pre & post eating. #diabeteschat |
| nutritionjill | A5: Not sure how a meal affects your blood sugar? Measure b4 eating & 2 hours later. #diabeteschat |
| dietexpertnj | And low fat #cottagecheese too- lower in carbs and higher in protein! #diabeteschat https://t.co/X9qxFOxqVa |
| nutritionjill | A6: Diabetes Weight Loss-Week by Week has lots of ideas for this. #diabeteschat |
| pinkhippo13 | @cindyfromindy @CDiabetesInfo @nutritionjill I notice with my type 1 friends, they eat candy bars, instead of nuts, fruit #diabeteschat |
| nutritionjill | A6: Most foods are okay if the portion is small enough. #diabeteschat |
| laurenpincusrd | Especially with delicious summer fruits! Peaches, berries, melon etc. #diabeteschat https://t.co/62F3pswFTp |
| pinkhippo13 | @CDiabetesInfo @nutritionjill A6 I think so, whole grain pasta in mac & cheese, even add nutrition yeast too #diabeteschat |
| nutritionjill | @PinkHippo13 @cindyfromindy @CDiabetesInfo That's okay now & then, but not daily! #diabeteschat |
| nutritionjill | A6: Make creamy soups w/out cream by adding pureed veg. #diabeteschat |
| lotsofchoices | #diabeteschat I missed Q5 |
| pinkhippo13 | @nutritionjill @cindyfromindy @CDiabetesInfo Sadly, they do this daily. I worry about them #diabeteschat |
| nutritionjill | A6: Here's a way to enjoy pizza w/less carbs. Scoop it! http://t.co/0RvLCuw016 #diabeteschat |
| nutritionjill | A6: Here's a way to enjoy pizza w/less carbs. Scoop it! http://t.co/ZPjsTH5JL9 #diabeteschat |
| cdiabetesinfo | We can't "hear" you, unless you remember to use #diabeteschat and reply to @Cdiabetesinfo @nutritonjill #diabetesweightloss |
| leahmcgrathrd | A6.@CDiabetesInfo don't deprive..portion size…#diabeteschat |
| nutritionjill | @lotsofchoices Q5: What are special precautions for dieters who have #diabetes? #diabeteschat |
| dietexpertnj | A6: All foods/recipes can be made healthier w #smallchanges– swap white flour w whole grain & swap butter for healthy oils #diabeteschat |
| cdiabetesinfo | @lotsofchoices Q5: What are special precautions for dieters who have #diabetes? #DiabetesChat |
| nutritionjill | A6: I love my grater to add small amounts of Parmesan cheese. Also good to shave chocolate over berries. #diabeteschat |
| cdiabetesinfo | @nutritionjill ohh everyone LOVES pizza right? #diabeteschat |
| nutritionjill | A6: Here's an article about #diabetes comfort foods. On #TheDx: http://t.co/89kPgCKHTn #diabeteschat |
| nutritionjill | A6: Here's an article about #diabetes comfort foods. On #TheDx: http://t.co/9wl09wiaJN #diabeteschat |
| pinkhippo13 | @CDiabetesInfo @nutritionjill Oh, pizza #diabeteschat |
| nutritionjill | Agree. Most foods fit in proper portion! RT @LeahMcGrathRD: A6.@CDiabetesInfo don't deprive..portion size…#diabeteschat |
| dietexpertnj | A6: Heres a peanut butter chocolate chip #cookie made healthier w #quinoa http://t.co/K9NvIO3Ykl #DiabetesChat |
| lotsofchoices | #diabeteschat A5 Be careful of the marketing. Learn to read the labels thoroughly! |
| dietexpertnj | Sounds delicious! #diabeteschat https://t.co/PJo57OMmBN |
| coolngroovyjc | @nutritionjill #diabeteschat I gained weight last year 20 lbs. need lose about 70 lbs. type2 seemed manageable with metaformin b4 the 20… |
| cdiabetesinfo | Free shipping on Costco KS Quit2 Gum + quitting tips from a Costco pharmacist #DiabetesChat http://t.co/2RCmKH6VBP http://t.co/biIHCUQlNS |
| cdiabetesinfo | @lotsofchoices true not everything is as good as its marketing. #diabeteschat |
| nutritionjill | Yes, yes! http://t.co/Xfody4nwoE #DiabetesChat RT @CDiabetesInfo: @nutritionjill ohh everyone LOVES pizza right? #diabeteschat |
| leahmcgrathrd | A6 #DiabetesChat also @robynwebb has done a nice diabetes comfort food cookbook |
| laurenpincusrd | @nutritionjill Or puree white beans for extra fiber and protein. #diabeteschat A6: Make creamy soups w/out cream by adding pureed veg. |
| dietexpertnj | I know I do! #diabeteschat https://t.co/oacLfK1os5 |
| lotsofchoices | #DiabetesChat A6 I think it learning about the choices. Focus on whole grains instead of white, find suitable swaps for your comfort foods |
| dietexpertnj | I love this idea! #diabeteschat https://t.co/MXfy4kHqLd |
| nutritionjill | gr8 ideaRT @LaurenPincusRD: @nutritionjill Or puree white beans for extra fiber and protein. #diabeteschat A6: Make creamy soups w/out cream |
| pinkhippo13 | @nutritionjill A grater is such a great tool #diabeteschat |
| coolngroovyjc | #DiabetesChat @nutritionjill . unless I eat VERY low carbs my sugar is high 100s mornings since the 20 w8 gain. |
| nutritionjill | @coolngroovyJC Diabetes changes, life changes… always need to review plan. #diabeteschat |
| diabetesincntrl | Patients who have lost feeling in their feet should take foot temperatures & compare spot to spot #diabeteschat http://t.co/uqBppWCCWl |
| cdiabetesinfo | Q7: What are some ways to tame the nighttime nibbles? #DiabetesChat |
| nutritionjill | A6: Here's an article about #diabetes comfort foods. On #TheDx: http://t.co/89kPgCKHTn #diabeteschat |
| nutritionjill | A6: Here's an article about #diabetes comfort foods. On #TheDx: http://t.co/I0iVLrIumu #diabeteschat |
| laurenpincusrd | Kale, White Bean and Tomato Sorghum Soup: http://t.co/UKxEF8cA9R #diabeteschat #recipe https://t.co/nE3CnHEVhg |
| krille007 | @CDiabetesInfo @nutritionjill My dad does not eat pizza anymore because of too many carbs. Will suggest that recipe #diabeteschat |
| nutritionjill | A7: Diabetes Weight Loss-Week by Week covers nighttime nibbles. #DiabetesChat |
| cdiabetesinfo | @Krille007 @nutritionjill awesome! #diabeteschat |
| pinkhippo13 | @CDiabetesInfo @nutritionjill A7 Try to eat a dinner that's filling w/ healthy fats, and fiber! Treats like greek yogurt #diabeteschat |
| nutritionjill | A7: It helps to change up your routine. Watch TV in a different room or do something different. #diabeteschat |
| cdiabetesinfo | Get a FREE LifeScan @OneTouch Ultra®2 or UltraMini® Meter at Costco Pharmacy! #diabeteschat http://t.co/vndJ5MWSnv http://t.co/WwrFljLmuz |
| nutritionjill | A7: Some of my patients simply say "Kitchen is closed!" #diabeteschat |
| nutritionjill | A7: LOTS of people say when they eat healthfully all day (not skipping meals), it's easier not to nibble. #diabeteschat |
| dietexpertnj | A7: Aim for high volume, low calorie healthy options such as veggies & hummus to fill up without spiking glucose #diabeteschat |
| primetimeparent | .@Krille007 @CDiabetesInfo @nutritionjill I love cauliflower pizza #diabeteschat |
| laurenpincusrd | My take on pizza- Cheesy Dried Plum Flatbread: http://t.co/E7Y9SR9w1D #diabeteschat Use a high protein/fiber tortilla or wrap. |
| nutritionjill | Don't fogey to get my FREE guide: 10 Healthy Habits that Take 10 Minutes or Less: http://t.co/oJj9jwGrAx #DiabetesChat |
| nutritionjill | Don't fogey to get my FREE guide: 10 Healthy Habits that Take 10 Minutes or Less: http://t.co/XwuLxPq3Ik #DiabetesChat |
| lotsofchoices | #diabeteschat A7 Have some cute little dishes that are a suitable portion and have some healthy choices around |
| nutritionjill | great idea! RT @lotsofchoices: #diabeteschat A7 Have some cute little dishes that are a suitable portion and have some healthy choices around |
| cdiabetesinfo | Q8: What are ways to get more veggies into our diets? #DiabetesChat |
| nutritionjill | A8: Who increases the portions of foods by sneaking in more veg? Please share ideas? #diabeteschat |
| nutritionjill | A8: Replace some lasagna noodles w/ long, thin zucchini slices. #diabeteschat |
| laurenpincusrd | Just had this snack: Apple with chocolate powdered peanut butter. Delish!! Protein and fiber #Diabeteschat http://t.co/t9laZEvAjW |
| cdiabetesinfo | @nutritionjill the zucchini sounds delicious as lasagna. #diabeteschat |
| doctorsoption | Get a Free Prediabetes Info Kit sponsored by @DiabetesInCntrl @DoctorsOption #diabeteschat http://t.co/UPuq8Fq41H |
| jenniferneily | Gorgeous!!! #diabeteschat https://t.co/u14CGXkkwb |
| nutritionjill | A8: Make pasta salad w/tomatoes, peppers, broccoli. #diabeteschat |
| bmarketingmaven | I have those night time nibbles #diabeteschat |
| laurenpincusrd | I just ground mushrooms into my turkey meat sauce. No one can tell! #diabeteschat https://t.co/EF0mxS3DRn |
| curet1diabetes | High speed blender – smoothies, soups, frozen desserts from great ingredients – Vitamix Blendtec etc. #diabeteschat https://t.co/srxa4QV2NM |
| cdiabetesinfo | @nutritionjill pasta salad is a personal fav. #diabeteschat |
| nutritionjill | Yes, I use it a lot! RT @LeahMcGrathRD: A6 #DiabetesChat also @robynwebb has done a nice diabetes comfort food cookbook |
| pinkhippo13 | @CDiabetesInfo @nutritionjill A8 A spiralizer! Making things like zucchini spaghetti! #diabeteschat |
| cdiabetesinfo | People w/diabetes 2x more likely to develop gum disease-@Colgate Total can help. http://t.co/DvWZ1A7jyI #diabeteschat http://t.co/ENSq0TP5qN |
| nutritionjill | Lots of way to make it healthy. Add veggies, veggies, veggies RT @CDiabetesInfo: @nutritionjill pasta salad is a personal fav. #diabeteschat |
| lotsofchoices | #DiabetesChat A8 Smoothies! Like this one with Spinach and Mint http://t.co/CWFelmJptd http://t.co/XXAg8yxU05 |
| nutritionjill | Me too RT @LaurenPincusRD: I just ground mushrooms into my turkey meat sauce. No one can tell! #diabeteschat http://t.co/eP8Pw1bfCa |
| primetimeparent | .@CDiabetesInfo @nutritionjill I know @themamamaven has a great recipe for these #diabeteschat |
| dietexpertnj | A8: I love to sneak them into foods like this Spinach Cornbread recipe too: http://t.co/vGFVt04d0m #DiabetesChat |
| cdiabetesinfo | Smoothies are great if you're on the go! #diabeteschat |
| laurenpincusrd | @JenniferNeily Thank you! #diabeteschat |
| nutritionjill | A8: Diabetes Weight Loss-Week by Week has a recipe for veggie-packed potato salad. #diabeteschat |
| cdiabetesinfo | You can also find more information abt exercise and #glucose management on the @Cdiabetesinfo website http://t.co/4VFJpEzSbh #DiabetesChat |
| cdiabetesinfo | @nutritionjill @LaurenPincusRD maybe that would work for kids who don't like mushrooms! #diabeteschat |
| nutritionjill | A8: Make a portabello "pizza" by filling the cavity with pizza toppings. #diabeteschat |
| nutritionjill | Indeed! RT @CDiabetesInfo: @nutritionjill @LaurenPincusRD maybe that would work for kids who don't like mushrooms! #diabeteschat |
| diabetesinfl | .@CureT1Diabetes sounds amazing #diabeteschat # |
| lucky_4eva_24 | @CDiabetesInfo @nutritionjill A1. They eat candy and chocolate instead of veggies and fruit #DiabetesChat |
| lotsofchoices | #diabeteschat A8 Also try to have lots of substantial salads http://t.co/iPEKVU1Qkl |
| nutritionjill | Fun! RT @PinkHippo13: @CDiabetesInfo @nutritionjill A8 A spiralizer! Making things like zucchini spaghetti! #diabeteschat |
| dietitianeats | A8: I add cauliflower to mashed potatoes even when the potatoes go into another dish #diabeteschat https://t.co/nc4f8KwcTu |
| melokc | @CDiabetesInfo Can you use fruit in smoothies? #diabeteschat |
| nutritionjill | Yes! RT @lotsofchoices: #diabeteschat A8 Also try to have lots of substantial salads http://t.co/ksFGnOZYbI |
| laurenpincusrd | @nutritionjill A8: Blueberries cover the color of spinach and kale in smoothies for those adverse to the green. #diabeteschat |
| nutritionjill | Absolutely! Love of health boosters RT @melokc: @CDiabetesInfo Can you use fruit in smoothies? #diabeteschat |
| pinkhippo13 | @CDiabetesInfo @nutritionjill @LaurenPincusRD That's a great trick! #diabeteschat |
| cdiabetesinfo | @melokc fruit smoothies are the BEST! #diabeteschat |
| bmarketingmaven | I like the idea of the vegetables in sort of regular food or substitutes #diabeteschat |
| lotsofchoices | #diabeteschat A8 http://t.co/k4UWPoGNtR http://t.co/K6M4LkLtEO |
| cdiabetesinfo | Are you remembering to reply to @cdiabetesinfo, @primetimeparent & @nutritionjill #diabeteschat ? |
| melokc | @CDiabetesInfo which fruits are best? #diabeteschat |
| primetimeparent | Who will win the next copy of @nutritionjill's bestselling book "Diabetes Weight Loss – Week by Week"?? #diabeteschat |
| diabetesincntrl | Men with low testosterone at risk for diabetes, encourage patients to check testosterone levels #diabeteschat http://t.co/yZoUTTTWvE |
| diabetesinfl | @CureT1Diabetes Yes the Costco diabetes site http://t.co/6PWIlE4T4K and the ads during the chat are sponsoring companies #diabeteschat |
| krille007 | @LaurenPincusRD @nutritionjill @CDiabetesInfo Great idea. My kids even drink it then. #diabeteschat |
| nutritionjill | Good to eat variety of color & type: citrus, berry, stone fruit, etc. RT @melokc: @CDiabetesInfo which fruits are best? #diabeteschat |
| primetimeparent | .@nutritionjill sleep is a priority! #diabeteschat |
| cdiabetesinfo | @melokc For smoothies – strawberries, bananas, other berries. #diabeteschat |
| cdiabetesinfo | And don't forget to tag #diabeteschat |
| pinkhippo13 | @CDiabetesInfo @primetimeparent @nutritionjill Darn, I've been reply to only too! #diabeteschat |
| twicediabetes | @nutritionjill @DiabetesINFL I do it all the time. Each meal does affect blood sugar but basal/bolus allows variable meals. #diabeteschat |
| pinkhippo13 | @primetimeparent @nutritionjill Good luck all #diabeteschat |
| nutritionjill | Fun & tasty RT @BMarketingMaven: I like the idea of the vegetables in sort of regular food or substitutes #diabeteschat |
| cdiabetesinfo | Great prices on @WeiderNutrition Red Yeast Rice + helps lower cholesterol: http://t.co/R5KN0FOEeq #diabeteschat http://t.co/czHn0YtgUv |
| coolngroovyjc | #diabeteschat @nutritionjill bummed gaining & losing same 20 lbs looking for permanent solution |
| pinkhippo13 | @CDiabetesInfo @primetimeparent @nutritionjill A8 Try a spiralizer! Zucchini spaghetti is super yummy #diabeteschat |
| cdiabetesinfo | Q9: What is the Plate Method? Is it a good tool for meal planning? #DiabetesChat |
| pinkhippo13 | @CDiabetesInfo @primetimeparent @nutritionjill A6 Portion out comfort foods, even change to whole grain #diabeteschat |
| lotsofchoices | #diabeteschat Does a liquid meal like a smoothie affect blood glucose more than if you were to eat the food and chew it? |
| nutritionjill | A9: Love this simple tool! Divide plate so ½ gets nonstarchy veg. Other half divided between healthy starch & healthy meat. #diabeteschat |
| laurenpincusrd | A9: My favorite! Logical and balanced and so easy to use without really measuring foods exactly. #diabeteschat https://t.co/AXgKDpkgg7 |
| pinkhippo13 | @CDiabetesInfo @primetimeparent @nutritionjill A9 Plate method? Maybe a good tool for planning portions #diabeteschat |
| nutritionjill | A9: More about Plate Method: http://t.co/K9VjvgDpBS #diabeteschat |
| cdiabetesinfo | Save Money on Medicines and diabetes supplies with the Costco Member Prescription Program http://t.co/ol9xLNzerI #diabeteschat |
| nutritionjill | A9: More about Plate Method: http://t.co/ur7bB2Py9C #diabeteschat |
| nutritionjill | A9: Do you have tips for the Plate Method? Please share. #diabeteschat |
| krille007 | @primetimeparent @nutritionjill @CDiabetesInfo What about bananas, my day never eats them? #diabeteschat |
| tennine8seven6 | So the 8pm #DiabetesChat is mostly advertisements and people who don't have diabetes?? Where is the #doc ? |
| kathybirkettrdn | don't give up! 🙂 @coolngroovyJC: #diabeteschat @nutritionjill bummed gaining & losing same 20 lbs looking for permanent solution |
| nutritionjill | @lotsofchoices The best way to know is to measure BG b4 eating & 2 hours after first bite. #diabeteschat |
| cdiabetesinfo | Grab our FREE e-book with over 50 great diabetes-friendly recipes at http://t.co/pF2srffzKC, compliments of Costco Pharmacy #diabeteschat |
| lotsofchoices | #diabeteschat A9 The plate method refers to focusing on 1/2 plate veg, 1/4 start, 1/4 protein. It is somewhat useful. Old habits are hard |
| doctorsoption | #diabeteschat Check out http://t.co/VEumkRO7Qa for loads of FREE information on managing diabetes #lowcarb http://t.co/VN8wkY8i9g |
| coolngroovyjc | @nutritionjill #diabeteschat also need time savers work full time and spend 3 hrs commute |
| tennine8seven6 | The 9 pm chat is for people with diabetes I guess… #doc #dsma #DiabetesChat I'm just trying to learn… |
| cdiabetesinfo | Q10: Do food records help w/ blood glucose & weight management? #DiabetesChat |
| cdiabetesinfo | FREE TRUEresult blood glucose monitoring system from Costco pharmacy today! http://t.co/TJHfMbL6Lw #diabeteschat http://t.co/eexZpYF6CH |
| dietexpertnj | A9: Love this method! By filling ur plate 1/2 with non-starchy vegetables u can lower total calorie/carbs #diabeteschat |
| nutritionjill | A10: Love when my patients keep good records. Helps them to be good detectives, know what affects blood sugar. #diabeteschat |
| verylightnosuga | @tennine8seven6 I see the #diabeteschat hash tag sometimes but not really sure what it is/who runs it? It's another D chat (based on name)? |
| twicediabetes | @DietExpertNJ @primetimeparent In t2 diabetes & if overweight. Lowering a1c in t1s shown 2 => weight gain but lowers comp risk.#diabeteschat |
| srcarecorner | .@nutritionjill: Plate method: simple tool! Divide plate so ½ nonstarchy veg. Other 1/2 divided between healthy starch & meat #diabeteschat |
| managediabetes | #diabetesweightloss isn't easy. Learn some tried-and-true strategies for weight management here: http://t.co/xKvXmTpZp3 #diabeteschat |
| pinkhippo13 | @CDiabetesInfo @primetimeparent @nutritionjill A10 I think so. Helps you learn your habits #diabeteschat |
| dietexpertnj | A10: People who keep #foodrecords lose as much as 40% more weight! Accountability counts! #diabeteschat |
| nutritionjill | A10: Studies show that people who keep food records, lose more weight. #diabeteschat |
| laurenpincusrd | A10: Definitely! I takes guesswork out of how food affects you. Also, food record keepers low more wt. #diabeteschat https://t.co/EYETOhmZ9B |
| tennine8seven6 | A10. Not for me. Makes it too much of a science project and can be overwhelming and stressful #DiabetesChat |
| bmarketingmaven | I want to try the zucchini spaghetti I would love to find one of those veggie cutters to make spaghetti #diabeteschat |
| cdiabetesinfo | Thank you @nutritionjill for being with us today. Any parting words? #diabeteschat |
| nutritionjill | A10: Food records help you with accurate & honest assessments? #diabeteschat |
| cdiabetesinfo | Have you tried using an app to track weight loss / food ?? #diabeteschat |
| lotsofchoices | #diabeteschat A10 I think food records are helpful especially for people to see their habits. |
| dietexpertnj | @tennine8seven6 U can simplify it by even just taking photos of meals or using a checklist #foodrecords #diabeteschat |
| pinkhippo13 | @CDiabetesInfo Yes, I love My Fitness Pal! #diabeteschat |
| nutritionjill | Diabetes changes over time. Working w/ healthcare team is important. Aim for healthy; focus on nutrition/exercise #diabeteschat |
| dietexpertnj | @CDiabetesInfo There r lots of great tracking apps for diabetes & wtloss- whatever works best for you! #diabeteschat |
| laurenpincusrd | A10: Also, may not eat something if you know you need to write it down 🙂 #diabeteschat https://t.co/RfaD9rZgsy |
| pinkhippo13 | @CDiabetesInfo @nutritionjill Thank you for chatting with us #diabeteschat |
| krille007 | @nutritionjill @CDiabetesInfo @primetimeparent How much do bananas affect the blood sugar? #diabeteschat |
| diabetesincntrl | FREE Pedometer with purchse of A1c 10 pack just for #diabeteschat while supplies last http://t.co/9mKr4sBzWM |
| nutritionjill | Yep RT @lotsofchoices: #diabeteschat A10 I think food records are helpful especially for people to see their habits. |
| lotsofchoices | #diabeteschat Thanks for the chat! |
| dietexpertnj | A10: I like to have clients write out foods/meals in advance- that way u can access it b4 eating it! #diabeteschat |
| nutritionjill | @Krille007 depends on too many variables. Must measure b4 & after. Must be own detective. #diabeteschat |
| coolngroovyjc | "@CDiabetesInfo: Have you tried using an app to track weight loss / food ?? #diabeteschat" @nutritionjill I have UP jawbone app clunky |
| laurenpincusrd | Serving size for banana is 1/2, for strawberries 1 1/4 cups. Bananas are dense, need to watch portion size. #diabeteschat @Krille007 |
| nutritionjill | I use a FitBit & LoseIt. #diabeteschat |
| cdiabetesinfo | Follow and pin us over on Pinterest #DiabetesChat — http://t.co/q2BJnXZ64p |
| jenniferneily | Do you like the FitBit? #diabeteschat https://t.co/eOfk0kzmi2 |
| curet1diabetes | @Krille007 @nutritionjill @CDiabetesInfo @primetimeparent Depends upon how ripe, the size of fruit & the individual #diabeteschat – use CGM |
| nutritionjill | @LaurenPincusRD @Krille007 Highly variable. Depends on person, time of day, what else is eaten, how much eaten, BG level etc #diabeteschat |
| cdiabetesinfo | Keep following us on Twitter and let us know about your #diabetes needs #DiabetesChat http://t.co/kS4ULWbapJ |
| pinkhippo13 | @primetimeparent @nutritionjill Not sure #diabeteschat |
| laurenpincusrd | I like it but question it's accuracy. It's a motivator more than anything. #diabeteschat https://t.co/Av6Y9l0hLs |
| twicediabetes | @CureT1Diabetes Yeah, I always forget that it's an advertising thing 'til I've commented on something & then notice the ads. #diabeteschat |
| cdiabetesinfo | Check out @Cdiabetesinfo's website http://t.co/4VFJpEzSbh for great #DiabetesChat |
| jenniferneily | @LaurenPincusRD Interesting! i was wondering about FitBit accuracy! I always feel they overestimate…. #diabeteschat |
| coolngroovyjc | #diabeteschat @nutritionjill WW worked for me yrs ago. But not since type2. Too much emphasis on calories |
| laurenpincusrd | @JenniferNeily Funny, I think mine is under. Don't think I walk only 6000 steps after 10 hours at a trade show. #diabeteschat |
| nutritionjill | Love it, especially for sleep tracking. RT @JenniferNeily: Do you like the FitBit? #diabeteschat http://t.co/pkX53OdbTc |
| cdiabetesinfo | Thank you everyone for joining us today #Diabeteschat We hope you join us next week 4/29 @ 8-9 pm EST |
| krille007 | @JenniferNeily @LaurenPincusRD Have Garmin Vivofit, comes with HM for workouts, very accurate, love it. #diabeteschat |
| nutritionjill | Thanks for chatting. I had a blast! #diabeteschat |