Tips For Holiday Eating
Plus: A Diabetes-Friendly Apple Cinnamon Bar Recipe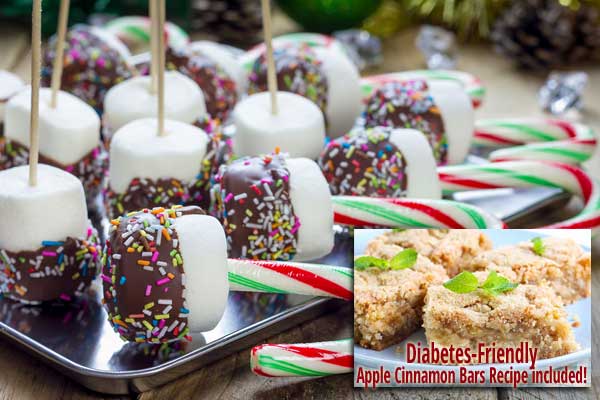 We are all trying to get the "healthy lifestyle" thing down. During our regular schedules, we head to the gym and try to pick the healthiest foods, but with the Holiday season now upon us and all of the parties to attend, it can make eating healthy more challenging. For diabetics planning Holiday meals, the struggle between keeping guests satisfied and their own blood sugars under control can seem like an impossible task, but it doesn't have to be.
As a Registered Dietitian and Certified Diabetes Educator, I share with my patients my suggestions for how to enjoy Holiday meals without gaining weight or losing control of their blood sugars.
---
5 TIPS For HOLIDAY EATING
---
1
Going to holiday parties and events can make it more challenging to control blood sugar. One of the most important things you can do to control your food intake it to survey the food selections/buffet tables first before eating. Take a good look at what is being served and plan your plate accordingly remembering to fill up on protein and veggies first. If you are going to a friend or family members house you can bring something that you like and will meet your nutritional needs.
2
Make sure to get your workout in. During these hectic times it can be difficult to maintain your regular schedule but you can get creative. Take a jump rope with you while traveling, take your walking/running sneakers with you while visiting family, download a podcast on your Ipad. You just have to be flexible. It is okay if you can't make it to the gym for a full hour during this time – just get there for 20 minutes. It is important to stay in the routine. Your body will thank you in the New Year!
3
Choose your indulgences wisely. Only splurge on what you really love and what is going to be worth it. Also, apply the three bite rule. The first bite of a dessert tastes the best, the second almost as good and by the third bite the desire decreases – so stop there!
4
Have a plan. Take a look at your calendar for the next three weeks and see what events and parties you have to attend. It is a lot different if you have one party per week versus three. For example, if you have one event for the week you can treat it as a special occasion and splurge a little. But if you have three events in one week then you have to contain your eating and drinking at two of the events and splurge on the one that has the best food.
5
Make the occasion more about being with family and friends and less about the food. It is a lovely time to enjoy friends and family and catch up and be joyous. If you can keep this in mind than the event doesn't have to center around food.
---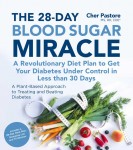 Finding healthy recipes that can be used for Holiday entertaining, as well as any other time of year is about to become a lot easier. My upcoming book, The 28-Day Blood Sugar Miracle offers easy and enjoyable meals that will keep you on the right track and satisfy all of your guests.
Below is just one of my recipes to enjoy this holiday season:

APPLE CINNAMON BARS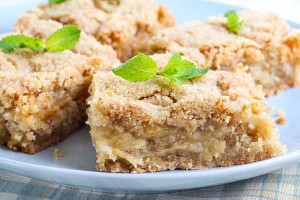 When it comes to the all-American apple pie flavor, these apple cinnamon bars hit the nail on the head. Sweet cinnamon and nutmeg mixed with cloves and ginger are the perfect addition to tangy Granny Smith apples. Add some oats, almonds and flaxseeds for a dose of healthy fats and filling protein and fiber, and these bars make the perfect, nutritionally rounded meal—or on-the-go snack.
Author:
Cher Pastore MS, RD, CDE
Ingredients
Extra-virgin olive oil spray
1 tbsp (10 g) flaxseed meal + 3 tbsp (45 ml) water, mixed well
¼ cup (25 g) almond flour
½ cup (80 g) steel-cut oats
¼ cup (43 g) finely chopped almonds
2 tbsp (43 ml) honey
¼ tsp baking powder
Pinch of salt
Pinch of ground cinnamon
Pinch of ground nutmeg
Pinch of ground cloves
Pinch of ground ginger
1 tbsp (15 ml) coconut oil
¾ cup (135 g) peeled, cored and chopped Granny Smith apple
Instructions
Preheat the oven to 375°F (191°C). Lightly grease a baking sheet with the extra-virgin olive oil spray.
Combine all the remaining ingredients and mix well.
Flatten the mixture into a square on the prepared pan and bake until fully heated through, about 20 minutes.
Let cool for 5 minutes and cut into 8 equal pieces.
Nutrition Information
Calories:
160
Fat:
9 gms.
Saturated fat:
3 gms.
Carbohydrates:
18 gms.
Sugar:
6 gms.
Sodium:
60 mg.
Fiber:
3 gms.
Protein:
4 gms.