A tasty, creamy curry recipe that would make a great main dish at your next dinner party.

Potato Curry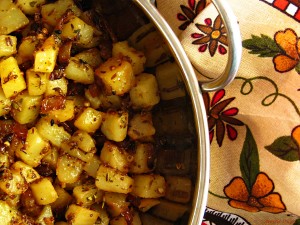 Ingredients
3 tablespoons olive oil
2 dried red chilies
¾ teaspoon cumin seeds
2 pounds potatoes, peeled and sliced
1 teaspoon salt
1 teaspoon coriander powder
½ teaspoon red chili powder
2 medium tomatoes, finely chopped
1 green chili, seeded and chopped
1½ tablespoon fresh cilantro leaves, chopped
Instructions
Place oil in a large skillet over medium heat.
Add red chilies and cumin seeds to skillet and sauté for 10 to 12 seconds.
Add potato to skillet and cook, stirring continuously for 2 minutes.
Stir seasoning and tomato into potato mixture.
Lower heat to medium-low.
Cover and cook potato curry until tomatoes become tender.
Add green chilies and cilantro leaves to curry and lower heat to low.
Cover and cook curry until the potatoes are cooked completely.
Nutrition Information
Serving size:
⅛ recipe
Calories:
133
Fat:
5.5 g
Saturated fat:
0.6g
Trans fat:
0 g
Carbohydrates:
19.6 g
Sugar:
2.3g
Sodium:
315 mg
Fiber:
3.2 g
Protein:
2.3 g
Cholesterol:
0 mg