Spicy Curry Chicken is a great meal if you're looking for something with some heat! It packs a punch.

Spicy Curry Chicken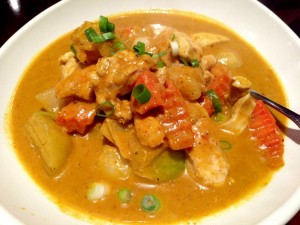 Ingredients
1 lb. skinless chicken, diced
1 large potato, peeled, cubed
1 Tbsp vegetable oil
2 Tbsp onion paste
1tsp garlic paste
1 tsp ginger paste
1 tsp chili powder
½ tsp turmeric powder
½ tsp cumin powder
½ tsp coriander powder
3 to 4 cardamom seeds
3 to 4 cinnamon quills
2 bay leaves
1 tsp salt
3 cups water
Instructions
Rinse chicken with hot water to discard the clinging fat.
Place a pan over medium heat.
Add oil to pan, then add all spices, stirring frequently.
After 1 minute, add 2 cups water to pan.
Once mixture starts to bloom with aroma, add all chicken pieces and cover with a lid.
Add potato pieces and stir before adding 1 more cup of water.
Cook mixture for another 10 minutes.
Reduce heat and simmer mixture 2 minutes.
Serve and enjoy curry with bread, rice, or tortilla.
Nutrition Information
Serving size:
¼ recipe
Calories:
131
Fat:
3.7 g
Carbohydrates:
4.8 g
Sodium:
338 mg
Fiber:
.8g
Protein:
18.7 g
Cholesterol:
48 mg