Spicy Chicken Drum Sticks
Spicy Chicken Drum Sticks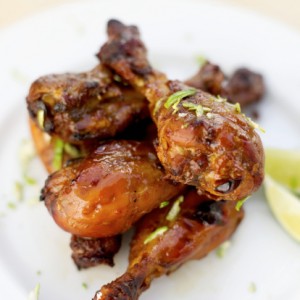 For an extra kick try these spicy chicken drum sticks for your next meal!
Ingredients
1 pound chicken drum sticks
4 tablespoons skimmed yogurt
½ teaspoon ginger paste
1 teaspoon minced garlic
1 teaspoon minced green chili or paprika
½ teaspoon oil
Skewers, soaked in water
2 tablespoons vinegar
Instructions
Mix all ingredients (except chicken) in a bowl until a smooth paste forms. Then add in drum sticks and mix to coat chicken. Leave to marinate in the fridge for at least 2 hours.
Preheat a grill or grilling pan to medium-high. Thread chicken onto the skewers and grill for 8-10 minutes, turning twice, until the juices run clear.
While serving, drizzle with lemon juice and serve with rice.
Nutrition Information
Serving size:
1 drum stick
Calories:
295
Fat:
15.6 g
Saturated fat:
3.0 g
Sugar:
0 g
Sodium:
389 mg
Protein:
34.2 g