Roasted Brussels Sprouts with Sun-Dried Tomato Pesto
Roasted Brussels Sprouts with Sun-Dried Tomato Pesto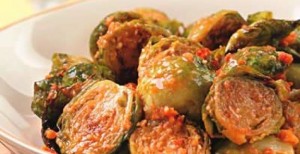 This is a bright and flavorful vegetable dish that's low in fat and high in fiber. It would be great as a holiday side dish or for a summer potluck!
Ingredients
5 tsp Extra Virgin olive oil, divided
4 cups Brussels sprouts, trimmed and halved
¼ teaspoon freshly ground pepper
6 Tbsp water, divided
¼ tsp salt
¼ cup sun-dried tomatoes, soft or reconstituted and chopped
1 tsp garlic paste
1 Tbsp pine nuts, toasted
2 tsp red-wine vinegar
½ tsp dried oregano
1 Tbsp shredded Parmesan cheese
Instructions
Preheat your oven to 400°F.
Place Brussels sprouts into a bowl and toss it with oil, salt and pepper.
Take one rimmed baking sheet and sprinkle with 1 tablespoon water. Roast sprouts for 8 to 10 minutes. After 10 minutes, stir and sprinkle with another tablespoon of water.
Roast for another 10 minutes, or until the sprouts are tender tender.
While you wait, grind sun-dried tomatoes with remaining oil, water, garlic, vinegar, pine nuts and oregano in a food processor or blender. Grind until you achieve a rough pesto texture.
Now stir Brussels sprouts in Parmesan and toss with the prepared pesto.
Nutrition Information
Calories:
99
Fat:
6 g
Saturated fat:
2.0 g
Carbohydrates:
11 g
Sugar:
1.0 g
Sodium:
185 mg
Fiber:
4 g
Protein:
4 g
Cholesterol:
1 mg