Pharmacists are Among Most Trusted Professionals, Finds New Survey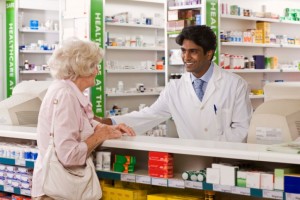 If you or a loved one has diabetes, you know it can take a variety of healthcare providers to control the condition. Many people with diabetes regularly see doctors, nurses, dietitians and Certified Diabetes Educators. But did you know that your pharmacist is also an important part of your healthcare team?
The survey
Gallup recently published its yearly Honesty and Integrity survey. It wanted to know how much trust Americans have in a variety of professionals, including those who work in healthcare. It asked people how they would:
"Rate the honesty and ethical standards of people in these different fields–very high, high, average, low or very low?"
The respondents rated nurses, pharmacists and medical doctors "very high" or "high." For the 12th year in a row, pharmacists ranked in the top three. This means that Americans have a lot of trust in their pharmacists. It also means that pharmacists consistently deliver high-quality service, in order to earn that trust year after year.
What the results mean for you
If you haven't thought about using your local pharmacists as a healthcare resource, now is the time to start. According to this survey, many Americans believe that their pharmacists give them reliable, easy-to-understand information about:
Over-the-counter medicines
And it's no wonder: pharmacists are not only highly educated, they are also easier to reach than most healthcare providers. You don't need an appointment or a referral to see them. Just stop in at a local Costco pharmacy to get answers to your pressing healthcare questions, or to find out more about the medicines you have been prescribed. If you have a minor health issue, you'll be able to ask them all about taking over-the-counter treatments safely and effectively.
The Gallup survey also showed that Americans are enthusiastic about new pharmacy services to help them stay on top of their health quickly and easily. These include cholesterol, blood pressure, blood glucose and foot checks. These tests are important for most people–especially those with diabetes–to prevent serious problems like heart attack and stroke. The survey showed that many people would like to see more of these services in the future. This is great news; your Costco pharmacist is available to help you stay in control of your healthcare and prevent serious health problems, whether that means performing routine tests or answering questions about your diabetes care or general health.